My daughter loves meatballs! She has enjoyed them since she was a toddler so I'm always looking for a great meatball recipe so that we aren't eating the same thing day in and day out. I also prefer to cook with leaner meats like turkey or lean ground beef. This is a very easy recipe for a healthier meatball. Once the meatballs are made you can do just about anything with them such as put them in spaghetti, eat them as an appetizer, or if you like my daughters just eat meatballs for dinner!
Jump to Recipe
Healthy Italian Meatball Recipe
If you want to cut down on the sugar you can choose a different spaghetti sauce. This is my favorite meatball recipe because I love the taste of seasoned Italian meat. It adds a delicious flavor instead of your standard hamburger — for me, this is the perfect Italian meatballs recipe. There is also a great recipe when you are trying to create healthy alternatives. If you just can't get away without adding a little bit of carb to your dinner or lunch you can always add whole grain pasta to your meal. Eden Kamut Spiral Pasta is my favorite!
Healthy Italian Turkey Meatballs Recipe
Ingredients
1

package

Jenni-O Italian Seasoned Turkey

1

jar

Spaghetti Sauce

Ragu Super Chunky Mushroom or your choice

1

Tbsp

Oregano

1/2

Tbsp

Onion Powder

1

Tbsp

Parsley

1/2

Tbsp

Garlic
Instructions
Roll turkey into small/medium size balls

Fry in pan (using cooking spray) until fully cooked

In separate sauce pain pour in spaghetti sauce

Seasoned with oregano, onion powder, parsley, and garlic.

Pour sauce over meatballs or serve on the side
Notes
Fat: 10.5 g 
Saturated fat: 2 g 
Unsaturated fat: 8.5 g 
Carbohydrates: 13 g 
Sugar: 10 g 
Protein: 22 g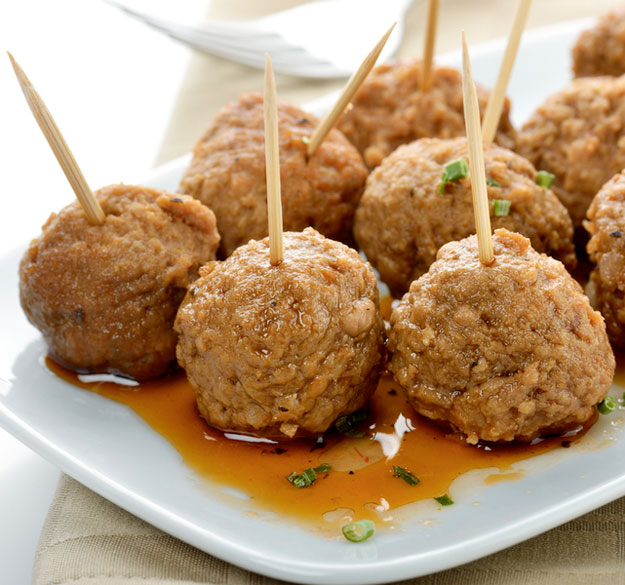 These Healthy Italian Meatballs are one of our go-to recipes. If you are looking for some other healthier alternative recipes we have a couple more you might enjoy such as a healthier chili option or a delicious Rotisserie Chicken Quesadilla recipe the entire family is sure to love!