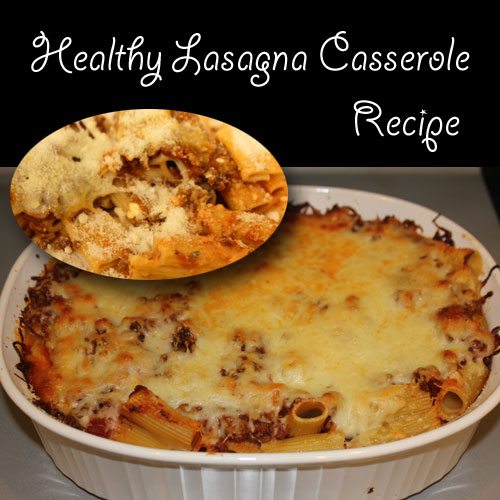 I really have no idea what the name for this recipe is but Lasagna Goulash is what my husband has coined it. While my MIL (mother-in-law) and I were at the beach with the children I started thinking about dinner (it is not often I actually get to think forward I'm usually one step behind). I mentioned that the Lasagna Goulash sounded good but then I started mentally calculating the extra sit-ups and running I would need to do if I chose to eat it. So I decided I would revamp the recipe to make it healthier. I became very excited about this prospect because as anyone can tell you cooking is not my forte.
I must say I think it turned out rather well, I could tell a difference from the original but I was very impressed with the taste and would definitely make it again.
Healthy Lasagna Casserole Recipe
Author:
Prep time:
Cook time:
Total time:
With a few changes you can make almost any recipe healthy.
Ingredients
8 oz Whole Grain Penne
1 tsp minced garlic
1 jar Heart Smart Prego spaghetti sauce w/ mushrooms (regular sized jar)
8 oz low fat cottage cheese
7oz Fat Free shredded Mozzarella cheese
1/2 cup Reduced Fat Parmesan cheese
Instructions
Preheat oven to 375
Cook the ground beef (add garlic) adding sauce when done, while cooking penne
In bottom of large casserole, put a few spoonfuls of sauce
Arrange half of the penne in pan; cover with all the cottage cheese (I added parsley to the cottage cheese first)
Top with half of the sauce/meat and half of the mozzarella and Parmesan cheese
Arrange in layers the remaining pasta, sauce, and cheeses
Bake for 25 minutes
If you decide to give the recipe a try please leave me a comment or send me an email letting me know what you think!