When the pandemic hit, and we were forced to stay home I was faithfully going to the gym. As things began to close, I still got up and went to the gym every morning until I saw the dreaded WE ARE CLOSED sign that I knew was coming. I didn't want the closing of the gym to deter me from my exercising, so I began working out at home doing P90X. When the gym realized it was going to be some time before they were able to open, they gave their members a free membership to Les Mills on Demand. I fell in LOVE with the program but the only thing I didn't love is with all the cardio work I didn't have a good sports bra to match the vigorous routines. So, I went searching for a good sports bra and came upon SHEFIT.
I first saw SHEFIT in an ad on Facebook. I don't always trust Facebook ads, so I did my research and began investigating the company and its products. What I was finding had me impressed. I watched YouTube reviews and read a lot of reviews with one main theme "The SHEFIT sports bra supports". So, I took the plunge and decided to order one.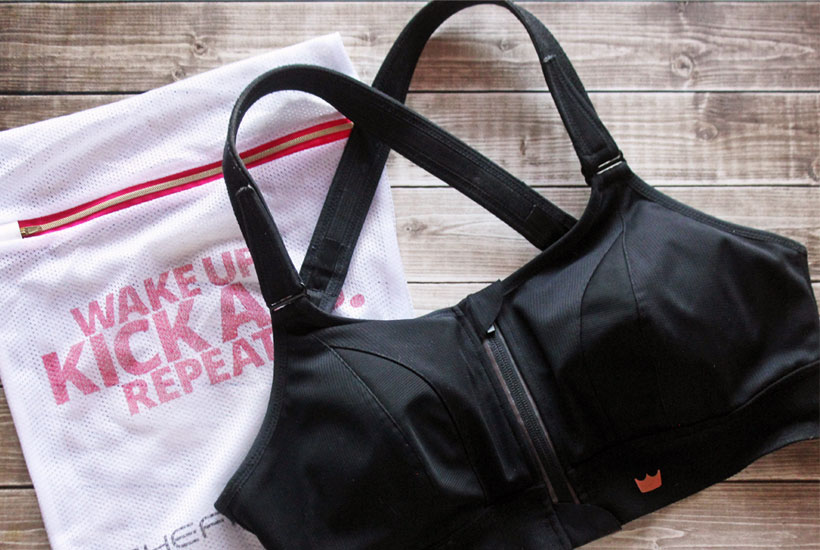 SHEFIT SPORTS BRA REVIEW – FIND MY FIT
I decided to take the SHEFIT Find my Fit quiz. I answered all the questions about my current sports bra, my measurements, the activities I do wearing it, etc. It ended up recommending that I purchase the Flex Sports Bra / Medium Impact. I was a little skeptical because I was really looking for maximum support. I decided against the recommendation and purchased the Ultimate Sports Bra / High Impact.
SHEFIT SPORTS BRA PRICING
I'm not going to sugarcoat it, these sports bras are not inexpensive, but I'm sure you have heard the old saying "You get what you pay for"? The current prices (at the time of this article) are:
Ultimate Sports Bra – $69.00
Flex Sports Bra – $74.00
Low Impact Sports Bra – $65.00
Lounge Bra – $42.00
Also, at the time of this article, you can receive a 10% discount code by signing up for email and text. Side note, Rakuten also offers a 1% cashback reward.
PUTTING ON THE SHEFIT SPORTS BRA
The bra is put on like a button-up shirt and clasps and zips in the front, vs many over the head or behind the back sports bra. This already makes it better than most sports bras, EASY TO PUT ON. There are two eyehooks and clasps in the front to keep the sports bra together so that it is easy to zip up. Once it is zipped up there is a piece of fabric inside that runs the length of the bra. This fabric folds over the zipper at the top and the bottom so that you do not feel the metal rubbing or digging into your skin while exercising, GENIUS!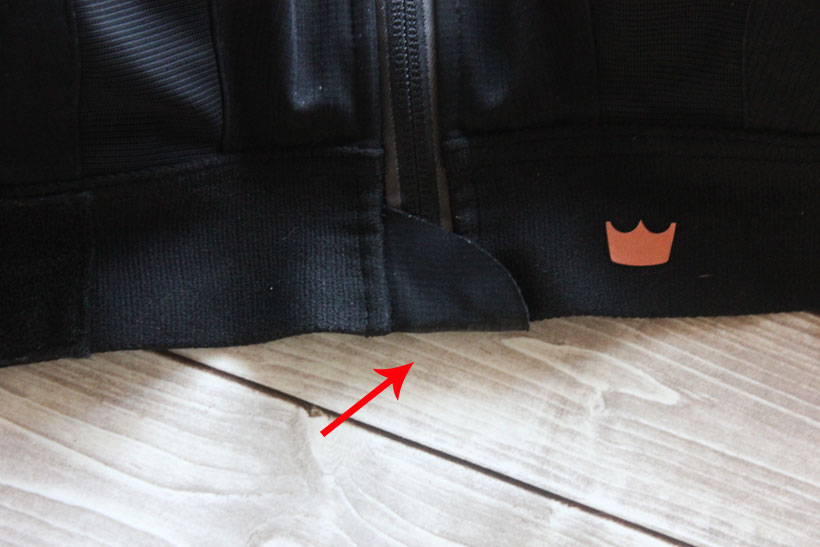 The real winner and what makes the SHEFIT sports bra unique is that it is adjustable, and not like any other bra with adjustable straps. There is a thick Velcro strap in the back to loosen or tighten the bra around your body for just the right fit. This is very helpful if you are gaining or losing weight. In addition, the shoulder straps can also be tightened or loosen with the same extra-sturdy Velcro. I found as I began losing weight, I had to readjust all the straps as I began to get a little smaller. Making the adjustments was like getting a new bra, snug and supportive.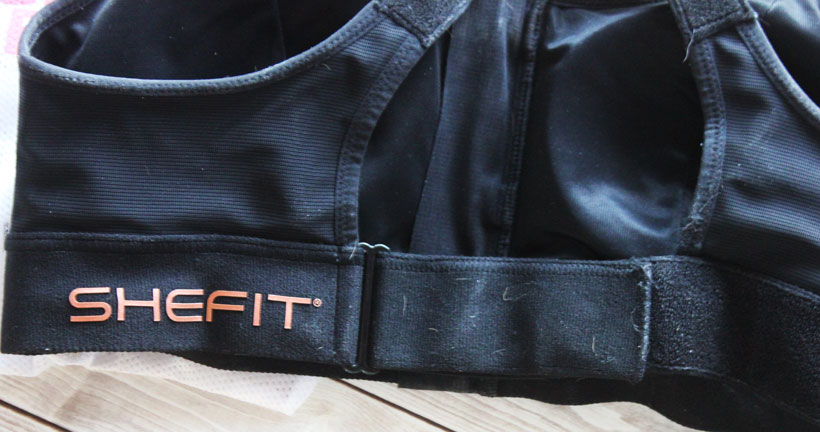 CLEANING THE SHEFIT SPORTS BRA
There is some specific advice on how to clean the SHEFIT sports bra to keep it in tip-top shape. Clasp and zip the sports bra but be sure to uncover the zippers (that piece of fabric I mentioned). Remove the pads. Throw it all in the cute laundry bag that comes with each sports bra. Wash on a delicate cycle and then hang/air dry, do not put into the dryer.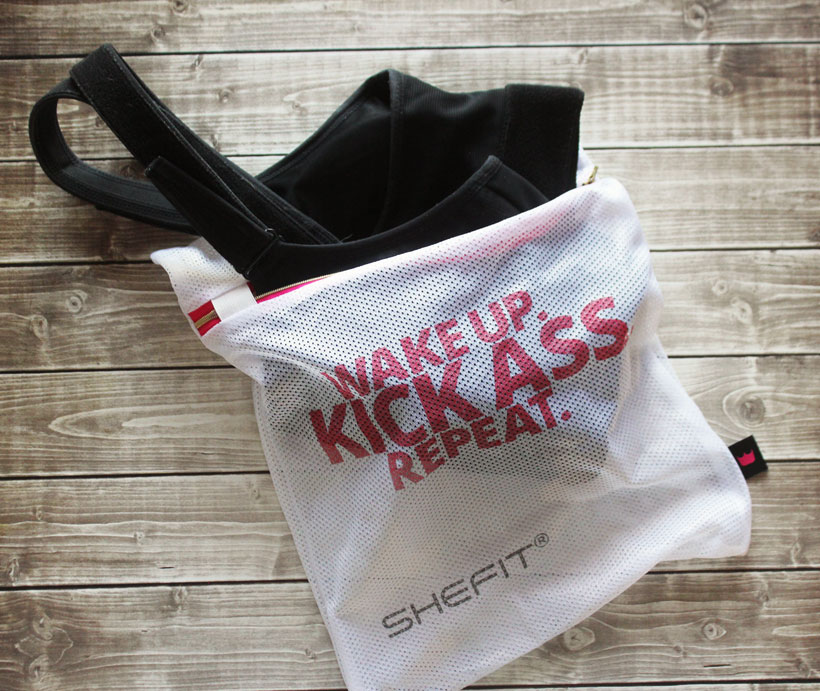 SHEFIT SPORTS BRA REVIEW CONCLUSION
The claims are real, this has got to be the best supportive sports bra I have ever tried. I LOVE my SHEFIT sports bra, and it is the only sports bra I will use while exercising. The reason for my LOVE rating is these main points
Easier to put on than any previous sports bra I have used
Adjustable to get just the right support, whether you desire more or less
Support! Support! Support!
I don't do very high-impact aerobics because I will get plantar fasciitis flare-ups, but I do punch, kick, squat, move quickly from upright to push-ups, etc. The entire time I am 100% supported by the SHEFIT sports bra. I have even asked for a second one for Christmas. I purchased the plain black (because black goes with everything) but I would love some different colors and it would be nice to have more than one.
ADDITIONAL SHEFIT INFORMATION
REWARDS PROGRAM
Rewards – SHEFIT does offer a rewards program. They reward you for following them on social media, sharing products with friends, and purchases. I am currently a ROSE GOLD member which has a spending requirement of $1-$99. I immediately was awarded this level after my first purchase. I also have earned 212 crowns. Every 100 crowns = $5 which means I have earned $10 off my next purchase.
You can also earn $5 for each friend you refer, and that friend gets $10 off their order. This review is not sponsored, there are no affiliate links, I am not earning any commissions off of any sales. However, if you would like to take advantage of the refer a friend and use my link you can find it below.
But also know you do not have to use this link, you can go right to the site and look around, shop, purchase, not purchase by going straight to their site here: https://shefit.com/.
MORE SHEFIT PRODUCTS
The Ultimate Sports Bra is the only purchase I have made. They do have some other products that have caught my eye like the Clip Tank. Instead, of wearing another shirt over the sports bra the shirt clips into the Velcro adjustable straps to create a shirt and sports bra in one. Pretty genius idea!
They also have a selection of leggings and shorts. Considering how impressed I was with the sports bra I have to imagine the leggings are of the same great quality.
Shibley Smiles gives the SHEFIT Ultimate Sports Bra a LOVE IT rating and we highly recommend this brand if you are looking for a supportive and attractive sports bra.