In July my youngest son and his girlfriend moved into their own apartment. That gave us an extra room. My husband wanted to make it a "man cave". I wanted to make it a puzzle and craft room. My son asked if we were going to make it a workout room. Now, why didn't I think of that? I have been working out in our family room, however, there have been times when I would like to work out after work but I don't want to disrupt everyone. So I decided converting the bedroom to a workout room was a great idea. I began searching for great workout room ideas for a home gym, then decided I didn't need research I knew what I wanted.
Extra bedroom turned Workout Room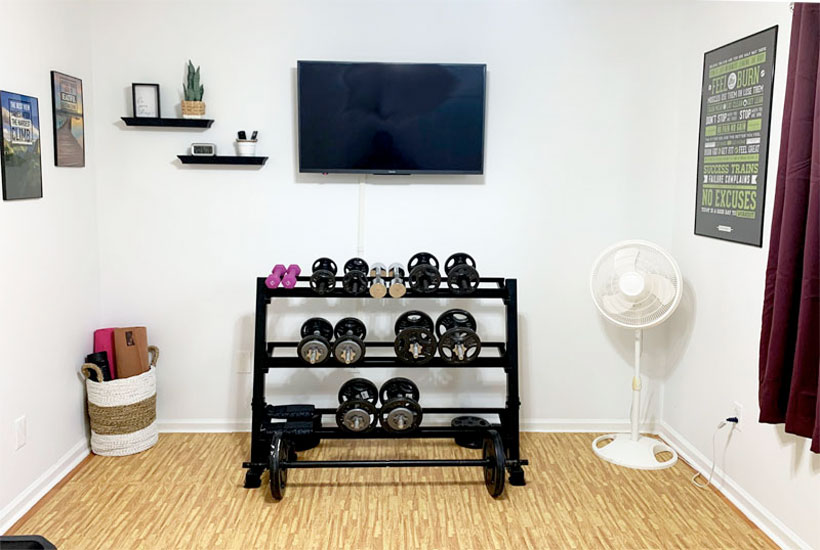 Note: If you are interested in the equipment I am using, I have included links at the bottom of this post.
The weight equipment in this workout room photo was purchased over the span of several years. My husband and I once did the P90X together so we have had the weights for some time. The yoga basket and sign I picked up at Home Goods. The cute little plant I picked up at 5 Below.
Weight Rack $116.71: https://amzn.to/3fHtErC – this is a really nice rack, very sturdy, and easy to put together. One of the nice features is the racks can be adjusted to hold wider or smaller weights.
Foam Flooring 12 x 12 (3) $44.99 each: https://amzn.to/2WXuNog my husband found this flooring which makes the room look SOOO much nicer than it would have with the normal grey/black foam flooring. We have wood floors so we really wanted something softer to workout on in our home gym. This is one of my favorite features of the room and should be considered in any workout room ideas.
43″ in Toshiba Smart TV $249.99: https://amzn.to/3yDfrDC
Cable Concealer $14.40: https://amzn.to/3CvWG7s I had to hide the cords as much as possible

Black Shelves $6.97 each: https://bit.ly/3fKjuGu this link is to a set. I purchased two single shelves, but this set includes the same shelf pictured here
Silver Alarm Clock $7.88: https://bit.ly/2U44BHC I just wanted something digital with large numbers so I could see the time while I was working out. (Looking at this photo looks like I need to look into what setting it is on LOL)
home gym Motivational Posters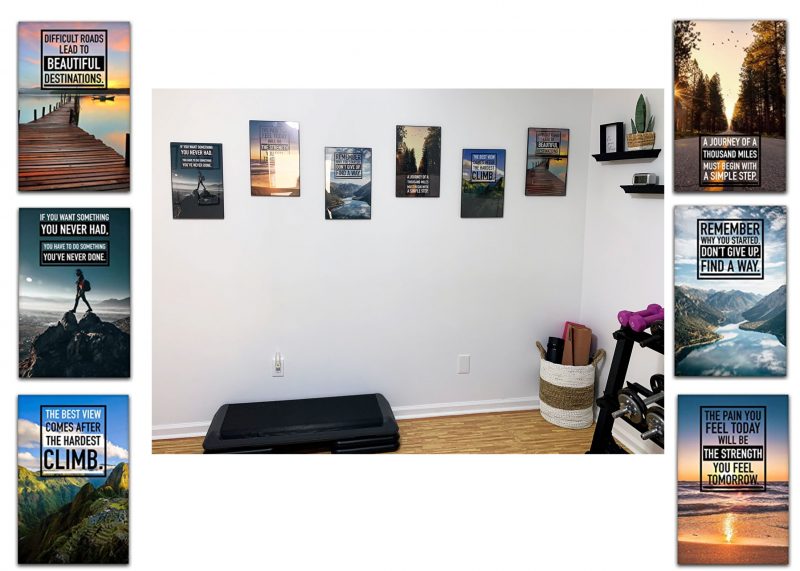 I really wanted to give inspiration to my workout room. One wall in my workout room is lined with these motivational posters. The idea for our workout room was functionality and motivation! See below for where you can purchase these photos and frames.
6 Motivational Posters 11X17 $16.99 : https://amzn.to/3fHK82T
Difficult Roads Lead to Beautiful Destinations
Remember Why You Started Don't Give Up Find a Way
The Pain You Feel Today Will be the Strength you Feel Tomorrow (my favorite)
If You Want Something You Never Had You Have to Do Something You've Never Done
The Best View Comes After the Hardest Climb
A Journey of a Thousand Miles Must Begin with a Simple Step
Frames for Motivational Posters $38.00 : https://amzn.to/2X8CnN1
workout room Relaxation Corner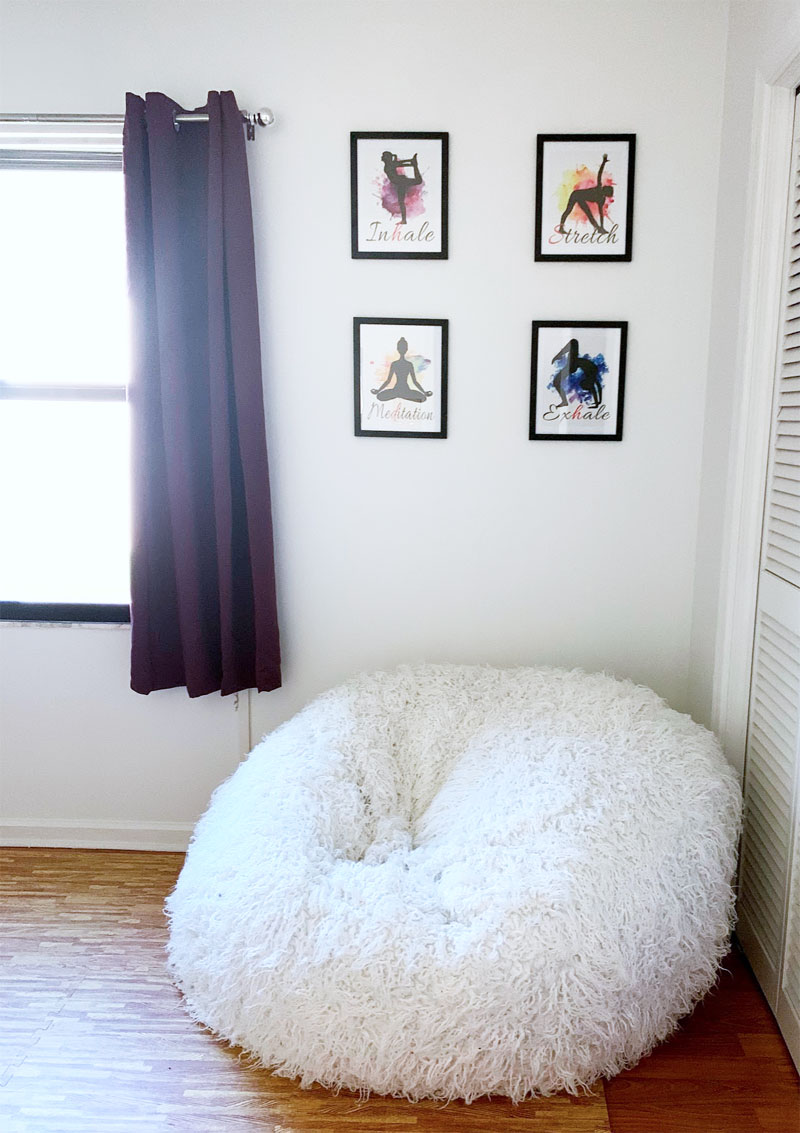 I really liked the canvas prints I found of yoga poses. I like the added color it gives. The oversized bean bag chair is in the room mainly because my daughter no longer has room for it in her own room. I do think it adds a little bit of coziness to the room. Workout room equipment can be your best friend if you are planning to make your space a safe haven for you. Having a machine will also encourage you to work out daily so it is a definite must.
Yoga prints 8×10 (set of 4) $10.25: https://amzn.to/3jCxi7i – these are printed on canvas material.
Frames for prints (set of 4) $23.39: https://amzn.to/3xvw7LJ
Oversized bean bag chair $180.17: https://bit.ly/37zAyuh
Fitness Poster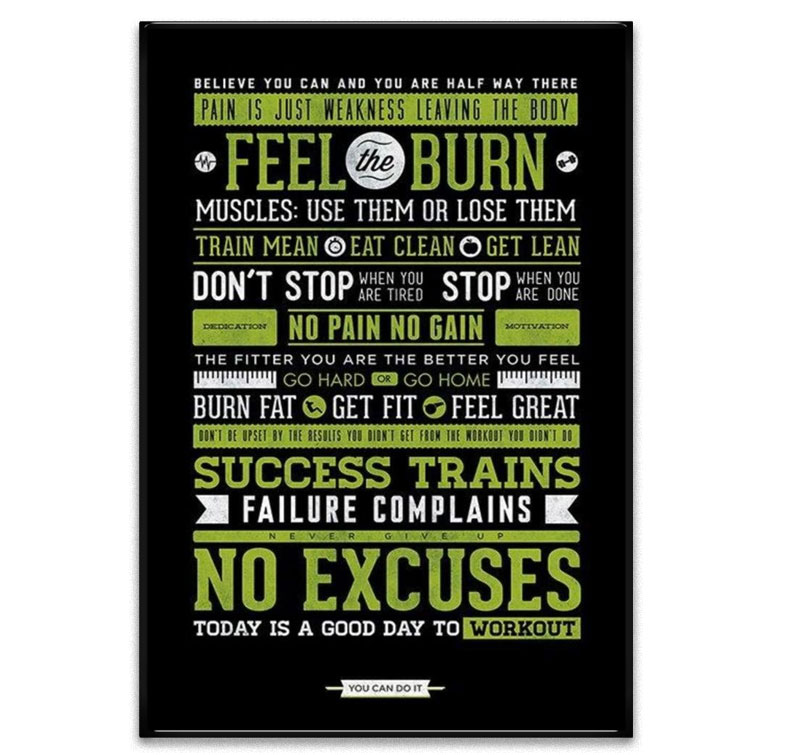 I was surprised to find not many options in fitness posters when I was browsing Amazon. I decide on this one due to its price. The one I really wanted was $34.99 and that was just way too much to pay for an unframed poster. I purchased a cheap poster frame at Walmart.
Fitness Poster $12.99: https://amzn.to/3yxoEgF
I recently reviewed a soundbar and subwoofer set from I Live, we put it in the workout room to give it just a little added kick when listening to music. My oldest son really wants to get a workout bench so he can do beach presses easier. I'm leaving that one to him as I am perfectly fine doing them on my step bench. I LOVE the new workout room and use it daily. All of these are great workout room ideas. I highly encourage you to fill the room with whatever motivates you.
Equipment Used
Step Bench: https://amzn.to/3l9l9IN
Weights: https://amzn.to/3it1UYT – this is not the exact set I have as the one I purchased is no longer available. I have two sets, I purchased them from Dick's Sporting Goods
Barbell: I received the barbell I have in a BeachBody package years ago, I don't have anything to recommend in it's place. The one I have connects in the middle, if you lift heavy weight I suggest purchasing a full bar with no middle connection
Bike: https://renpho.com/?ref=asiiae2f52 – They are often running deals