Earlier this week I shared with you my thoughts about Noom which I have been following for 4+ weeks now. In that article, I mentioned that I was going to review and talk about the RENPHO Smart Scale and RENPHO Smart Tape Measure which I purchased to help me on my "getting fit and STAYING fit" journey.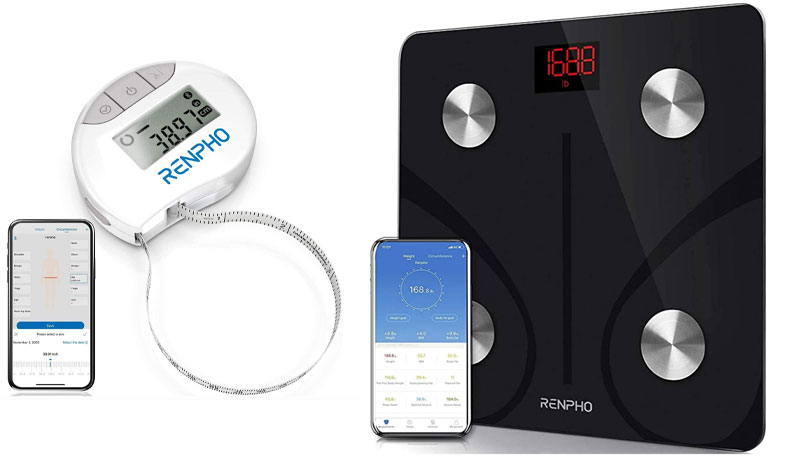 Why Did I Purchase the RENPHO Smart Scale?
In a nutshell, I was getting fed up with my current scale. I would weigh myself, get off and weigh myself again and it would change 1-2 pounds. I'm pretty sure I didn't burn that many calories stepping off and on the scale. Sometimes the scale would show the same weight for days and then suddenly drop two pounds. Now maybe that was accurate, but it seemed kind of fishy to me. So I went "fishing" (pun intended) for a new scale. I read some reviews and found that the RENPHO Smart Scale not only got great reviews it was at a great price point. I originally wasn't looking for anything more than a scale that would accurately weigh me. The "Smart" piece was just a bonus.
Is the Body Composition Measurements Accurate?
Ok I'm not a doctor, and I don't play one on TV, so take my thoughts for what it is worth. I researched (because that is what I do!) and felt based on my findings that for a smart scale it was decently accurate. Meaning that while it isn't perfect it was a pretty darn good estimate. In my mind, the estimate was good enough to start paying attention to the measurements as another form of logging my progress. Because getting healthy isn't just all about the weight!
How Does the Smart Scale calculate the measurements?
Taking right from their website:
All RENPHO Bluetooth Smart Scales measures your body composition by sending a low electrical current up through one foot and reading the current with a sensor beneath the other foot. The current passes through body fat more slowly and therefore the scale calculates the amount of resistance to come back up with the body composition.
My daughter says she can feel the current go up her leg…probably because she has 15% body fat LOL
How I'm Using the Data
I'm a tracker! No, I don't go out and track wild animals. I track data on spreadsheets. I know, not quite as glamorous as tracking wild animals. When I decided I wanted to pay attention to the data on the RENPHO Smart Scale I knew I had to create a spreadsheet, insert some formulas, and see where the magic was happening.
Above is a screenshot from my tracking log (sorry guys I hid the weight column, not quite ready to share that publically). So what do all these numbers mean……

Difference: this is the weight I have lost or gained from the previous day
Blank Column/Red Rows: I like to see how much I lost per week. The red highlighted rows are the end of the week and the blank column with data every 7 rows is the weekly weight loss
Green Highlighted Row: This row is what my goals are for each column based on what the RENPHO Smart Scale says are ideal, average, etc for my age and gender.
Yellow Box/Red Highlight: this is my overall weight loss todate, it will update each time I enter weight
Body Fat %: This is the body composition fat tissue ratio (this includes both essential fat and storage fat in your body)
Subcutaneous Fat %: This is the ratio of fat store in your skin to your body weight (Subcutaneous fat is the jiggly fat visible just under the skin. Subcutaneous fat is normally harmless and may even protect against some diseases.)
Visceral Fat: A type of body fat that is found around the organs and which mainly resides in the abdominal cavity. (Visceral fat is fat that surrounds the organs. Though it is not visible from the outside, it is associated with numerous diseases.)
Body Water %: water weight, which includes the blood, ymph, extracelluar fluid, etc
Skeletal Muscle %: The ratio of uscle involved in the mechanical system of your limbs and other parts of the body. This is where you can track "muscle gained"
Protein %: Protein plays a vital role in the body, as it builds and maintains muscles, organs, and other tissues.
BMR: Basal Metabolic Rate in an inactive state. This is the minimum necessary energy needed. (Basal metabolic rate is the number of calories your body needs to accomplish its most basic (basal) life-sustaining functions.) The higher the better.
Metabolic Age: Your metabolic age is how your basal metabolic rate (BMR), or how many calories your body burns at rest, compares to the average BMR for people of your chronological age in the general population.
Body Fat Lost: This is my own formula. It is taking my weight and multiplying it by the body fat %, and then subtracting it from the previous day to get an amount of body fat lost.
Total Weight Loss: This is just pulling over the total weight loss to see side-by-side the fat loss vs weight loss.
There is some additional data the RENPHO Smart Scale records but I decided not to include them in my spreadsheet: BMI, Fat-free Body Weight, Muscle Mass, and Bone Mass. Overall seeing my data in a spreadsheet helps me see improvements over time. For me, I am focused on both subcutaneous fat and visceral fat, as well as keeping an eye that what I am losing is actual fat.
RENPHO Smart Tape Measure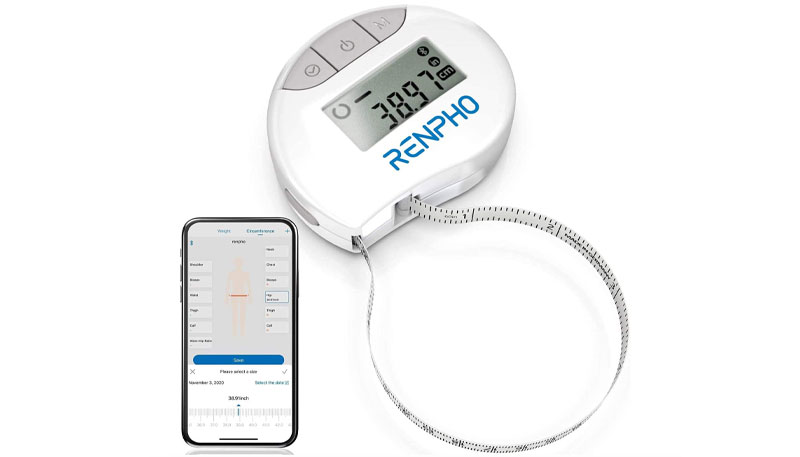 After I decided to embrace the RENPHO Smart Scale I looked into the RENPHO Smart Tape Measure. What's great about the tape measure is the accuracy compared to a normal tape measure. The digital display is 100 times better than trying to figure out if something is 25 3/16, or 18 5/6, etc. This is the main reason I decided it was worth the dough.
In addition to the above features, it also automatically syncs with the smart scale RENPHO app. This is just a little added benefit, because who doesn't like cool things that do the work for you :). I found the tape measure about an 8 out of 10 ease of use. I gave it an 8 because a normal tape measure is easier to pull taut when measuring.
With the RENPHO Smart Tape Measure, you have to pull enough tape to hook it into place. Then you push the button that will retract the tape measure to give you the accurate measurement. I found that in larger areas like the hips, bust, etc. It was hard to keep the tape measure in place while I also pushed the button, sometimes having to readjust. For example, if I were measuring my hips I would get it ready. As I pushed the button to retract and tighten the tape the tape would shift and slide down. This is a minor issue and can easily be solved by having my husband take my measurements instead.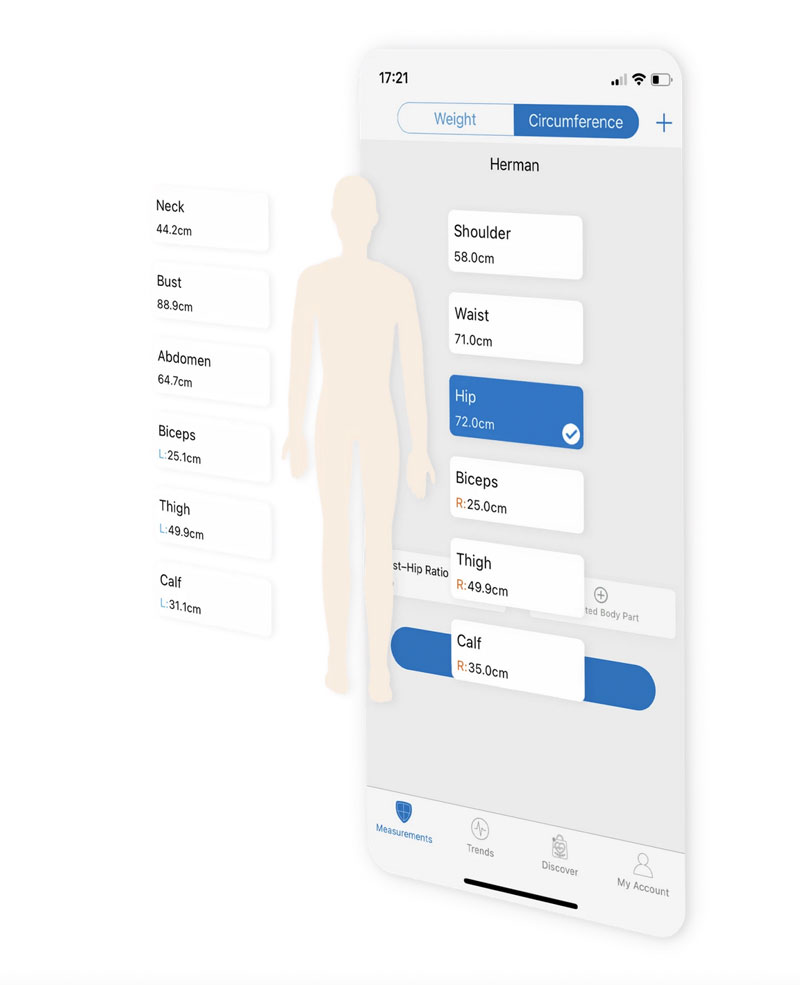 Have the app open to be ready to log your measurements. Measure the body part with the RENPHO Smart Tape Measure and select the same body part on the app (pictured above) and it logs the data. You do this for each body part you want to measure and then save your information.
Overall I am very pleased with the RENPHO products. The pricing is very affordable for what you get from the products. RENPHO has a whole line of products such as:
Massage Products
Smart Jump Rope (counts your jumps and auto logs to an app)
I will be creating a Holiday Fitness Guide closer to the holidays. Expect to see the RENPHO Smart Scale as one of my suggested fitness products for the year!