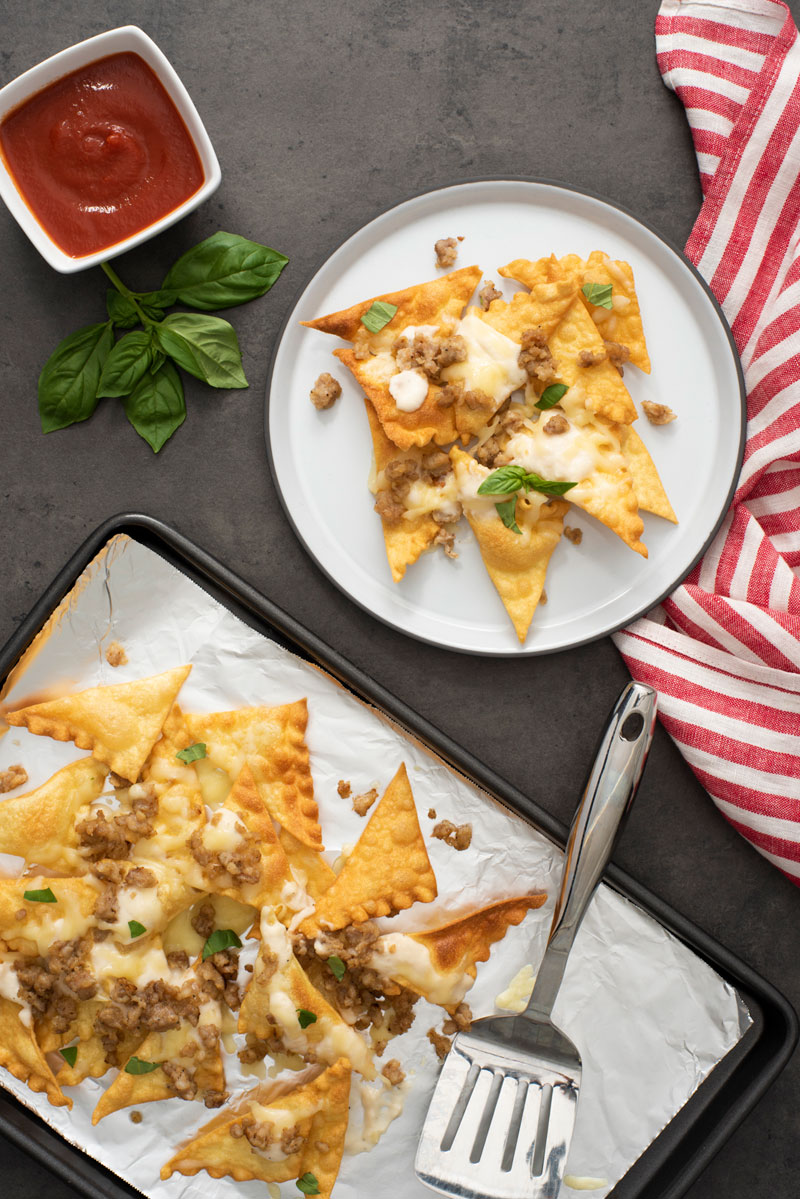 Thank you for Share the Pasta for sharing and allowing us to post this yummy recipe with our readers. The great thing about this Cheesy Lasagna Nachos recipe is that you can personalize it with so many different toppings. I personally love kidney beans folded into my hamburger. I also like to top my nachos with sour cream and guacamole.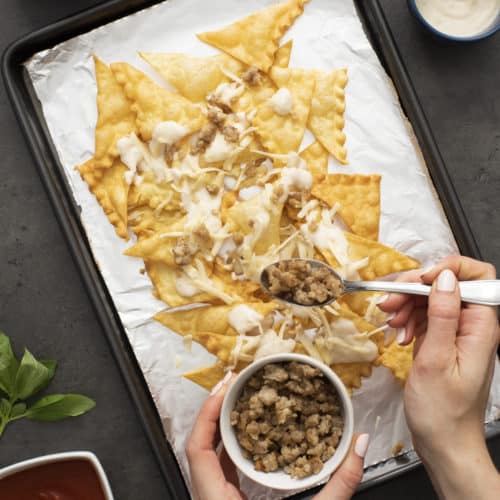 Cheesy Lasagna Nachos
Ingredients
4

lasagna noodles

3

tbsp

canola oil

3/4

cup

prepared alfredo sauce

1/2

cup

crumbled cooked sausage

1

cup

low-fat shredded mozzarella cheese

2

tbsp

finely chopped fresh basil

1

cup

tomato sauce

no salt added, warmed
Instructions
Preheat broiler. Cook noodles according to package directions; drain well and pat dry with paper towel. Let cool completely and cut into shards.

Heat oil in large skillet set over medium heat; cook noodles, in batches, for 3 to 5 minutes or until crispy.

Lay half of the crispy noodles on foil-lined baking sheet. Scatter half of the Alfredo sauce, sausage and mozzarella over top. Repeat layers.

Broil for about 2 minutes or until cheese is melted. Sprinkle with basil. Serve with tomato sauce for dipping.
Notes
For vegetarian nachos, substitute canned beans for sausage.
If you enjoy this Cheesy Lasagna Nachos recipe and want to see what else you can do with lasagna noodles check out our Herbed Lasagna Chips recipe. I always like to encourage you to allow your kids to help you cook your dinners or party food. It is a great way to get them interested in the craft and get them excited about the food. It is also a great way to spend time with your kids and try to sneak in some information on healthy eating habits.