My name is Colleen and I am a carb addict. Seriously I could live on bread, rice, and potatoes. My favorite dish at our Thanksgiving table is mashed potatoes and gravy YUM! I love baked potatoes, potato chips, hash browns, and pretty much any potato dish. I'm always on the look out for some great potato recipes and found an easy one Onion Roasted Potatoes thanks to Sam's Club.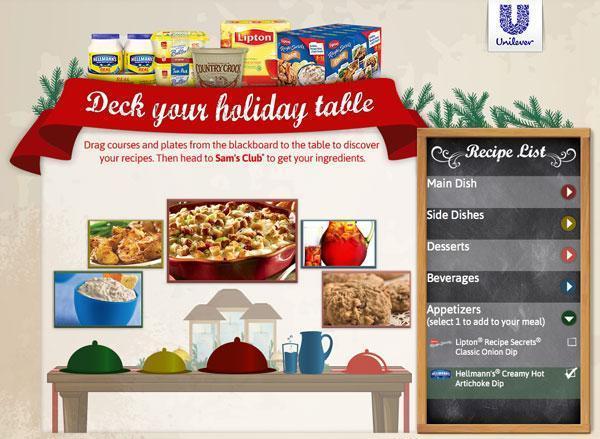 Whether you're searching for appetizer ideas, savory sides, entrée options or a sweet note to end a meal on, Sam's Club can help you deck your holiday table and save. Using some of the great brands like Hellmann's, Country Crock, and Lipton you can create some amazing recipes for your family and friends. Create your menu by visiting Sam's Club and dragging your desired recipes over to the holiday table. Then head to Sam's Club to get your ingredients. I tried the above mentioned recipe and added some additional ingredients to give it an even better taste. I mean after all who doesn't love bacon and cheese right?
Cheesy Bacon Onion Roasted Potatoes
Cheesy Bacon Onion Roasted Potatoes Recipe
Author:
Prep time:
Cook time:
Total time:
Cheese and Bacon go good with just about anything especially these oven roasted potatoes
Ingredients
1 envelope Lipton®Recipe Secrets®Onion Soup Mix
4 medium all-­purpose potatoes, cut into large chunks (about 2 lbs.)
1/3 cup olive oil
1/4 cup bacon
1/2 cup shredded cheese
Instructions
Preheat oven to 425°. Combine all ingredients in 13 x 9-­inch baking or roasting pan. Bake, stirring occasionally, until potatoes are tender and golden brown, about 35 minutes.
TIP: To prepare on the grill, combine all ingredients in large bowl. Top 30 x 18-­inch sheet of heavy-­duty aluminum foil with potato mixture. Wrap foil loosely around mixture, sealing edges airtight with double fold. Place on another sheet of 30 x 18-­inch foil; seal edges airtight with double fold in opposite direction. Grill, turning frequently, 40 minutes or until potatoes are tender and golden brown.
I would normally top this recipe with some salt, pepper, and chives. However we used all the chives at Christmas dinner so feel free to image it with them! They turned out spectacular a delicious bite of yumminess. I have been on a roll since I'm on vacation for 11 days….yes 11 days straight of no getting up to go to work. I've been able to spend the day organizing, blogging, and still have the energy to cook which is rare on the weekdays. The easy recipes that
Sam's Club
offers up makes cooking even easier in the Shibley household! I encourage you to stop by and try a few for yourself!