Cheesy Spinach & Artichoke Dip Recipe
Author:
Ingredients
1 can (14 oz.) artichoke hearts, drained, finely chopped
1 pkg. (10 oz.) frozen chopped spinach, thawed, well drained
3/4 cup KRAFT Grated Parmesan Cheese
3/4 cup KRAFT Light Mayo Reduced Fat Mayonnaise
1/2 cup KRAFT 2% Milk Shredded Mozzarella Cheese
1/2 tsp. garlic powder
Instructions
Preheat oven to 350° F. Combine ingredients. Spoon into 9-inch quiche dish or pie plate. Bake 20 min. or until heated through.
My daughter and I made this amazing Cheesy Spinach and Artichoke Dip found at the Kraft Foods Cooking Up Good page. There were several to choose from but when I saw this one I knew this is what Honey would love she always asks me to buy Spinach & Artichoke dip at the store.
I don't know about you but the faster I'm in and out of the kitchen the better. That said I do love preparing food with my daughter. It is a special bond that we share and I'm creating such wonderful memories. Of course note everything is made together I often need to throw together something for dinner while she is doing homework or winding down from the day. I just checked out a great video at Kraft Foods Cooking Up Good that includes some great tips to save on food preparation.
Not only can you check out the video I referenced above you can also find other great technique videos from top-food bloggers to learn new kitchen skills and unlock coupons, create a collection of your favorite Kraft Recipes and be entered for a chance to win a $100, $250, or $1,450 Walmart gift card, plus find all the Kraft favorites your family loves.
After I watched the video and unlocked my coupons I decided to enter myself. It is super simple just pick one meal item from each category insert it into your card and then fill out the entry form. Here is what I created!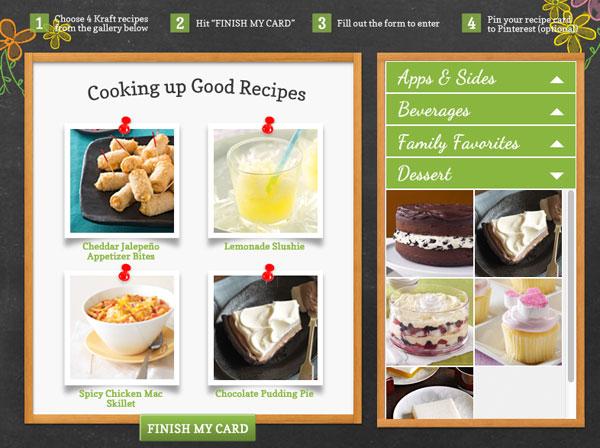 Kraft Cooking Up Good April – Shibley Smiles

What are your time saving techniques?
This post is sponsored by Lunchbox. All opinions are my own.