The Palm Beach Zoo & Conservation Society joyfully announces the birth of a baby siamang. Raya and Zain, the Zoo's siamang pair, were designated as a genetic match for breeding by the Association of Zoos and Aquariums (AZA) and are the proud parents of a baby boy, born October 1, 2019.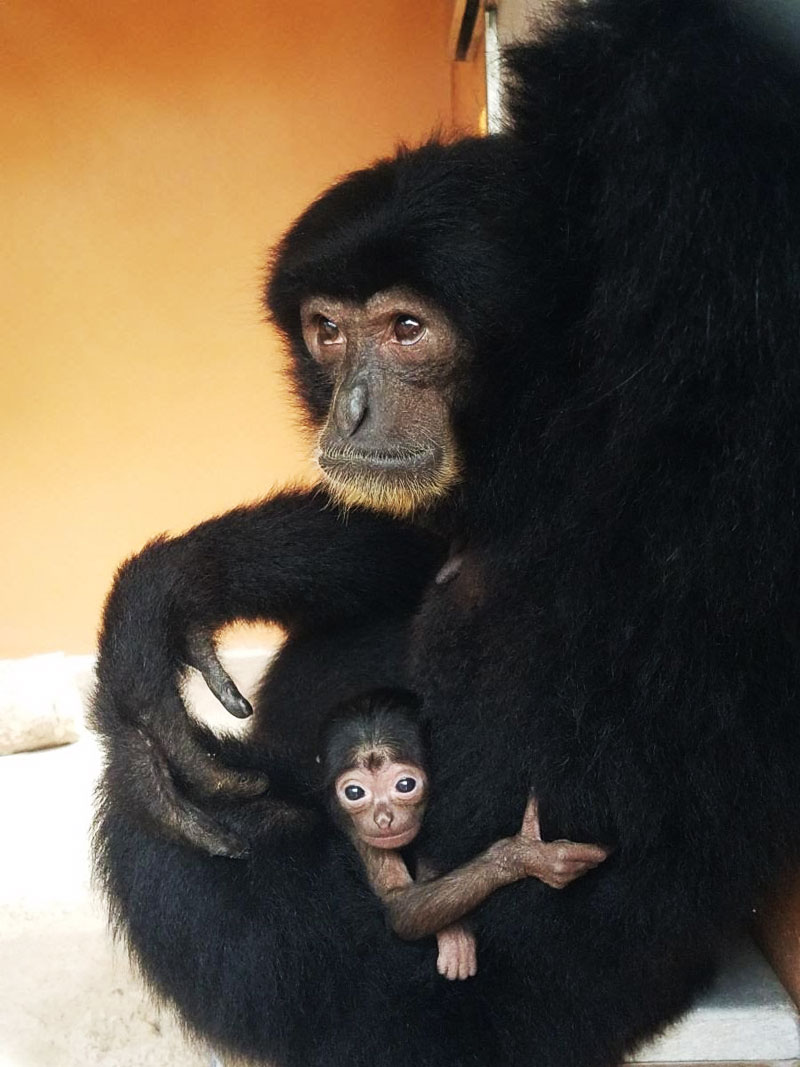 "We were delighted when the AZA recommended us for breeding siamangs," said Nancy Nill, Palm Beach Zoo Associate Curator of Animal Wellness. "We worked closely with the AZA to find and bring both Raya and Zain to Palm Beach Zoo. We are all overjoyed with the birth of their baby boy."

Palm Beach Zoo is AZA accredited and therefore held to the highest standards for animal care. Part of the AZA's mission is to ensure the survival of endangered species through the Species Survival Plan. The Zoo received a recommendation for breeding siamangs in 2017 and then began the process of finding the right genetic match.
Raya is a 12-year-old-female and came to the Zoo in January 2018, and Zain is a 13-year-old male who has lived at the Zoo since November 2017. They have been cohabitating since November 2018.

According to the Zoo's veterinary team, the baby is doing very well, feeding regularly, gaining weight and growing. Siamang babies cling to their mothers at birth and remain close to their mother and father for the first two years.

"Zoos play a crucial role in continuing endangered species, and we are ecstatic with the new addition to our Palm Beach Zoo family," said Margo McKnight, president, and CEO of Palm Beach Zoo. "Raya is such a natural first-time mother, and Zain is a doting and attentive new father."

The siamang family had been living at the Melvin J. and Claire Levine Animal Care Complex located on the north side of the Zoo, while enhancements were being made to the siamang habitat, Siamang Island, for the family. They officially moved back to the island late last week.

Siamangs scientifically belong to the gibbon family. In the wild, they are found in the forests of Indonesia, Malaysia and Thailand. In 1980, there were estimated only 360,000 remaining in the wild, however poaching and deforestation since then has most likely led to a reduction in the population. All gibbons are currently on the endangered species list.

At the Zoo's annual fundraiser, Tropical Safari Gala on January 31, 2020, the Palm Beach Zoo is providing the opportunity to a gala attendee to name the baby siamang to help support animal care and conservation initiatives. The Gala, along with admissions, grants, corporate sponsorships and private donations, funds the operation of the Zoo.

Palm Beach Zoo is planning a "Sip and See" reception to introduce the public to the new siamang family. In lieu of baby gifts, the Zoo is requesting donations to assist in enhancements to the primate night houses. To donate, visit www.palmbeachzoo.org/donate-to-your-zoo.