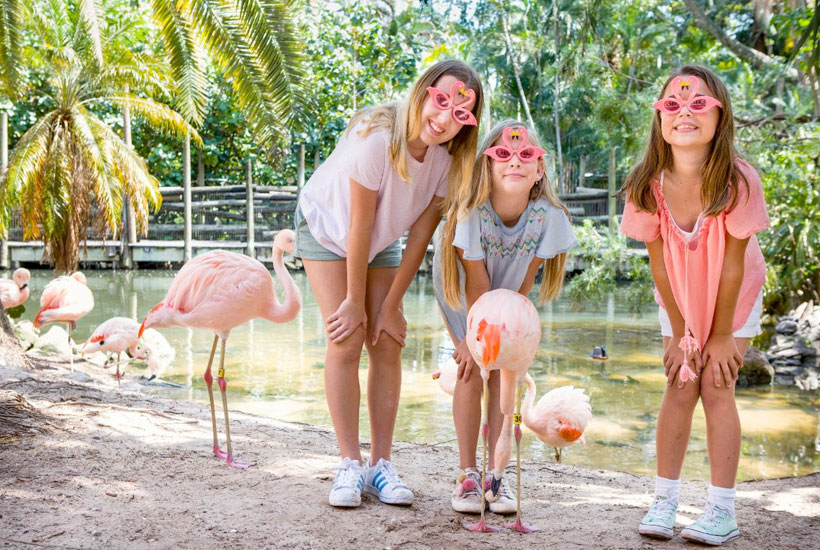 Fans of Palm Beach Zoo's beloved behind-the-scenes animal experiences have frequently asked when they can again get close to Wilbur the celebrity sloth, Noto, the giant tortoise, and more. The wait is over! The Animal Experiences, which were temporarily shuttered back in March of 2020 due to Covid-19 safety measures for humans and animals, returned this month to the delight of Zoo wildlife and their loyal followers.
Behind-the-Scene
"Imagine feeling the shell of a 93-year-old giant tortoise or feeding a sloth her favorite treat (blueberries)! Animal experiences stay with visitors long after they leave the Zoo," said Palm Beach Zoo General Curator Mike Terrell. "These up-close and personal interactions with animals, led by their zoologists, are key to inspiring guests to care about the wildlife with which we share our planet."
Three animal experiences; Aldabra tortoises, Hoffman's two-toed sloth, and Chilean flamingoes, are available for online booking on the Zoo's website and must be scheduled the day prior to a visit. The experiences are easy to schedule here.
Book Your Animal Experience Today
All animal experience participants are required to wear a face mask, regardless of Covid-19 vaccination status. Prices range from $35 (flamingoes and giant tortoises) to $50 (sloth) plus admission for all-day Zoo exploration. Zoo members receive discounted pricing as part of their membership benefits. Each experience can accommodate up to 6 guests, and participants must be at least 8 years old for the Flamingo Experience. Learn more and book today here.
We participated in the Aldabra Tortoise Animal Experience a few years ago and we had a great time! We learned a lot about the animals and got a chance to feed them. They book up quickly so if you have a specific experience you are interested in it is wise to book in advance. It is a great family experience, the kids will love it!