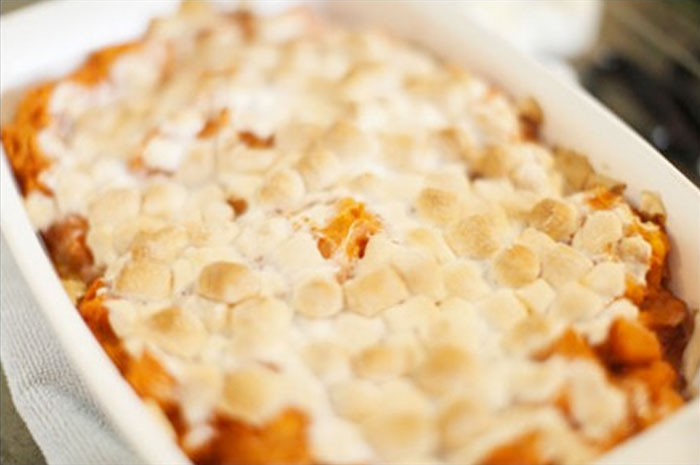 Tasting this dish, no one will know you have cut out most of the fat and sugar it usually contains. The secrets include roasting Beauregard, Garnet or Jewel yams to bring out their natural sweetness and turn them super-creamy, plus using Stevia In The Raw® to replace the sugar used in other versions. Kosher marshmallows make a creamy topping with a nice, crunchy crust.
Healthy Marashmallow Sweet Potato Casserole Recipe
Cook time:
Total time:
Ingredients
Ingredients:
(Makes 6 servings)
2 pounds orange-fleshed sweet potatoes
2 tablespoons unsalted butter
1 (8-ounce) can crushed pineapple, well drained
2 tablespoons Stevia In The Raw® Baker's Bag
1/2 teaspoon salt
Freshly ground pepper
Marshmallows, preferably kosher
Instructions
Preheat the oven to 400° F. Coat an 8-inch square baking dish with cooking spray and set aside.
Bake the potatoes until they are soft 45 to 60 minutes. When cool enough to handle, peel the potatoes and place the flesh in a mixing bowl.
Mash the potatoes, using a fork or, if the potatoes are fibrous, whirl them in a food processor. Add the butter and mix until blended. Mix in the pineapple, stevia, salt and pepper. Spread the potato mixture in the prepared baking dish, smoothing the top. Cover with marshmallows, arranging them 1/2-inch apart in one layer. (If desired, the dish can be covered, and refrigerated overnight; bring to room temperature before baking.)
Bake the casserole for 20-25 minutes, or until the marshmallows are brown and crusty.
Let sit for 15 minutes before serving.