What is the main staple of any eating regimen good or bad? Water! Your body needs water to survive. I hear people say they don't like the taste of water. While I find that odd because water doesn't have any taste, turn your water into a flavorful and nutritious way to hydrate with Vitapod. We had the opportunity to be one of the first people to review the Vitapod.
Vitapod Machine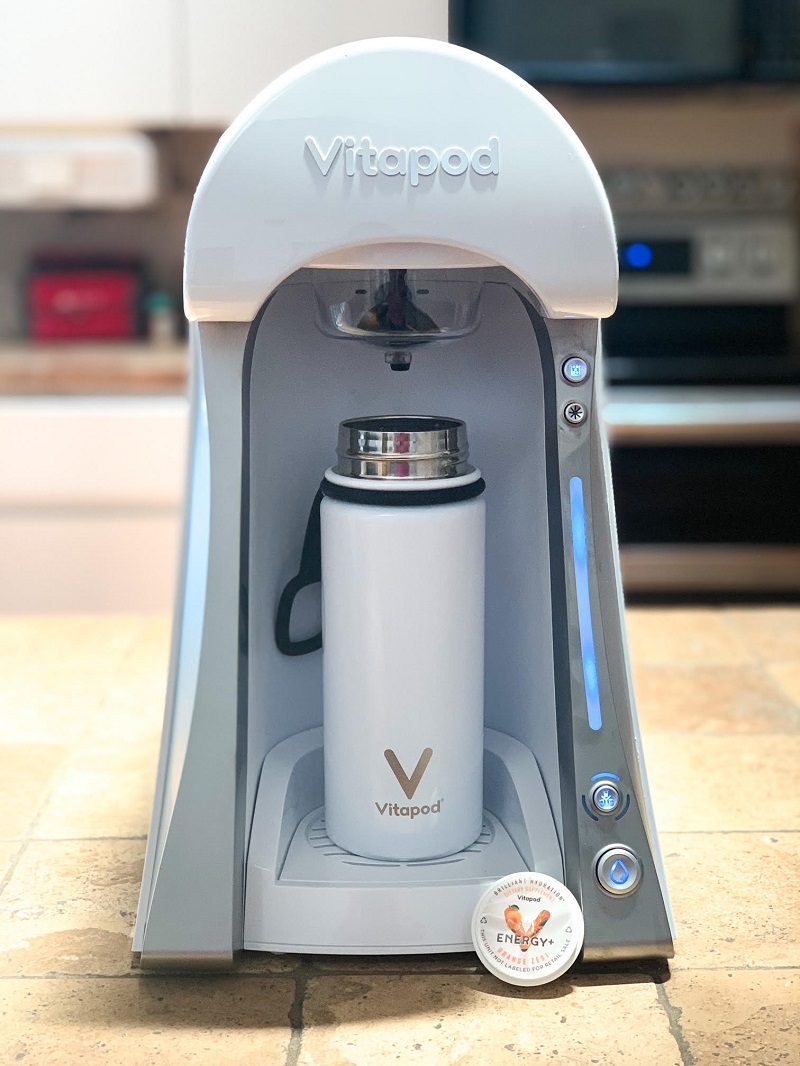 We were sent the Vitapod to test out ourselves. Let's first get into why Vitapod is a great option over traditional bottled water. I asked the Vitapod team this very question because it seems easier to just grab some water, pour in some powder, and be on your way.
Sustainability
Disposable plastic water bottles have been a hot topic for many years when it comes to their toll on our planet. Vitapod pods use 90% less plastic than single-use plastic bottles. For every machine that is sold Vitapod will stop 50 single-use plastic bottles from entering the ocean in partnership with Plastic Bank. Also, their research and development team is working to make the pod's fully biodegradable producing no waste at all.  
Filtration
The Vitapod filter has a filter membrane pore size of .5 microns vs the market leaders that are 5 microns. That's 10X larger than the Vitapod filter. Simply put, this means that the Vitapod filter will remove significantly more toxins and microplastics than your traditional filters. Here's a video that really drives this point home: https://youtu.be/1qTHeu7oeJg
Cooling & Space Saving
Ok I will admit the machine is large, so it won't save space on your counter, but it will save space in your refrigerator. Instead of filling your fridge with bottles, your water is ready for enjoyment and cool without even taking up any fridge space. The tank is double-wall insulated and can hold 3 liters of water. This means once the water is chilled, it will stay that way in the insulated tank. You don't need to take up fridge space with bottled water because the water is staying chilled in the tank. The cooling functionality of the tank brings the water to the optimal drinking temperature for hydration – allowing your body to absorb the water faster than if it's too cold or too warm (between 50 and 59 degrees). If you like it colder, you can add ice to the tank.
Mixing
The Vitapod Machine mixing chamber blends the powder with the water at 690 RPMs. This is to make sure it produces the best drink possible. You will never have a clumpy drink that you might get from mixing the powder into a bottle. Additionally, each drink can be made in 3 sizes depending on your taste preference. Whether you want a quick shot or a full 16.9oz drink, it will be blended perfectly each time.
Now, what did we think of the Vitapod Machine? At first, I was quite surprised at the size of the machine but after thinking about all the water bottles in my refrigerator I can see where there is an advantage to having that space freed up for healthy food!
I did have a little issue getting the filter in place. I was expecting a snap sound or something to let me know it was secure. In fact, the first time I put it in and ran through the flushing out the filter I was getting a blinking light on my machine telling me to change the filter. I fiddled with it a little more and that problem seems to have gone away. I'm still not sure if my filter is incorrect so this is one area I wish I felt a little more confident about.
I received MANY Vitapod flavors to try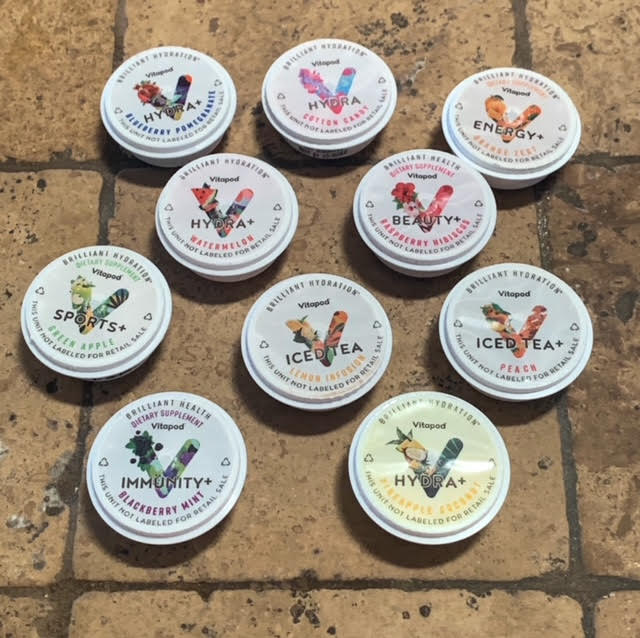 Hydra +
No sugar. Great taste. Vitapod Hydra+ blends health with hydration like never before. Each pod includes a unique mix of electrolytes, essential vitamins and minerals, and powerful plant-based antioxidants, transforming your tap water into a great tasting, hydrating, and more complete nutritious drink. Hydra+ comes in four delicious flavors and never contains any sugar.
Cotton Candy
Pineapple Coconut
Watermelon
Blueberry Pomegranate
Energy + (Orange Zest)
Energy+ pod delivers an immediate cognitive boost that lasts up to six hours, without the jitters or crashes from typical energy drinks. Our proprietary blend of flavonoids and caffeine helps reduce anxiety and improve your mood. Energy+ boosts metabolism 50-100 calories with day with 1 drink. Lose 5 -10lbs a year with 1 drink per day. 200mg of caffeine. Zero sugar. 
Immunity + (Blackberry Mint)
One Immunity+ shot a day keeps your immune system in tip-top shape. It fills the gap in essential nutrients and strengthens your natural defenses with powerful plant-based antioxidants. It's scientifically formulated with bilberry extract, isoquercetin, green tea extract, and a unique mineral blend to bolster the immune system. 
Beauty + (Raspberry Hibiscus)
Our Beauty+ shot can slow down and even reverse the aging process. Beauty+ improves skin's firmness with a unique blend of antioxidants, collagen, vitamins, and minerals. It includes plant nutrients to maintain a youthful appearance and reduce fine lines and wrinkles. Enjoy a shot every day for healthy, firmer, brighter, and more radiant skin. Zero sugar. 100mg flavonoids
Sports+
An intense workout often results in inflammation and muscle breakdown. Sports+ contains a unique blend of amino acids, electrolytes, and powerful plant-based antioxidants to serve your active lifestyle. Loaded with essential nutrients, Sports+ contains only 2g of sugar to support recovery. Low sodium. 100mg caffeine
Iced Tea+
Iced Tea+ tastes better and is healthier than water. Loaded with a unique blend of electrolytes, essential vitamins and powerful plant antioxidants, each pod delivers nutrients often under-consumed in a typical diet while also boosting your energy with 60mg of caffeine from black tea. 60mg of caffeine. 0g Sugar. 
That is a LOT of flavor in such a tiny pod. I haven't tried them all yet because I don't want to run through them just to taste test, but so far my favorite is the Sports + Green Apple. I love the taste and love the science behind the flavor!
Vitapod in Action
The hardest part of me is getting over the size of the machine, but I do believe the health benefits and the benefits to the planet outweigh that one drawback for me. I think I just need to do a little rearranging in the kitchen to find the perfect corner for my Vitapod machine. My husband is an Ice Tea drinker so I'm leaving those for him to try but right now he is enjoying the Orange Zest Energy + as his preferred drink.
The actual use of the machine is very simple (once you get the filter in place) the machine really does all the work. You need to do an initial flush as you do with any newly installed filter. After that, you just pop in your pod, push some buttons and watch the magic begin!
The Vitapod Machine comes in two colors black or white and the starter kit is $199.99 at the time of this posting. It comes with the machine, a 18.5oz bottle, and a sample pack of pods with one of each flavor (10 ct) to get you started.