This review as originally posted July 2015.
I have been putting off losing weight and my health for the last two years, for no particular reason other than I was unmotivated and lacked willpower. Unfortunately in that two-year time span, I gained 65 pounds. It is hard to admit it and it has come to a point where I refuse to be in photos and find that I never have the energy to do much. We now have a beautiful home and my kids are old enough to do so much and I rarely want to leave my house. So after many failed attempts at starting something I am putting every ounce of willpower and energy I have into making a change effective TODAY (or 6/27/15 LOL). I decided to start this change with a juice cleanse and I chose Juice From the Raw, A couple of my co-workers were just finishing up with it and it was in the right price range and could get here quickly.
Below I'm going to chronicle for you my daily experience and my thoughts on each juice, in my Juice From the Raw review. I purchased this product on my own. My purpose for deciding to start with a cleanse was to detox my bottom and start fresh It was not for the purpose of losing weight, though I suspected it would happen by drinking only juices.  After this 3 day juice cleanse I plan on moving on to eating healthy. I have a month of Medifast that I may start with and I've also purchased the 21-Day Challenge from Beachbody.
Juice From the Raw Review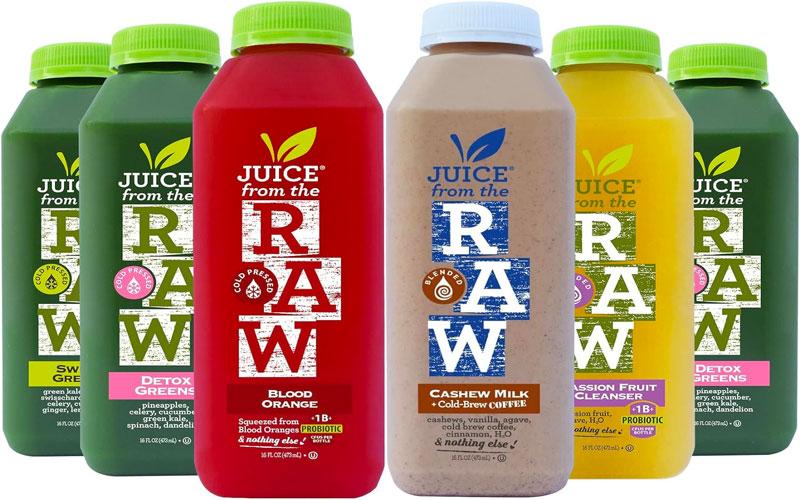 Preparing for the Juice From the Raw Review
I purchased the Whenever Cleanse with Cashew Coffee Milk. The cashew coffee milk replaces the coconut fusion in the original cleanse. My reasoning for this choice was 1. I thought the cashew milk sounded good and 2. I was drinking soda in the morning and thought maybe the caffeine in the cashew coffee milk would help replace the caffeine I was getting in my soda. To prepare for my Juice from the Raw Cleanse (which I decided to start on a Saturday) I ate pretty well the day before. I say pretty good because I ate my Medifast meals all day until dinner. At dinner, I ended up having french fries and cheeseburgers from McDonald's. I did cut out all soda on that Friday and drank a TON of water, so I lost a lot of water weight BEFORE I started this cleanse. Though this is not a weight loss program it is probably pretty evident that by drinking juices for three days you are going to lose weight so I'm starting off with that figure to compare after the three days of my Juice From the Raw review are up. Plus it is a great motivator since my purpose is to lose weight, eat healthier, and become more active.
Starting weight 6/27/15: 223.8
Juice From the Raw Review of the Juices
This is the order in which you drink them and my thoughts on each juice. Note: I think it is better to drink these fully defrosted. Any ice still frozen in the containers can change the flavor a little.
Cashew Coffee Milk – This didn't turn out to be the right choice for me. I don't drink or care for coffee but my co-worker said it just had a hint of coffee. Since I'm not a coffee drinker AT ALL our definitions of a hint of coffee were worlds apart. I was not a fan of the coffee taste at all. If you drink coffee regularly this will definitely be a good choice. I think it will help with coffee cravings.
Piney Apple Mint – This one is my favorite. I think the first time I drank it I didn't shake it up enough as I tasted a lot of the mint. About 1/4 of the way through it tasted much better. The second time I drank it I shook it well and it seemed to mix it better because it tasted good from the first sip.
Sweet Greens – It is hard to like anything that is made up of greens LOL. You can definitely smell the vegetables when you uncap this one. It took me a few minutes to figure out which one it was and then realized it was the cucumber. This does have a sweet taste to it but due to the cucumber and vegetables, you will be left with a heavy cucumber-like aftertaste, after each swallow. I actually decided to do the "hold your nose" and drink, chasing it with water to dull the aftertaste as much as possible. Definitely not up there as a favorite.
Spicy Lemonade – It definitely tastes very much like lemonade, sour lemonade with a kick. At first, you are not sure where the spicy comes in but you will notice it in the aftertaste. I ended up sipping this one a little longer due to the spicy aftertaste where I chugged most of the others. Each drink left me with a sour puss of a face. I don't hate it but it is not Piney Apple Mint.
Root Veggies – This one would be so much better if it didn't have the beets LOL, but then I think that is the main point. I did not care for this one much. I had to do the same as I did with the Sweet Greens and plug my nose. This time I drank the entire thing with my nose plugged and drank lots of water then unplugged my nose. I had a lot less of the aftertaste which I believe is the beets.
Detox Greens – I'm not going to lie I didn't even give this one a chance. I plugged my nose and chugged the whole thing. This one I was able to easily pinpoint the aftertaste it is celery.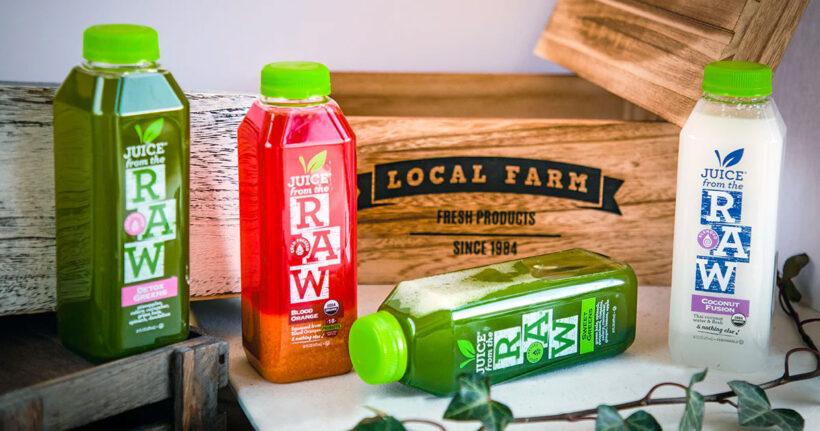 Daily Juice From the Raw Review
While how it tastes is important and something you need to know if you plan on giving the juice cleanse a try, it is just as important to know how it may make you feel. For this reason, I started this review on 6/27/15 my first day, and added my thoughts below on a daily basis to have an accurate log of how I felt each day.
Day One of my Juice from the Raw Review: I had my first juice at 8 a.m. (order of juices can be found above).  I decided I was going to have my juices about every 2 1/2 hours.  It is recommended to have them every 2-3 hours. I was not hungry at all when 10:30 a.m. came around and had my second juice. The kids and I went to the movies and it was a little after one when we returned. I was still not hungry and had my third juice. I was not surprised when my normal cravings and routine kicked in. About 1 1/2 hours later I was craving some "real" food. It was subtle though and easy to bypass since I was committed to this juice cleanse. Around three I started feeling hungry for the first time, my stomach was growling. I ended up getting sidetracked however and had my fourth juice at 4 pm. Around 6 I started feeling just a little hungry but not much. The problem was I really did not want to drink the last two juices. Finally, at 6:30 pm I drank my fifth juice. I was hungry around 7:45 but my husband and I were out shopping. I drank the last juice at 8:30.
Energy Levels: My energy levels were pretty high during the day, there were times when I would usually feel tired that I felt restless, and wanted to get up and move. I found this a nice change of pace. At 10:30 however I was dead tired, it just hit me and I was ready for bed.
Daily weigh-in 6/28/15: 224.4
Day Two of my Juice from the Raw Review: I usually wake up around 8 am on the weekend however I found myself out of bed by around 7:20 am. I did my daily pool maintenance and drank my first drink around 8:15. After my husband and I got back from our weekly shopping trip I had my second drink at about 10:45. I did some more running around and had my third drink around 1:30 pm. I didn't feel hungry at all but definitely wished I could eat some real food and looking forward to the three days to be up. I had my fourth drink at 4:30, was starting to feel hungry, and needed to stay on schedule. I drank my fifth drink at 6:30 reluctantly. At 8:30 I forced myself to have the final drink.
Energy Levels: Between my 1st and 2nd drink this morning I felt weak like my blood sugar levels had dropped. For that period of time, I felt a little slow. I had my husband running back and forth in the store as I kept forgetting things that were on my list in front of me. I don't think my energy levels were high or low but just even keel. I did nod off at one point during the day for about 15 minutes. I was ready to get in bed by 10 p.m.
Daily weigh-in 6/28/15: 221
Day Three of my Juice from the Raw Review: Today was a work day so I was up at 6:30 am. I did notice that for the past two days, I have woken up with a very dry mouth. I got ready and got to work before drinking my first juice around 8:45. I drank my second drink (my favorite) at 10:30. I was getting a little hungry and drank my third drink at 1:00. Around 2:45 my stomach started bothering me a little, still counting down my bottles and can't wait for real food tomorrow. I had my fourth drink at 4:00. At 6:30 I was excited that I only had two drinks left and drank my fifth drink. I drank my last drink at 8:30 and was excited that was it!
Energy Levels: Were normal, nothing high or low just thinking about finishing the juice cleanse.
Final weight 6/30/15: 220.2
Total weight loss: 3.6 lbs (this was losing most of my water weight PRIOR to starting)
Juice Cleanse Final Thoughts
My personal findings are that I do not think the juice cleanse tastes all that great. I only really liked one juice the Piney Apple Mint. I've done a cleanse before (not juices) where I felt the drinks were more tolerable. I don't feel I was extra energized or more clear like some people say.  I did feel less bloated and a little better overall like I was making a difference. I wasn't as sluggish as I have felt sometimes in the past, not equivalent to more energy just not as sluggish. It has given me the motivation that I was lacking to work at eating well and adding exercise to my normal routine.  For the longest time, I just couldn't beat the cravings when I was trying to eat well. I would do good until about 2 pm in the afternoon and it would snowball from there. This detox helped put me in the place I needed to begin losing weight. Would I do it again? If I was in the same dire situation of needing motivation yes. I will not do it as a bi-annual or annual maintenance plan. I'm not against cleanses but I don't think this is the one for me.
I'm happy to answer any questions about my experience. You can find me on Facebook, and Instagram, or email me at colleen@shibleysmiles.com. I often find it so hard to find a REAL review when it comes to Beachbody because so many people are coaches. I am not affiliated with Beachbody and did not choose to become a coach. I have purchased many of their plans in an attempt to find the right one for me. My husband and I followed P90X for about 8 weeks and I have also personally followed the Ultimate Reset program.