Don't you just love it when you get to the check-out counter and see the strategically placed candy at eye level of your little one? Your child pleads with you to allow them to get some candy? Yep, that happens every week when Honey joins us on our weekly shopping run. I don't always give in but when I do 50% of the time my daughter chooses a pack of gum over a candy bar.
Honey LOVES gum! She has a small plastic gumball machine in her bedroom she received for Christmas. As novel as it is I know she really loves the big gumball machine at Blockbuster. She enjoys putting in the quarter and watching the gumball spirals down to her waiting hand, seeing if she guessed the correct color. Wouldn't it be neat to have your own spiral gumball machine?
I thought so, so we got our own gumball machine from gumball.com. The plan was to replace Honey's small gumball machine with the new improved one, but I loved it myself and it never quite made it into her bedroom. When it arrived and we filled up the machine I just thought it would be a cool thing to have sitting in our foyer to greet our guest. I mean how many people have a gumball machine in their homes?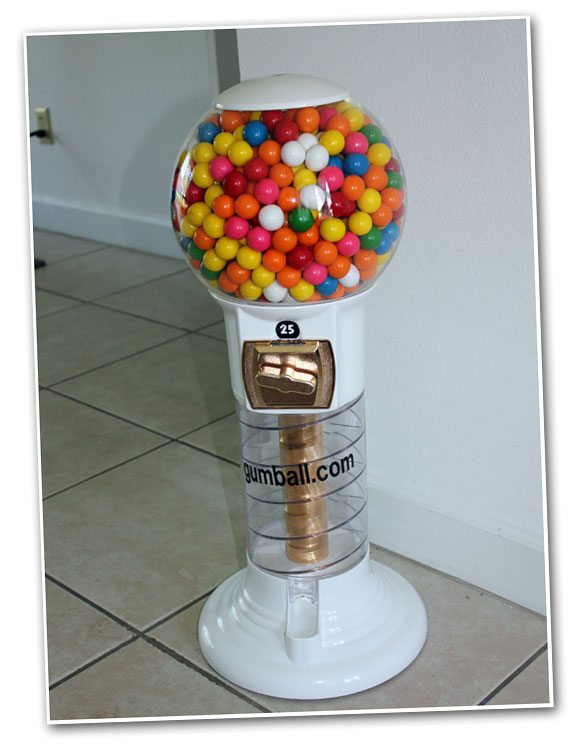 It is just colorful and fun and sets the mood of the house. The gumball machine is over two feet tall standing at 27″ and is a solid machine. The globe is high-impact acrylic with a dual processed plastic body. After some rearranging of our living areas this past weekend I have since moved our gumball machine. It is still one of the first things you see when you walk into the foyer but it now lives in our family room. It makes me smile when I walk into the room.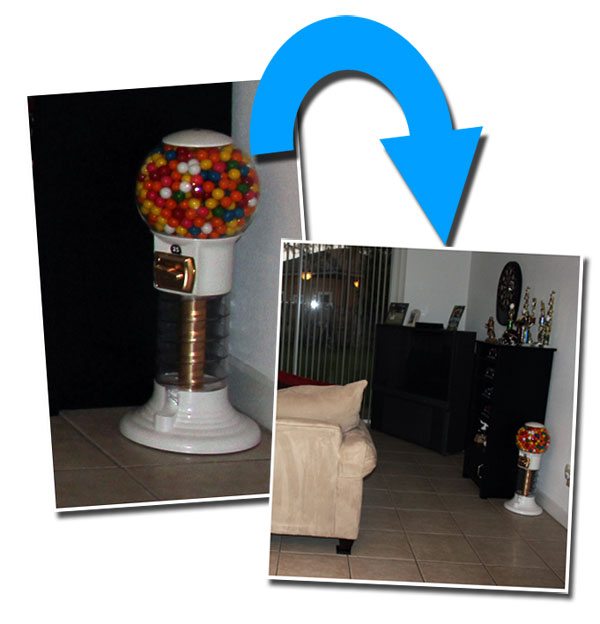 The machine is great to use as a bank if you happen to have a quarter handy on you. My plan is to purchase a roll of quarters and have it on hand when friends and family visit. So they can take part in a little bit of Shibley fun when they visit!
With our gumball machine, we received a box of gumballs. Not just any box but a giant box of 850 gumballs. The gumball dome holds about 425 (best guest) and we received enough to fill it up, I would say, almost twice. The coins once inserted into the slot flow through the metal tube and collect at the bottom for easy removal.
Gumball.com has a variety of gumball machines and other fun products such as candy, rubber balls, vending, and soda machines. How fun would it be to have a soda machine in your garage?

Maybe you already have a gumball machine at home and you just need a refill. When Honey got her gumball machine for Christmas I had a terrible time finding a place that sold gumballs. I tried several local stores with no luck. One thing I love about purchasing your refills from Gumball.com is how you can purchase them. You can browse by flavor, color, or size. You can also purchase sugar-free gumballs!