Have you ever thought how cool it would be to make your own soda? Truthfully I had never thought about it, even as I purchased 2 litter after 2 litter, cans after cans of soda for my family. Yes, we have some severe soda-holics in my house. When I was offered the chance to review the Soda Stream I thought what a unique idea. I didn't know when I told my children they were going to be so excited.
They couldn't wait for the Soda Stream to get here. When it did show up I was shocked at how much was included in my package. I received 9 different flavor bottles each of which makes 12 liters, 2 liter bottles, the soda stream, and the carbonator.
"Making carbonated water and soft drinks is simple! Turn tap water into sparkling water in under 30 seconds, with no clean-up. Enjoy the freshness and convenience of homemade soda and protect the environment at the same time. No heavy bottles to carry, store at home or throw away. Fizz to your taste and add the flavor of your choice to make your favorite drink. Simple to clean and reuse. With a variety of colors and silhouettes, you'll be sure to find a soda maker to match with any decor."
One of the great things about owning a Soda Stream is you save money. Think about all the soda you will no longer have to buy. You are also helping the environment but not purchasing plastic bottles. You have two reusable bottles that can be washed in between your soda-making. Of course, the most important thing is the flavors you can get with Soda Stream that they do not sell in the soda aisle. I can't wait to try the orange mango. They have a great selection including both regular flavors and diet.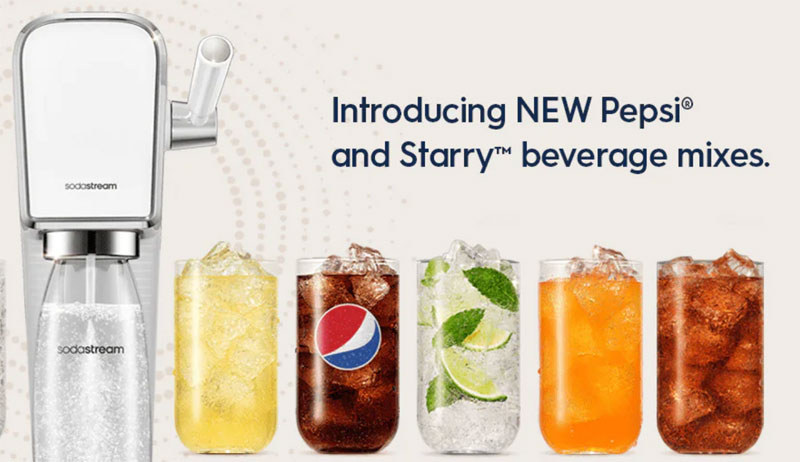 The kids could not wait to try this thing out. Buddy is a huge soda drinker (yes that is one thing as a mommy I didn't do so well with). He decided he wanted to make cola. On our first try, we found that we did not put enough bubbles into the soda so it ended up being a little too flat. We then decided to try the Diet Cranberry Raspberry, this turned out quite yummy, this was Honey's choice of drink. It was so easy to make I don't even have any tips as to how to make it easier. You simply screw in the bottle full of water. Push the button to carbonate it then pour in the syrup. Instant soda!
Last but not least Nick got his turn at the machine and decided on the lemonade. He loved it, not one of my favorites but to each their own they say!
The kids have been begging me to make some more, so we are going to do just that tomorrow. I think I may give that orange mango I try first it sounds delicious.
You can purchase your own Soda Stream starting at $99.95. That is a small price to pay when you think how many times you can skip that soda aisle at your local grocery store. Not to mention it is just plain fun to make your own soda! You can purchase your soda stream in many stores such as Kohl's and Macy's. If you are not sure where the closet retailer is to you just hop on over to Soda Stream and find out.