This post brought to you by Fresh From Florida. All opinions are 100% mine.
Ingredients
1 cup zucchini, finely diced
1/2 cup radish, finely chopped
1/2 cup onion, finely diced
1/2 cup bread crumbs
1/2 cup fresh basil leaves, chopped
3 tablespoons Parmesan cheese
1 egg
1 teaspoon freshly ground pepper
24 medium-sized mushroom caps, rinsed and stems removed
Directions
Preheat oven to 375 degrees F. Combine all ingredients except mushrooms; mix well. Stuff mixture into mushroom caps and place stuffed mushrooms on a large baking pan.
Bake until mushrooms soften and mixture begins to brown, approximately 15 minutes.
(Note: I made an executive chef decision to add cheese to half of them YUM!)
Have I mentioned how much I love being a Florida girl? Well it is the truth I love the state I live in and honestly have no desire to move out of it. I remember when right after high school my family eventually ended up in Virginia (lucky for me since I met my husband there). I went into a small shock when it dawned on me that the beach was not minutes away. In addition to our beautiful beaches, due to our weather, we are lucky to grow our own produce year round.
One of the great things about living in Florida is the availability of fresh seasonal produce. In March, when everyone is in the country is suffering through snowstorms and freezing temperatures we're able to brag about having tons of fresh produce available! This was the case when I made the recipe above for the family. I knew immediately that the Fresh From Florida veggies would be a hit with my daughter.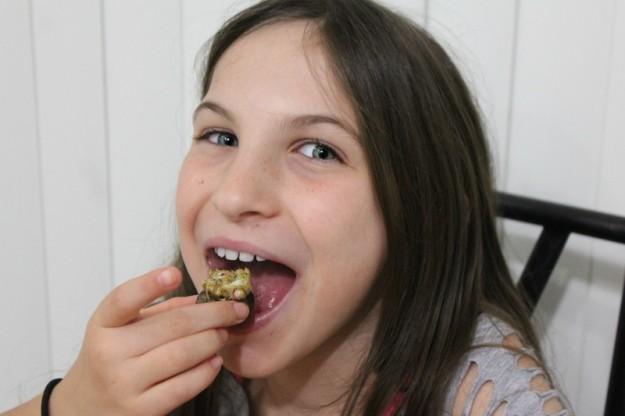 I was right, she had gobbled up three mushrooms before I could even snap a photo. One of the reasons I enjoy cooking with fresh produce is it is a step towards a healthier lifestyle. The past year has been the opposite of what I would have liked. I have put on all the weight I had lost 7 years ago. So I have been trying to find a way to get rid of the all or nothing mentality and take baby steps. One of them is trying to just cook healthier in general and quit the fast food cycle.
Something locally fresh is always in season right now in March in Florida it is the optimum time to buy the produce in season such as: Bell pepper, broccoli, cabbage, cauliflower, celery, cucumber, eggplant, mushrooms, papaya, radish, peanuts, spinach, squash, sweet corn and tomatoes.  You can find out all this great information by visiting Fresh From Florida on Facebook or Fresh From Florida on Twitter.
What is your favorite vegetable? Come on you have to have at least one!