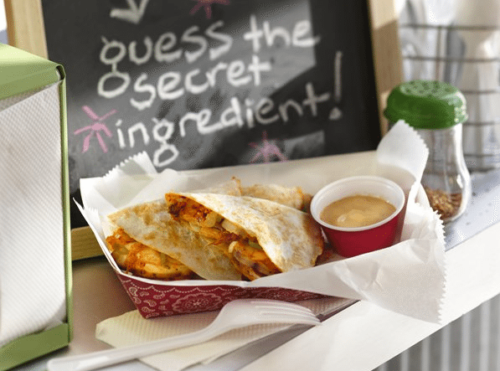 Ingredients
Chicken and Marinade
1 lb boneless skinless chicken breasts
1/4 cup soy sauce
2 tablespoons sugar
1 tablespoon toasted sesame oil
1 tablespoon sesame seed
4 cloves garlic, chopped
1/4 teaspoon ground black pepper
1/4 teaspoon crushed red pepper flakes
Sauce
1/3 cup mayonnaise
2 teaspoons sriracha sauce or Gochujang (Korean chili-bean paste)
1 teaspoon soy sauce
Quesadillas
4 Old El Paso® flour tortillas for burritos
1 cup kimchi, well-drained and chopped
1 cup finely shredded Cheddar-Monterey Jack cheese or Monterey Jack cheese (4 oz)
1/4 cup thinly sliced green onions (4 medium)
1 tablespoon vegetable oil
Directions
Place chicken in large heavy-duty resealable plastic bag. Stir together marinade ingredients; pour over chicken in bag. Seal and refrigerate at least 1 hour but no longer than 8 hours. Remove chicken from marinade; discard marinade. Heat gas or charcoal grill. Place chicken on grill over medium heat. Cover grill; cook 14 to 16 minutes, turning once, until juice of chicken is clear when center of thickest part is cut (at least 165°F). Thinly slice chicken.
2 Meanwhile, stir together sauce ingredients. Cover and refrigerate until serving.
3 To make quesadillas, top half of each tortilla with chicken, kimchi, cheese and green onion. Fold tortillas in half. Brush both sides of tortilla with oil. Heat 12-inch nonstick skillet over medium-low heat. Add 2 quesadillas to skillet. Cook 2 to 3 minutes, turning once, until tortilla is brown and crisp and cheese is melted. Repeat with remaining quesadillas. Cut quesadillas into wedges. Serve with sauce.
Expert Tips
Kimchi is a spicy-hot, fermented condiment that is served at almost every Korean meal. It's made of fermented vegetables such as napa cabbage, radish, green onions or cucumbers, that have been pickled. Kimchi can be purchased in the refrigerated produce section of major grocery store or at a Korean market.
Thank you to: Betty Crocker Fan Fare
---
Disclaimer: Recipes provided by Betty Crocker through MyBlogSpark. Opinions are my own and NOT influenced by monetary compensation. You may read more of my disclosure here.
---