It is no secret that I love a good pasta recipe. While my husband is a meat and meat guy, he will forgo the potatoes for more meat. I am a sides girl enjoying rice, bread, and pasta! The great thing about pasta is it is not hard to find a good pasta recipe. There are so many different types of pasta and pasta sauces that you almost can't go wrong.
My husband and I are the yin and yang where he likes meat I like sides. Where he likes mild I like spicy! One of my favorite pasta recipes is this Penne with Cajun Hot Links and Chipotle Shrimp Recipe, it definitely has a kick even for a spicy girl like myself.
Spicy Marinara Penne Pasta Recipe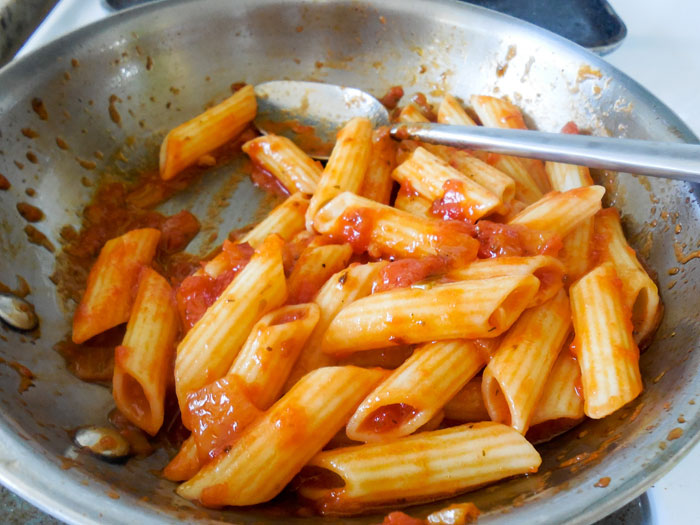 Spicy Marinara Penne Pasta Recipe
Recipe Type
:
Pasta Recipe
Author:
Prep time:
Cook time:
Total time:
Add a little kick to your ordinary pasta with this Spicy Marinara Penne Pasta Recipe. It is sure to tickle your taste buds.
Ingredients
1 Pound Penne Pasta
One 14 Ounce Can Crushed Tomatoes, pureed
1 shallot, small diced
2 garlic cloves
1/2 tsp Red Pepper Flakes (adjust per taste)
1/2 Cup Parmesan Cheese
1 tsp Italian Seasoning
1 tbsp Olive Oil
Salt to taste
Instructions
Bring a pot of water to rolling boil, season with salt and cook pasta until al-dente. It takes about 12 minutes to cook pasta or you follow timings per pasta package directions.
In meantime, in a wide pan, heat olive oil, garlic and shallot and cook until just soft (1-2 minutes)
Add pureed tomatoes, Italian seasoning, red pepper flakes, and salt. Cook covered for 10 minutes.
Add in boiled pasta and half of cheese. Coat to combine.
Serve hot with remaining Parmesan cheese.
Related articles across the web