Skincare is not at the top of a list of important "to-do's" for many teenagers, especially boys. I know when I was in high school I suffered from acne, as does almost every teenager on the planet. Mine was not so bad that it couldn't be covered with make up but it definitely was present. I never thought of any type of prescription medicine I always used over the counter skin care bars. When my boys started to get older not knowing what 'boys" do to take care of their skin I bought them a bar as well. That didn't go over very well at all.
When I was asked to review a very popular acne treatment plan from Proactiv I thought this would be a good chance to really see if this stuff works! My test subject will remain namless as they do not wish to have their identity revealed. It was part of the agreement for allowing me to take some before and after photos.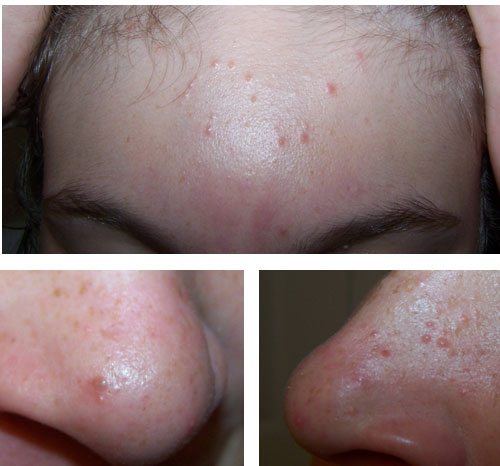 This is a normal case of acne, it is not extremely noticeably when you are pointing a camera as close as possible to take a photo. As you can see the acne seems to be primarily under the bangs which I assume is due to oil in my subjects hair, as well as on the bridge and side of the nose. We tried out the Proactiv 365 for two weeks. The instructions stated that you are suppose to cleanse your skin twice daily morning and night. I was lucky to get a night time cleansing out of my subject and despite the every day we didn't quite follow the strict schedule. Even without the every day for two weeks I was definitely impressed with the results and could really see a difference.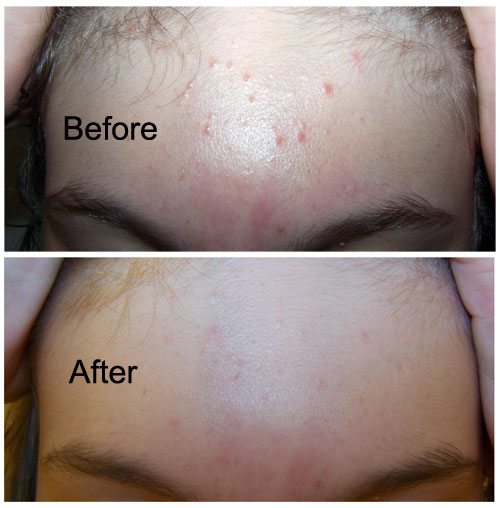 These are real photos from a real person. No trick lighting or photo shopping. As you can see the acne has really started to clear up with just less then half of the recommended routine. As an adult I still continue to get breakouts on occasion. Just recently my neck was really started to flare up itself. I decided to give the Proactiv a try. The first thing I noticed when I tried it myself was how it did not appear to be harsh or have a chemical smell. The second thing I noticed was how clean and soft my skin felt after just one use.
Our new micro-crystal medicine and 24/7 Skin Care Advisor support for ActivMembers™ are just two parts of our more powerful, more complete approach to treating acne.

Renew

This medicated Renewing Cleanser is made with new, exclusive micro-crystal benzoyl peroxide — featuring smaller, finer particles designed to quickly penetrate pores to start killing acne-causing bacteria on contact. Tiny exfoliating beads gently remove dirt, excess oil and dead skin cells to help keep pores from clogging.

Revitalize

This refreshing, alcohol-free toner helps remove impurities and excess oil so your skin looks and feels clean, soft and refreshed — not tight and dried out. Soothing botanical agents gently balance your skin tone.

Repair

The repairing treatment is a feather-light medicated lotion that gets deep into clogged pores faster but is designed to be gentler on the skin. It's an oil-free formula that's safe for your entire face.
You can find quite a lot of information regarding the program and benefits by visiting Proactiv 365 . When I was visiting myself a chat box appeared and I live (I can only assume she was) person asked me if they could help or if I had any questions. Just like if I had wanted into a store in the mall. As a Proactiv customer you have access to 24/7 365 support from expert skin care advisors.
After seeing the product in action and using it a few times myself I put my stamp of approval on this product. I believe Proactiv 365 delivers on their promise of helping clear up acne and prevent future outbreaks. I also highly recommend this product for teenagers BEFORE they begin to get acne. This would be a gift, it is already hard enough becoming a teenager feeling like you are ready to step out into the world while your parents continue to pull you back just a little until they feel you are ready.
---
Disclaimer: "I wrote this review while participating in a campaign by Mom Central Consulting on behalf of Proactiv and received product samples to facilitate my review and a promotional item to thank me for taking the time to participate." Opinions are my own and NOT influenced by monetary compensation. You may read more of my disclosure here.