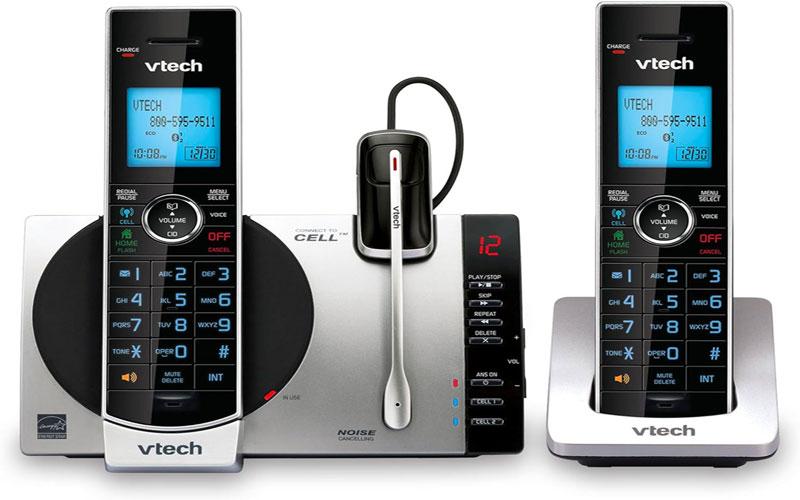 When I was asked to review the VTech Connect to Cell system I couldn't have been happier. A couple of years ago I started to do research to find a device such as this one. However even with the research I decided not to purchase anything. I was afraid that what I purchased would not be what I wanted. Let me explain why the Connect to Cell is perfect for a family like ours.
We are one of the many families that do not have a landline in our home. Both my husband, our two boys, and myself have cell phones. Honey is only six and doesn't need one quite yet. Sometimes I will call one of the boys from work or while I am running errands and they do not answer. This always drives me crazy. Nine times out of ten the reason they do not answer the phone is they don't hear it because it was in a different room or it was still on vibrate (a must-have in school).
The VTech Connect to Cell solves this problem (almost). I have paired up both of the boys' phones to the system. Now when I call their cell phones as long as they are within Bluetooth range (in the house) the Connect to Cell DS6421-3 will ring just like a normal landline phone. This is GREAT because even if their phone is on vibrate the Connect to Cell will ring. For this reason alone it does what we need it to do.
My biggest issue with the VTech Connect to Cell is that it only allows you to have two cell phones active at one time. You can pair up 4 phones however only two at a time can receive and send calls. This would be great if I only wanted to pair up the boys' phones. The BTech Connect to Cell also comes in handy paired with my own phone. I can't tell you how many calls I've missed because my phone is turned down, or in my purse and I can not hear it. I would really love to be able to pair up all four of our phones at one time.
With the VTech Connect to Cell, you can answer and send calls through the activated cell phones. This is great when I'm sitting at my computer and my cell phone is on the other side of the house. When the phone rings I can pick up my handset sitting next to me and talk. I can also call out on it without worrying about where I left my cell phone. However the sound quality is not the greatest, my husband has said I sound funny if he is on his cell and I'm on the Connect to Cell. I've noticed when I answer, using the Connect to Cell, the reception has a little static and is lower than I would prefer. This is minor to me because I'm using it mainly for the ring.
A nice feature of the ring is you can set different ring tones for each cell phone so you know which cell phone is receiving the call. The main unit rings the same for each phone with the customizable ring tone ringing just under the main ring. However the additional handsets ring with the customized ring tone. For our purposes, the VTech Connect to Cell works great!
Here are some interesting results from a recent survey by VTech:
VTech Holiday Survey Key Findings

For people over 55, the gift of a phone call was especially desired with nearly 60 percent citing it as their number one choice over other forms of holiday communication. The majority of respondents also ranked a phone call as the top choice, when considering the best way to stay connected with friends and family during the busiest time of the year. Additionally, calling family and friends more often was at the top of their wish list of things to do during the holiday season (28 percent)

45% of respondents said a phone call to catch up with them is the best present a distant friend or family could give them for the holidays; ranked highest among 55+ at 60%; dads ranked it at 47% and moms at 35%. Social media interaction ranked last at 5%
Due to the hectic nature of the holidays, 37% of respondents said the best way to stay connected with friends and family during the busiest time of the year was via phone; ranked highest among Div/Sep/Wid at 47%; moms ranked it at 36%, dads at 40%. Having one on one talks ranked the lowest at 7%
24% of respondents ranked a special holiday meal as the one thing they don't want to miss during this holiday season. 22% said a special family tradition. Only 13% of consumers were fine with missing things during the holidays – meaning 87% don't want to miss out on all the various holiday activities
Non-family members were at the top of the "phone calls to avoid" list with co-workers coming in first (36%), then neighbor (21%) and then friend (10%)
Calling family and friends (28%) was the top thing respondents wished to did more often during the holidays; highest among 55+ at 33%; out ranking attending more holiday get-togethers (17%), decorating the house (11%), attending church (11%) and give more/better presents (10%)
40% of respondents said more money to give presents is their one wish during the busy holiday season; highest among females 18-29 at 51%; Less than one-third (29%) said I wouldn't change anything – it is perfect the way it is. Of those wanting to change things during the holidays, having an extra set of hands to get more done was second in demand behind the wish for more money
47% of respondents ranked having enough money as the most stressful thing that they worry about during the holiday season; highest among Div/Sep/Wid at 56%. 27% of respondents ranked getting everything done and having time to enjoy the season as the most stressful – More parents think getting everything done and having time to enjoy the season is more stressful – moms (33%) and dads (32%)
46% of respondents said they would spend more time with family/friends if they had an extra set of hands to get things done (51% of all females); higher with moms at 48%. 37% of respondents said clean the house quicker; 47% of moms
31% of respondents said phone calls ranked the highest as the biggest distractions to getting more done at home during the holidays. 24% of respondents (48% of moms and 40% of dads) said kids needs/events
81% of respondents (92% of parents) ranked a device that could help you multi-task and get more things done as very/somewhat important
---
Purchase the updated version here.