Ok my friends you remember that totally awesome trip I took to Disney where I met Hugh Jackman, Shawn Levy, Hugh Jackman, Anthony Mackie, Hugh Jackman, John Gratins, and did I mention Hugh Jackman? Ok yes that was the highlight of my trip, however that was only half of the fun. In addition to the press junket for Real Steel we also attended the press junket for The Muppets. Before I left for LA this was one movie that my husband and daughter were really thrilled about seeing. I'm almost glad that while in LA we didn't get to see the actual screening and only some clips. The clips we did see where pretty darn funny and I really hope this movie is going to be a hit.
So our first interview was with the very famous and well known Kermit and Miss Piggy. They were as humorous as always and very coy regarding their "relationship" or rather Kermit was mum on the whole issue.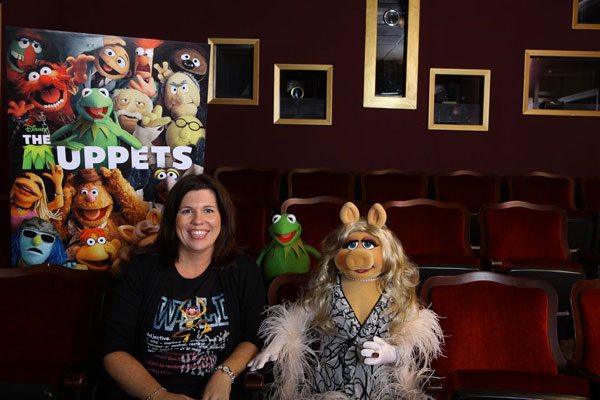 You would seriously be amazed if you ever sat down and talked to these two, the puppeteers are all but invisible. This shows some very raw and true talent on the part of these amazing people. I really enjoyed talking with them both and am hoping to post some excerpts from our interview soon. You do realize that it is only a couple of weeks before The Muppets hits the theaters November 23rd. This is one movie that I attend to take the entire family even if that means missing the pre-screening.
Now I haven't forgotten another amazing actor only second to Miss Piggy of course, oh and you too Kermie, Sorry Piggy I meant Kermit. Only Miss Piggy is allowed to call him that according to her and I had no intentions of crossing her. Have you ever seen her mad? Anyway we also got the chance to interview the talented and funny Jason Segel. I can tell you that he is just as funny in person as he is on the big screen, and just as tall. I didn't realize until the interview that The Muppets is coming to you compliments of Jason Segel. This was something he was excited about doing and pitched Disney himself along with his co-writer Nick Stoller. Here is a great group shot of the awesome bloggers I met on my trip along with of course Jason Segel.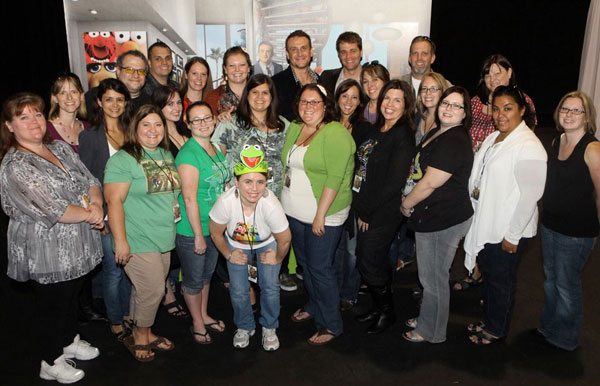 Look for a lot more Muppet Mania coming to you almost daily. Time to get ramped up for this exciting but classic movie. I'm excited to see not only what Honey thinks but this new generation of children that will be introduced to a tv classic from our time.
---
Disclaimer: I was the guest of DreamWorks and Disney as part of The Muppets press junket.