They say that nothing is better than a good nights sleep. I'm not sure who they are but I have to agree with them. Over a year ago I use to wake up and my hips would hurt or I would toss and turn all night long. I had always wanted to invest in a good mattress I just never knew where to start. Thanks to a campaign I was working on I had the pleasure of receiving a good mattress and immediately felt the difference.
It is great that my husband and I have experienced the difference but we have three other people in this house that would also benefit from a good nights sleep. Maybe I would even see better grades from the boys. Ok so that was just wishful thinking. I was recently asked if I would like to review a mattress from Novosbed.com. Immediately I thought of my children. I decided that I would let my youngest son have the honors of picking out a mattress and reviewing it. He often is looked over when it comes to reviewing items, and honestly I knew he would be excited.
So the first thing I did was ask him what type of mattress would he like. I had him go in and lay on my bed both on my side and his fathers and asked him which side he liked better. He liked mine which means he likes a softer mattress. Next we went to Novosbed.com to start shopping for the perfect mattress. There are four different mattresses, the Classic, Aria, Sonata, and the Harmony.
NovosBed.com Mattress
When you are trying to decide on which mattress is best for you each description will answer three questions:
How it Feels (on a sturdy foundation)
It is Right For You if
Consider a Different Mattress if
After reading careful each mattress my son and I decided that the Harmony would be the best fit. It appeared to be the softest and had a lot of features we were looking for.
Harmony Mattress Features
How it Feels (on a
sturdy foundation

):
Fast-response gel memory foam feel, like Sealy Optimum Inspiration®
Sink-in slightly more than traditional soft memory foam. Foam bounces back faster: less than 1 second
Firmness comparable to a medium-soft spring or foam mattress
Harmony is Right For You if:
You like a medium-soft mattress
You like a faster response memory foam
You like pillow/euro top mattresses
Consider a Different Mattress if:
You prefer a firm, memory foam feel: Classic
You prefer a soft (pillow/euro top), memory foam feel: Aria
You prefer a firm, faster-response memory foam: Sonata
The mattress was delivered right to our door in a huge (and heavy) box. I was surprised how heavy the mattress was. We rolled it out onto the bed and my first thought was that it was a lot thinner than it had been described. Of course it always helps to read. There were no directions or information with the mattress but it states online:
Arrival and Use
Compressed and packaged in 3 protective layers
Expands within a few hours of being removed from the packaging
Your mattress is ready for use within 4-6 hours
For more information, consult the Mattress Care Instructions
I did notice an odor. It wasn't overpowering but my sensitive sinuses could definitely detect it. I asked about the odor because it seemed to linger for quite a few days. I was promptly given some excellent tips on how to reduce the odor quickly.
When first unpacking a memory foam mattress, there is a slight odor. This is standard with all memory foam mattresses, even the top brand names. We recommended you air out your new mattress in a well ventilated room for 3-5 days. Click here for specific mattress care instructions. To speed up this process, place a glass of white vinegar next to the mattress in a well ventilated room.
I waited a couple of days and asked my son what he thought of the new mattress. He said he LOVED it! It must be comfortable because lately I've had a harder time getting him out of bed in the morning. He usually curls up and says he is too comfortable to get up.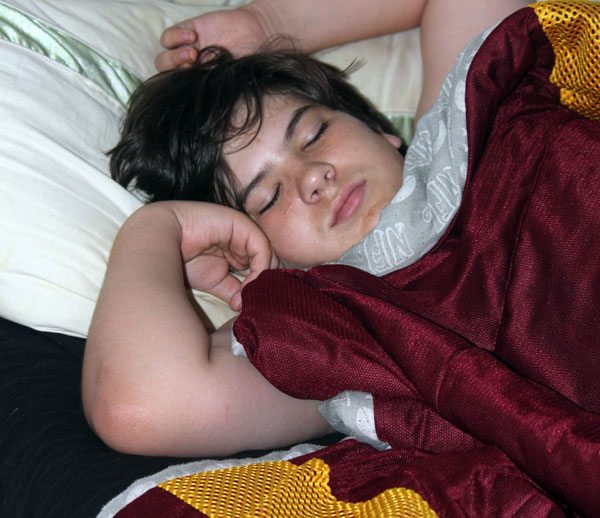 I tried the bed out myself for a half an hour, laying there doing the Candy Crush thing. It wasn't quite as soft as I thought it would be, but over a little bit of time it did start to soften up a little more.
Benefits of Harmony NovosBed.com Mattress
Benefits
Eliminates pressure points common to conventional mattresses
Promotes good sleeping posture
Eliminates motion transfer
At least 50% less expensive than comparable mattresses
Compatible with an adjustable bed foundation
Compare NovosBed.com to Other Leading Mattress Brands
Because NovosBed.com wants you to be a happy customer they have some great guarantees to make sure that is exactly what happens.
NovosBed.com Guarantee
120 Night Trial
Try out your new Novosbed Memory Foam Mattress for up to 120 nights at our risk.
We pay all return shipping costs, so if you're not satisfied with your mattress, returning it is easy!
Click here to read the full details
Mattresses: 25 Year Warranty
Novosbed's 25 Year Warranty protects your mattress against manufacturer's defects prorated for a period of 25 years.
Read our full 25 Year Warranty here
Pillows: 3 Year Warranty
Novosbed's 3 Year Warranty applies to all memory foam pillows, protecting them for a period of 3 years.
Click here to read our full 3 Year Warranty
Please note: the Novosbed 120 Night Trial does not extend to pillows
---
Disclosure: I was provided a Harmony NovosBed.com mattress to facilitate this review. You may read more of my disclosure here.
---