Many of you already know that I absolutely LOVE my Fitbit. I've done a few reviews from the Original Fitbit, Fitbit Ultra, and even the Fitbit Premium Membership. Recently I was thinking of doing a post on the top reviews I have done in the past two years that I still love today. If I ever get that post together the Fitbit will definitely be at the top of my list!
When I visited New York and attend BlogHer12′ earlier this month I was very excited about meeting my sponsor and the company hosting my newest Ambassadorship Best Buy. I had a wonderful time and reconnected and meet some other great bloggers that make up the rest of the Best Buy Blogger Board. In addition we were given a handful of products to review. How fun is that? Look for reviews in the coming week and next month as well. To get started though my first review, or rather re-introduction, is of the Fitbit.
I have been using the Fitbit on and off for over a year. This is the best fitness tracker I have had the chance to use and I often recommend it to everyone I meet. I wish I could say I'm always getting in my 10,000 steps a day however due to working at a "desk job" it is tough sometimes to do so. My nights are sometimes full of homework and sports. However while at BlogHer I had the highest steps I've ever taken in a single day!
I'm getting ready to hopefully start up a walking program with my son, and possibly husband. I am considering giving a Fitbit to my son so he can track his success and see how many steps he takes all day hoping this may motivate him to stay active.
With the  Fitbit Ultra comes the ability to track climbs. I did a much better with climbs while in New York, from stairs in stores, the subway to the incline occasionally when walking the streets. Here in Florida the land is pretty flat and I really have no stairs to climb. Unfortunately using a stair climber or any other exercise equipment that simulates climbing does not record as stairs climbed.
The technology used in the Fitbit Ultra is: altimeter – is an instrument used to measure the altitude of an object above a fixed level. I guess I will have to stick with climbing as tall as a giraffe. Yes I said giraffe. I love that Fitbit has added a little humor into their tracking. Depending on how many flights you have climbed you will receive a little note telling you how far you climbed. The highest I've gotten is as tall as the World's Tallest Sand Castle The Statue of Liberty and how ironic I reached that while in New York, and the same day we visited the historical landmark!

Additional features

Tracks Floors Climbed
Color Options
Clock
Stopwatch
Control the Device's Display
Personal Greeting
I never thought about visiting Best Buy to pick up this product. However one day while I was in the store I was browsing and happen to see one on the shelves. At the time I was looking for another base station to keep at work and inquired with the sales associate. Though that was not something they sold in the store I was impressed to find the Fibit Ultra at Best Buy.
In addition to all the tracking one of my favorite parts of my Fitbit Ultra is not the gadget itself but the motivation that comes from linking up with other Fitbit users. I have a handful of friends that all use the Fitbit and each day I can log in and check the leader boards. I am competitive and I love to see my name at the top. I wish I could show you a pretty picture below of me at the top of all the boards but I have been slacking in my physical activities lately.

For additional motivation you can also earn badges for specific activities like floors climbed, steps taken, distance traveled, etc.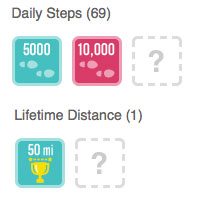 I've mentioned before many of the features in a previous review but just to name a few you can log your meals, your specific activities, and sleep. I have a friend that used her Fitbit to track her sleeping patterns to take to her doctor because she has having trouble sleeping. I sometimes manage to log my food and other times I just don't have the time. You will find a ton of foods preloaded for you to chose from and you can always add customized foods of your own.
To see a little bit of what Fitbit can track you are welcome to check out my profile: Shibley Smiles Fitbit Profile. (just note I've been slacking but plan on picking up with my usage this week).  If you would like to add me as a friend you can do so by inviting me through my email: colleen@shibleysmiles.com.
There are some additional ways you can linkup with the Fitbit. You can link up with several other services so that you do not have to reenter your information in both profiles.
Maybe you are on vacation and have decided to not bring a laptop, however you want to continue to track your meals and log activities. You can download the application for both iPhone and Android.
Log as you go, from food to weight

Log food, water, workouts and weight from your Android phone. As long as you have an internet connection, you can log from anywhere and it all syncs right back to your account.

Track your progress on weight goals with Food Plan

Whatever your weight goal, Food Plan can help you reach it by setting a calorie intake plan just for you. Your calorie target zone will automatically adjust based on how active you are each day, making it easy to see just where you stand.

See your day's stats, or look back on how you've done before

You can view your latest synced stats for the day, or for up to two weeks prior. Every time you sync your Tracker with a base station, your steps, calorie burn, and floor climb update right on your phone.
---
Disclaimer: The reviewer has received compensation for this post in the form of the reviewed product or a gift card. All opinions are my own and mine only. You may read more of my disclosure here.
---