There are advantages to getting older like wisdom and experience, however there are disadvantages like grey hair! At 38 I have had grey hair for many years know, as my husband loves to remind me. When I was asked to review a new product Rita Hazan Root Concealer, I thought sure what can it hurt. I have been covering those roots the old fashion way the only root concealer I know of dyeing my hair. I usually dye my hair every 6 to 8 weeks using a semi permanent. It doesn't take long before those grey's are shining through. So I was happy to review the Rita Hazan Root Concealer for my readers. The bottle is small and light and can be purchased in different colors, I received the dark brown/black.
COLORS: The root concealer is available in 5 shades that were created to match a wide range of hair colors.

Dark Brown/Black – Covers the darkest shades including ebony, raven and deep-dark espresso.
Light Brown – Covers the lighter brown shades including chocolate, chestnut, amber, and sable.
Red – Covers all the basic red tones including auburn, copper, strawberry, bronze and ginger
Blonde – Covers a full range including honey, golden blonde, beige, champagne and sandy shades.
**Dark Blonde—Covers roots for honey blondes, darker blondes, ash blondes, and caramel blondes. **NEW SHADE LAUNCHING MARCH 2012
There is nothing worse then getting your hair all done and then having someone who is let's just say 6 foot 1 towering over you looking "down" on you and says, "Look at all those grey hairs!" Now matter how much I dye they always pop back up. I too notice them most when I'm doing my hair, how great would it be to have something to cover them up quickly, something like Rita Hazan Root Concealer. So let's give it a try. Here is a before photo.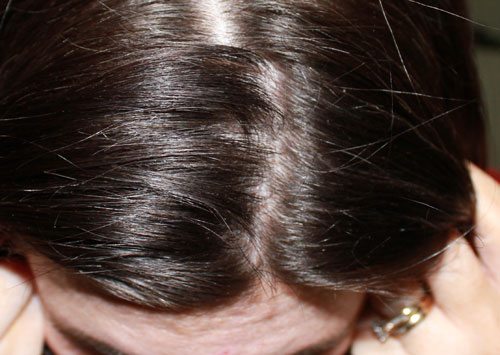 It is kind of hard to see the grey's in this photo but trust me they are here. I dyed my hair a good 3-4 weeks ago. Sometimes the grey's just look like light is shining on my hair but no they are grey. So right after this photo I took my can of Rita Hazan Root Concealer, shook well and lightly sprayed it over my part line. Here is my after photo.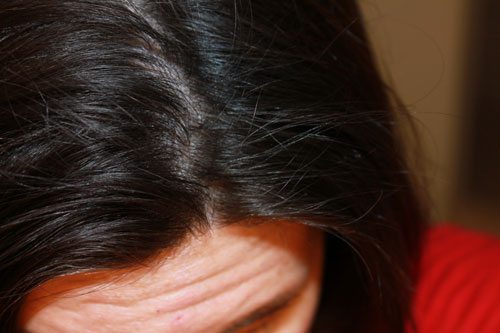 I'm terrible at before and after photos I never get the same lighting and position so let me tell you my thoughts. I was surprised to find that I really loved this product. Honestly that is the truth. I think this is a great product to have on hand when you really notice those grey's showing and it drives you crazy. It is not something you should be using every day to cover your grey hair. If you have that many and want to cover them you should consider coloring your hair. This is a quick fix when  you just don't have time to color or change your style. The root concealer washes out with your next shampoo.
My tip is that you really should have your hair styled and use this just to cover up the grey's you see. This is not something you spray all your roots with and then try to style your hair. It does have a unique feel to it, a little course, for lack of better word. It is not noticeable and you will not be spraying your entire head just the roots at the crown of your head that are showing grey. Maybe a little further to cover some stray strands but you do not spray your entire head.
Due to the consistency of the product I would suggest you do wash your hair the next day and do not try to re-style. Remember the Rita Hazan Root Concealer is a quick fix not a permanent one.
PRODUCT INFO:  Root Concealer Temporary Color Touch Up Spray

Covers gray and any root growth with a quick, easy, and effective application.
Currently found at the Rita Hazan Salon in NY, Sephora stores nationwide and on

Sephora.com

.  New Dark Blonde Color will be available for purchase at Sephora stores nationwide mid-March 2012.
Price: $24.00
---
Disclaimer: I wrote this review while participating in a blog tour campaign by Mom Central Consulting on behalf of Rita Hazan and received a Rita Hazan Root Concealer product and a promotional item to thank me for taking the time to participate. Opinions are my own and NOT influenced by monetary compensation. You may read more of my disclosure here.
---