Another Facebook Ad caught my attention. I know you are probably thinking, geez she spends a lot of time on Facebook. My Facebook is paired down to my close friends, local news outlets, and a few companies I like to follow. Fitness Tee Co is one of those companies. I really love the sayings on their tank tops so a few years ago I purchased my first two Fitness Tee Co tank tops.
FITNESS TEE CO TANK TOPS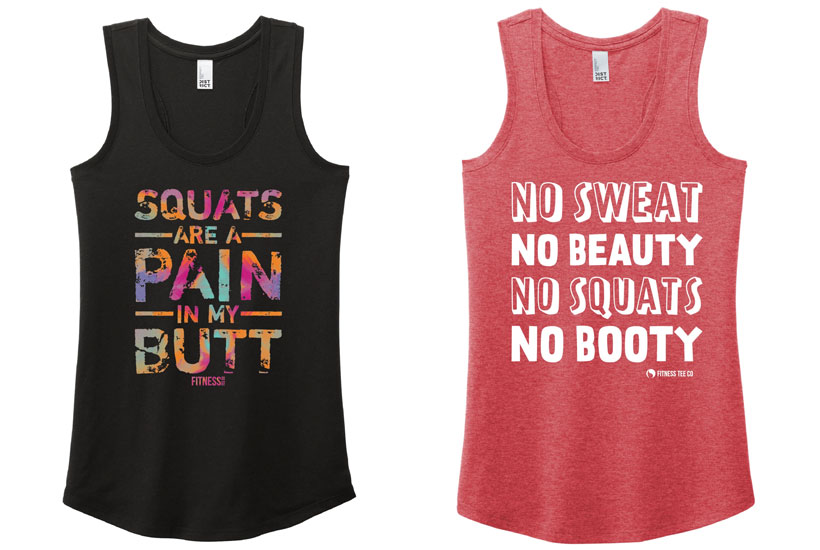 The tanks tops above are your normal style tank top. I now purchase the rocker style tank tops which have a higher neckline and cover less shoulder. Many of their new sayings were in this new design, which was the reason for the switch. However, now that I'm wearing this style I much prefer it.
FITNESS TEE CO ROCKER TANK TOPS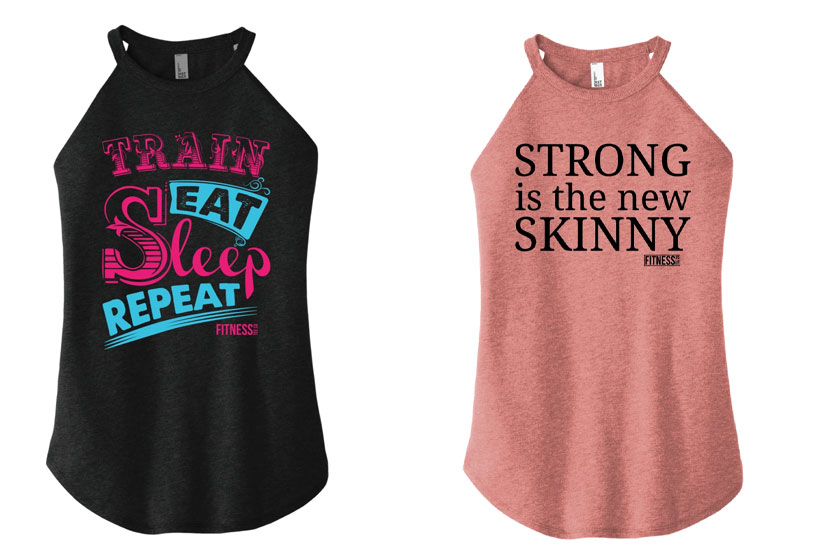 FAVORITE TOP SAYINGS
What drew me to this company was I loved the sayings on the tops. They embodied fitness and strength but in a fun way. Some of my favorite tops and ones that I own:
Squats are a Pain in the Butt (because come on aren't they?)
Strong is the new Skinny
Goal Weight Strong AF (as F***)
No Sweat No Beauty No Squats No Booty
LEGenDArY (Leg Day)
Train Eat Sleep Repeat
Rise & Grind (I like this one because of the colors)
These are just some of the shirts, there are some other great sayings and they are coming out with new ones all the time. They also have a couple of different styles with some of the same sayings, sleeveless with hoodies, long sleeves, t-shirts, and crop sweatshirts with hoodies.
WHY I WILL CONTINUE TO SUPPORT FITNESS TEE CO
There is another reason I will continue to purchase and support this company. One of the reasons is I just love that they are out of Grand Rapids, MI. GO MICHIGAN! Much of my family lives or lived in Michigan and it is where I was born. More importantly, is their excellent customer service.
I had been debating for weeks about placing a Fitness Tee Co order because the shirts are a little pricey once you add in tax and shipping. There was a great BOGO ½ deal so I decided to go ahead and place that order. I purchased two shirts, mistakenly ordering from my cell phone. One of the shirts I accidentally ordered in XS. I didn't notice it when they sent the order confirmation. However, I noticed it when they sent the shipping information. I couldn't believe what I had done I knew it was my fault but if I wasn't able to get it fixed it means I spent an awful lot for one tank top.
I read on their site that you have one order to fix an order, they do not offer returns. I took the chance and contacted customer service anyway. I received an auto-reply that stated if you were trying to fix an order to contact a different email address. Despite the error being mine they sent me the correct size and told me I could donate the XS when I received it. I told them I was forever grateful and they have earned my business for life! Thank you Fitness Tee Co for your excellent customer service and great tank tops!