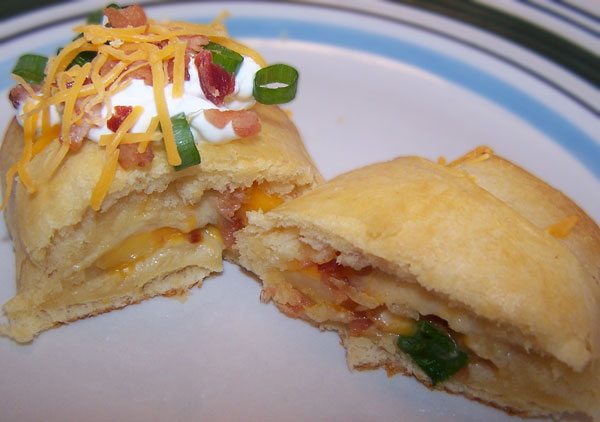 One of the things I've started to enjoy (please don't tell my family) is creating some interesting and sometimes tasty dishes. My task today….create something using Pillsbury Crescent Rolls. I have to say I'm pretty proud of the outcome. Not only that but my husband said these "Loaded Potato Puffs" were pretty good. My husband rarely says anything more then "it's alright" so I was pretty pleased with his reaction.
One important thing I learned when creating this recipe is that the potato needs to be baked before it is rolled. The recipe is simple, easy, and your entire family will love these. My husband suggested that in addition to the potato throwing in a little bit of cooked hamburger would be great as well.
Pre-rolled Loaded Potato Puff
Ingredients
Pillsbury Crescent Rolls (8 rolls)
X-Large Baked Potato or 2 Medium
Shredded Cheese
Bacon Bits (Or real bacon crumbled)
Scallions
Sour Cream (optional)
Directions
Bake the potato(s) using your preferred method. I used the microwave. While potato is baking lay out crescent rolls on a baking sheet per the directions on the can.
Once your potato(s) is done baking cut in half and scoop out approximately 2 Tbsp of potato on to each crescent roll. Top potato with shredded cheese, bacon bits, and scallions (cut). Keep in mind you will need to roll up the crescent roll so gauge the amount based on this need.
Roll crescent roll per directions on the can and bake as directed. Once out of the oven you may chose to serve bare or top with your favorite potato toppings such as sour cream, cheese, bacon bits, and scallions (as seen above).