I've always enjoyed Rice Krispie treats as a kid. Oh who am I kidding Rice Krispie treats are definitely not just for kids. Now instead of taking the time to make them yourself you can purchase them in neat little packages in the store, but what fun is that? The whole point is not just eating something delicious but the fun of making them with the kids. This recipe takes a fun twist and adds some amazing ingredients to make a very tasty new kind of Rice Krispie Treat!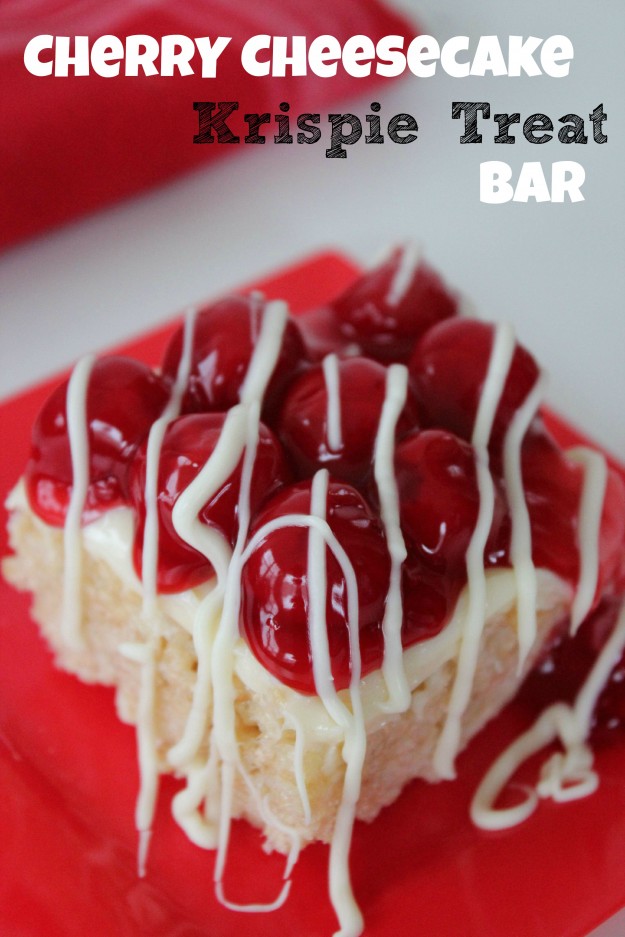 Cherry Cheesecake Krispie Treat Bars
Treat your guests to a delicious dessert with these Cherry Cheesecake Krispie Treat Bars
Ingredients
6 cup Rice Krispies Cereal
3 tbsp Butter
10.5 oz Marshmallows
8 oz softened Cream Cheese
14 oz Sweetened Condensed Milk
1/3 cup Lemon Juice
1 tsp Vanilla
21 oz Cherry Pie Filling
1/4 cup White Chocolate Chips (optional)
Instructions
Grease a 13×9 pan with butter.
In a medium to large saucepan, melt the butter over low heat.
Add the marshmallows and stir until completely melted.
Remove from heat.
Add the Rice Crispies cereal and stir until cereal is well coated.
Allow to set about 4 minutes.
Press mixture into prepared pan and allow to cool.
Combine softened cream cheese, condensed milk, lemon juice, and vanilla and beat until well blended.
Pour on top of the cooled rice krispies and allow to set in the fridge for several hours.
Top with cherry pie filling and refrigerate.
After cutting, you can drizzle with white chocolate.
Place chips in corner of zippered sandwich bag and microwave 45 seconds.
Knead to make usre they are melted.
Clip very tip of corner and drizzle.
The combination of Rice Krispie treats and cream cheese is amazing. I mean really can you ever go wrong with cream cheese? Then to top it with cherry pie filling…oh definitely a crowd pleaser!