Spring is in the air, at least in South Florida it is. Our temperatures recently fell from 88 degrees to 73 which is perfect picnic weather. I know must of the USA is either covered in snow or experiencing cold temperatures but spring is right around the corner. Nothing says picnic food like this amazing Buffalo Two Potato Salad Recipe.
Buffalo Two Potato Salad Recipe
The great thing about potato salad is you can have so many different flavors. This Buffalo Two-Potato Salad is a great way to spice up the classic picnic dish. I made this delicious recipe courtesy of Hellmann's. Perfect for the upcoming spring weather, here is the recipe so you can give it a try.
Buffalo Two-Potato Salad Recipe
Author:
Cook time:
Total time:
A picnic favorite this buffalo two-potato salad gives your dish just the kick it needs.
Ingredients
2 1/2 1lbs potatos (Yukon gold and/or red potatoes)
1 cup Hellmann's Real Mayonnaise
1/4 cup cayenne pepper sauce
1 cup sliced celery
3 hard-cooked eggs, chopped
1/2 cup crumbled blue cheese
1/2 cup sliced red onion
4 strips crisp-cooked and crumbled bacon, optional
Instructions
Cover potatoes with water in 4-quart saucepan. Bring to a boil over high heat. Reduce heat to medium-low and cook until potatoes are tender, about 10 minutes. Drain and coll slightly.
Combine remaingn ingredients except potatoes and bacon in large bowl. Gently toss in potatoes. Serve chilled or at room temperature. Just before serving, sprinkle with bacon.
Calories:
370
Fat:
26 g
Saturated fat:
6 g
Trans fat:
0 g
Sugar:
2 g
Sodium:
620 mg
Fiber:
3 g
Protein:
9 g
Cholesterol:
90 mg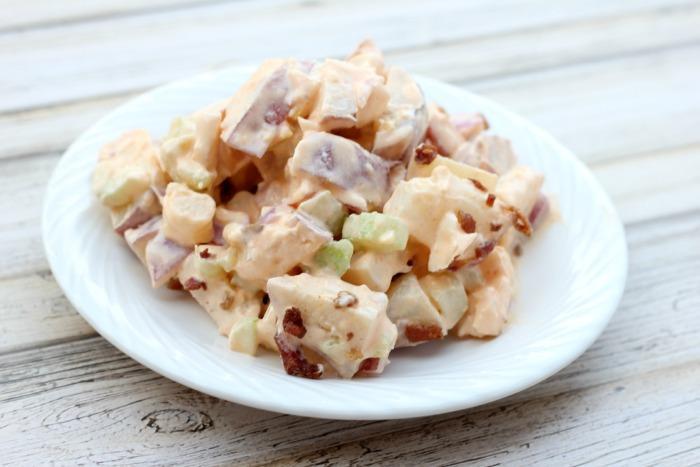 So what do you think are you ready for spring? Ready to head out for a family picnic? The great thing about a picnic is you can have one just about anywhere. In the back yard, at your local park, or even pool side. If it is still too cold for a picnic in your area get into the picnic spirit with some picnic dishes like the Buffalo Two-Potato Salad I made, or visit Sam's Club  for some additional classic picnic recipes like:
Main Courses:
Orange-Sage Pork Chops
Thai Turkey Lettuce Wraps
Succulent Grilled BBQ Chicken
Side Dishes:
Sauteed Kale & Red Onion
Cranberry-Almond Brussels Sprouts
Desserts:
White Chocolate Cranberry Cookies
Bittersweet Pecan Brownies with Caramel Sauce
Cinnamon-Glazed Fruit Kabobs
Beverages:
Watermelon Agua Fresca
Patriotic Tea Punch
Triple Lemon Drop
I love taking quizzes. My husband and I are always finding fun quizzes on Facebook to see where we should live, what kind of car we are, or what our super power should be. Join the fun and take this fun quiz below to find out: What Does Your Taste of Food Say About You?