I'm not a huge fan of cooking with oil all the time, even if it is olive oil. Many times I've already consumed my fair share of fat by the time dinner comes around. I am also not much of a "think out of the box" type of cook. So I was excited to make a new recipe for the family using Nakano Seasoned Roasted Garlic Vinegar. I decided to make Asian Chicken Nuggets.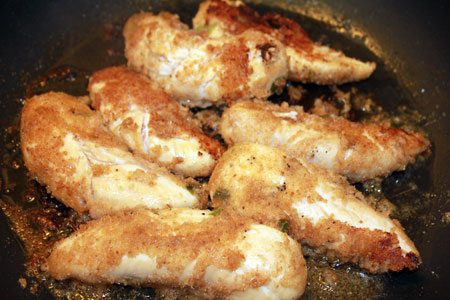 INGREDIENTS
1-1/2 lbs. boneless chicken tenders
1/2 cup NAKANO Seasoned Rice Vinegar—Roasted Garlic
3 large green onions, minced
1 piece ginger (1 1/2×1-inch), minced
2 Tbsp. soy sauce
Salt and pepper
3/4 cup plain dry bread crumbs
4 to 6 Tbsp. vegetable oil
DIRECTIONS
In a large bowl, toss chicken with rice vinegar, green onions, ginger, soy sauce, 1/2 teaspoon salt, and 1/4 teaspoon pepper; chill 1/2 hour to 8 hours. Drain chicken well; discard marinade. Dip chicken in crumbs; shake off excess. Heat 2 tablespoons oil in a non-stick skillet over medium-low heat. Cook 1/3 to 1/2 of the chicken without crowding until no longer pink in center, about 2 minutes per side; drain on paper towels. Repeat until all chicken is cooked.
I really enjoyed the taste of cooking with the Nakano Seasoned Roasted Garlic Vinegar. It added a lot of flavor to the meat and was very tasty. Even my husband and daughter enjoyed the meal which is always a plus when I cook LOL! I could definitely seeing using the Nakano Seasoned Vinegar products to create a yummy salad dressing or drizzle over your vegetables for added flavor. I would love to try the red pepper flavor as it sounds like it might add a little spice!
Nakano wants you to eat healthy and live health and has created the Nakano 60-Day Splash it on, Step it up Challenge. Nakano would like you to track your steps with the rest of the entrants and see if together we can reach 1 million steps. We are currently almost half way there! In addition to tracking your steps and getting great health tips you also have a chance to win some great prizes:
Maybe recipes is more your cup of tea then you should check out Splash for Cash. This is a recipe club that includes recipes, blog features, and, each month a Splash subscriber has the chance to win $150! Get started and check out these great Nakano products and recipes.
To keep up to date on product information and recipes check out Nakano on Facebook and Twitter
---
Disclaimer: I wrote this review while participating in a campaign by Mom Central Consulting on behalf of Nakano and received a product sample to facilitate my review and a promotional item to thank me for participating.. Opinions are my own and NOT influenced by monetary compensation. You may read more of my disclosure here.
---