My boys LOVE chicken nuggets, they order them at almost every meal when we get a chance to dine at a restaurant. However they can definitely vary in taste from each restaurant. These are a great alternative to fried chicken nuggets or nuggets you can pick up at your local fast found joint. With these chicken nuggets you can actually pronounce all the ingredients that go into your food.
Not only that but the kids can help you make them by getting their hands a little dirty. Once everything is ready to go and your ingredients are prepared.
The kids can help you coat the nuggets and get them ready for baking. It is a great way to show them that not all chicken is created equal and that these amazing Baked Parmesan Chicken Nuggets will not only taste better but will be better for them and are made right at home.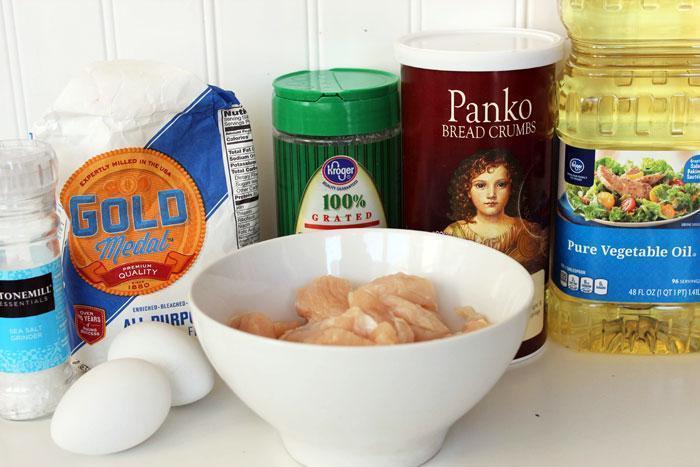 Baked Parmesan Chicken Nuggets Recipe
Ingredients
1 lb Boneless Skinless Chicken Breasts cut into nugget size pieces
1 1/2 cup Panko Bread Crumbs
1/3 cup grated Parmesan
1/4 tsp Kosher Salt
1 tbsp Vegetable Oil
1/3 cup Flour
2 beaten Eggs
Cooking spray
Asian Chili Garlic Sauce
1/3 cup Ketchup
1 tbsp Chili Garlic Sauce (like Huy Fong)
Instructions
Mix sauce ingredients and refrigerate.
Preheat oven to 450.
Combine panko, parmesan, salt and oil in a shallow dish and mix well.
Put flour and eggs in separate shallow dishes.
Place wire rack on baking sheet and spray with cooking spray to help avoid sticking.
Dredge chicken in flour, then dip in egg and roll in panko before placing on rack. Repeat until tray is full.
Bake about 15 minutes, turning chicken halfway.