I've never been a huge sandwich person, you know why? I find many sandwiches boring or lack flavor. My husband can eat a hamburger with just meat and cheese. I'm a "give me all the fixin's" kinda hamburger gal. Salads are suppose to be a good healthy diet food. Except I like my salad with Hidden Valley Ranch dressing, bacon, cheese, and all the less than healthy items. I recently found something to spice up my sandwiches and add a little flavor, Hidden Valley Sandwich Spreads.

There are four great flavors, and I'm sure one of them will appeal to you. They are sure to make your ordinary sandwich extraordinary.
Hidden Valley Sandwich Spreads
Made with cream cheese and white beans, Hidden Valley™ Sandwich Spreads & Dips are low fat with one-third the calories of mayonnaise and only two grams of fat per serving.
Available in four delectable flavors: Smoked Bacon Ranch, Country Herb Ranch, Oven Roasted Garlic Parmesan and Spicy Chipotle Pepper.
Flavor-packed with the great taste you expect from Hidden Valley® – this is one spread that does it all.
I decided to challenge myself to create a fun sandwich that the whole family would enjoy. I decided to make sliders because my youngest son loves the buns. I then decided to create a sandwich with meatballs because my daughter loves meatballs. For this recipe below we decided for ease to purchase a pre-made flavored meatball.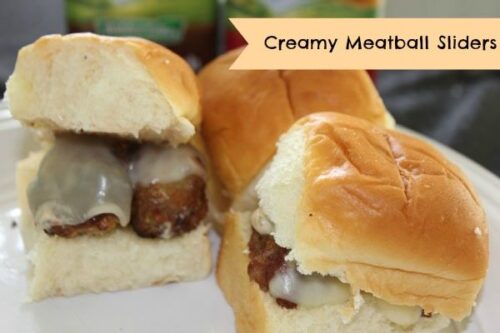 Ingredients:

Small slider like buns
Meatballs (flavor of choice)
Provolone cheese
Hidden Valley Bacon Ranch Sandwich Spread

Instructions

Simply warm up the meatballs, we did so in the microwave. Add cheese and warm until melted. Last step is to add your favorite Hidden Valley Sandwich Spread. We used the Bacon Ranch because my husband is a huge bacon lover.
The addition of the Hidden Valley Sandwich Spread really gave the meatball slider a fun flavor. Also the sandwich was creamy instead of dry. I can definitely see myself eating more sandwiches now that I have the ability to change the flavor of my sandwich with simply the swipe of a knife.
Hidden Valley Sandwich Spread Tips
Lighten-Up Your BLT: With less than two grams of fat and 25 calories per serving, Smoked Bacon Ranch Sandwich Spread & Dip is the perfect option for a healthier BLT still packed with flavor; just swap the bacon for the spread and enjoy the smoky taste without the fuss.
Plus-up Your Panini: Add a new kick to your favorite Italian sandwich with Oven Roasted Garlic Parmesan to take your everyday lunch on a flavorful journey. Serve it hot or cold with some pepperoncini and salami. Delizioso!
Spice-Up Your Sub: Add Hidden Valley™ Spicy Chipotle Sandwich Spread to your everyday chicken sandwich for an unexpected burst of flavor.
Hidden Valley's line of new Sandwich Spreads & Dips will take your boring sandwich routine to another level. With new flavors like Spicy Chipotle Pepper and Oven Roasted Garlic Parmesan, your mouth will be thanking you and you'll be on your way to delivering sandwich-envy.
This is a sponsored conversation written by me on behalf of Hidden Valley Ranch. The opinions and text are all mine.