This past Friday my husband and I were invited on a special press trip to experience the brand new Norwegian ship "Norwegian Getaway". This was only the second cruise ship I have ever been on and all I can say is it is going to be hard to top this ship. The ship was AMAZING! From the beautiful rooms to the fun entertainment. This ship is full of places to eat and places to rest your feet. I was so disappointed that we were only there for one night.
Norwegian is 47 years old and is headquartered in Miami and the Norwegian Getaway is the largest ship to home port in the city. Norwegian Getaway brings the energy and excitement that can only be experienced in Miami to see. The signature artwork is one of Miami's own LEBO and the Godmothers are the Miami Dolphin Cheerleaders. You can experience the Latin influence throughout the ship and enjoy performances by Burn the Floor or take in Legally Blonde: The Musical.
Norwegian Getaway
There was so much to do and some to see I don't even know where to begin. We were lucky enough to enjoy a stateroom with a balcony. This was such a nice touch and if we were to actually take a cruise I would definitely consider this an option worth splurging on.
Staterooms on the Norwegian Getaway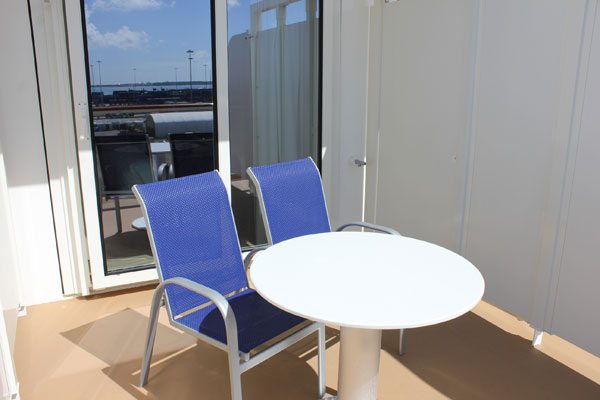 Our room included a king size bed, ample closet and storage space and a beautiful bathroom equipped with body sprays in the shower. Figuring out how to get the hot water on was definitely a little tricky but eventually I figured it out. I loved the dual sinks and the bathroom was large enough that one person could get in and out of the shower while another was getting ready.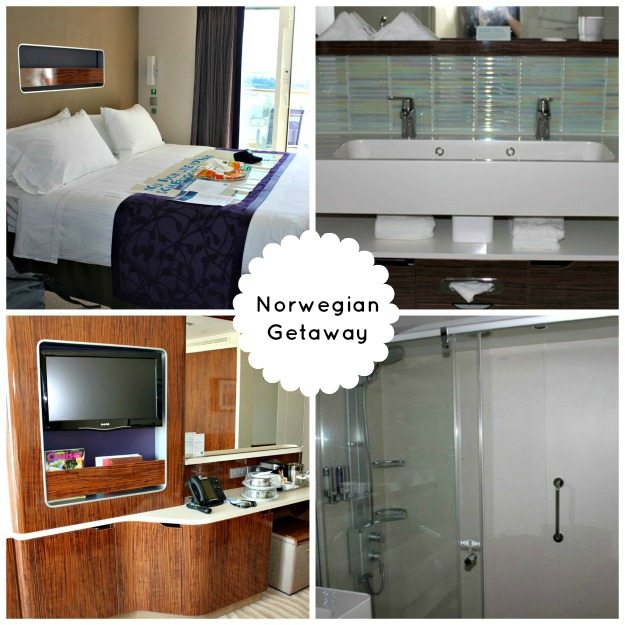 Overall for two of us the room was a nice size. Since there are five of us in our family I would be interested in seeing a room that would comfortably fit all of us. I did have this option but ran short on time. We did get a chance to see the top of the line Deluxe owner's suite. If you are going to cruise and can afford the top of the line I seriously say go for it. The room was amazing.
The Haven Owner's Suite with Large Balcony
The Haven is located in an exclusive key card access-only area which means it comes with lots of perks. The suite boosts a living room, dining area, and half bathroom. The windows are floor-to-ceiling and includes a private balcony. The king-size bed includes a pillow top mattress (this is definitely something I wish we had in our stateroom). There is a luxury shower, bathtub and dual sinks and a dressing area with full size closet. You have access to the secluded courtyard area, private restaurant and lounge. Includes concierge and 24-hour butler service and sleeps up to 4 at a square foot of 570. There are only 2 of these suites on board the Norwegian Getaway. My favorite amenity was the bath tub. How beautiful would it be to take a bath under the stars!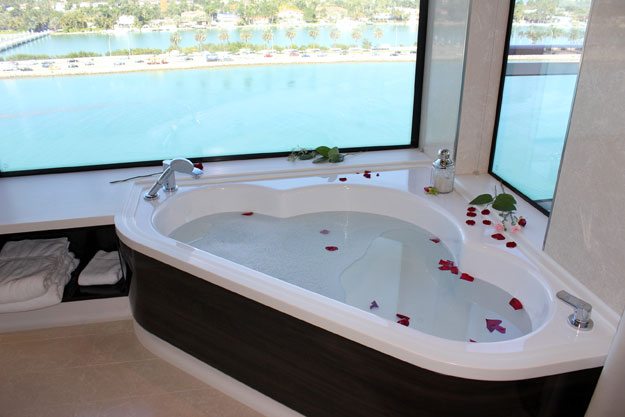 The rest of the room was just as nice and I would love just once to take a cruise in one of these luxurious rooms.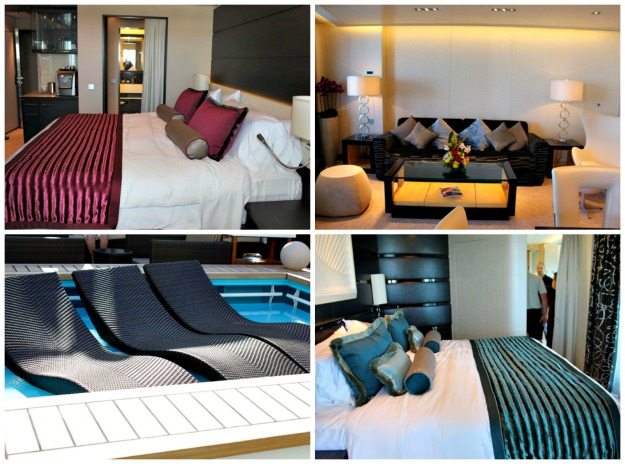 For many people setting sail on a 7-day cruise is all about the fun and relaxation. However even on vacation there is no need to miss your daily workouts. The Norwegian Getaway has a large fitness area with something from everyone. The ship is equipped with traditional cardio machines and weights and some unique and fun classes such as the high-tech studio FLYWHEEL (spin class), Freestyle Fight Kub combines traning with cardio boxing, Pureform Pilates and ChiBall Fire Yoga.
Fitness Options on the Norwegian Getaway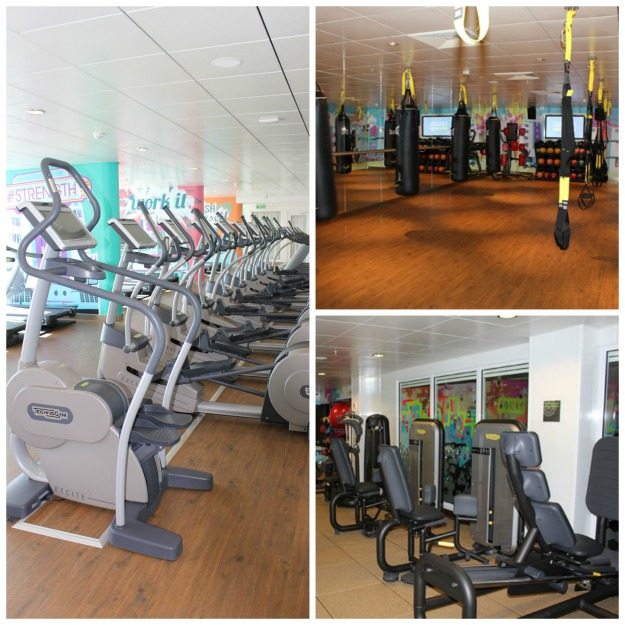 Now that you've gotten in your daily workout it is time for the fun and relaxation. Nothing says relaxing like a day at the spa. We had the opportunity to tour the spa and just stepping inside made you feel more relaxed. The Mandara spa consists of many amenities and treatments such as: a salt room, 24-karat gold facial, steam room, aromatherapy room, jacuzzi, heated beds and more!
The Mandara Spa
I was invited on a press trip to experience the Norwegian Getaway at no cost to me.