Have you ever been somewhere and grabbed your phone only to find a less than 5% charge? Knowing you aren't going to be anywhere near an electrical outlet you are pretty much out of luck. As a blogger who relies on her phone often this has happened to me more times than I can count. I have purchased many power chargers with less than satisfactory results. Any of the power charges I have tried in the past have stopped charging just when I needed them. They were lightweight and often just plain cheap. I have been wanting a good charger but reluctant to spend any money for fear I would have the same results. I was recently sent a Lepow Moonstone Power Bank Charger for review.
Lepow Moonstone Power Bank Charger
This past weekend I had my first chance to really test this out. My husband and I were invited to a special media trip aboard the Norwegian Getaway. I brought my DSLR camera with me but also wanted to be able to take photos on the spot for social media posting. I also knew I was going to need my phone throughout the entire day to tweet, Facebook, and Instagram my experience. This activity can really eat up the battery on your phone and many times in the past I would get through about half of the day and then my phone would go dead.
Knowing I was going to need that extra charged I charged up my Lepow Moonstone before we left. The charger comes with one cord (pictured above). If you want to charge the Moonstone using a wall outlet you will need to have your own wall charger which was fine with me because we have quite a few stashed away at home. Also the cord that you receive with the Lepow Moonstone is the same charger for an Android phone, if you need to charge any other devices you will need to have your own USB charging cord. Again this was no problem for me, in fact it always annoyed me to have a bag full of different charging nozzles (as did previous chargers I had). I much prefer to just grab one charging cord.
The Lepow Moonstone Power Bank also has two USB ports so you can charge two devices at one time. In addition there are two different charges a 1.2A and 2.1A. This is indicated by the little symbols under each port. The one on the left is the 1.2A or normal charge and the one right is the 2.1A faster charge.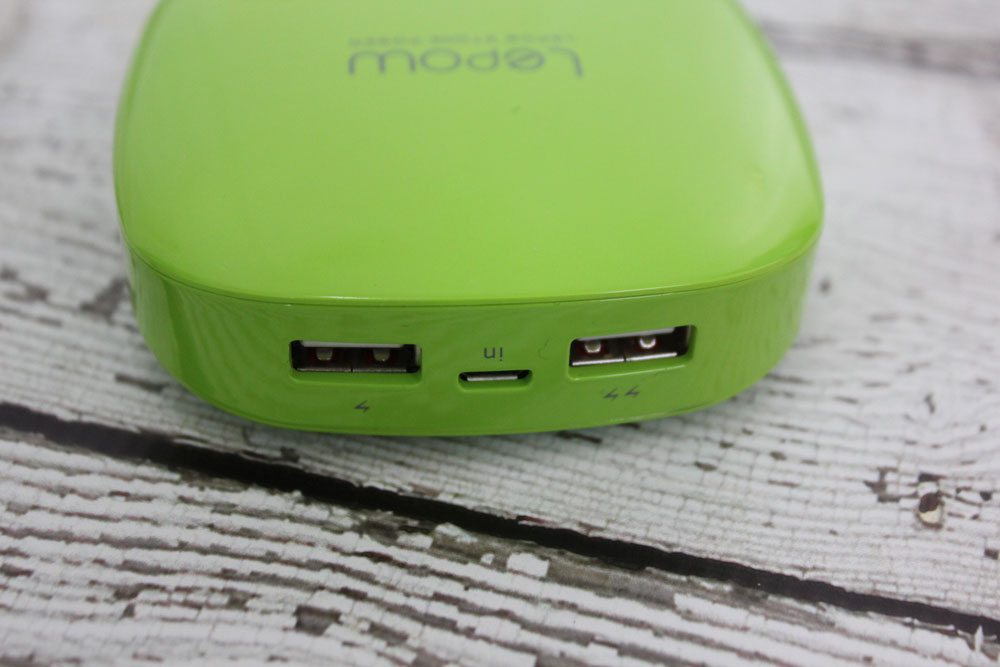 My husband and I traveled to Miami for the event and by two o'clock my phone was already nearing 50% battery. I plugged in my phone to the Moonstone and stashed it in my bag. After only a few minutes it was close to 60% charged. I was extremely impressed with the charging speed. The Lepow Moonstone will also turn off on its own which means you won't run down the charge if you forget to turn it off. There are four bars that indicate how much charge is left in your charger.
Each bar represents 25% charged. This photo here was taken after I used it during my event. It appears to be almost still fully charged. The Moonstone is said to be able to charge an iPhone 5 fully almost 3 times. If you always find yourself needing to charge your phone or electronic devices in a pinch this is definitely something you might want to invest in.
The Lepow Moonstone Power Bank Charger comes in several different colors.
Though my review above is talking about charging an iPhone this little device can do so much more. Works with all major cell phone and tablet models! — iPhone 5, 4S, 4, iPad Mini, iPods (Lightning adapter not included); Samsung Galaxy S4, S3, S2, Note 2; HTC One, EVO, Thunderbolt, Incredible, Droid DNA; Motorola ATRIX, Droid; Google Nexus. It also boost environmentally friendly, safe and non-toxic packaging if this is something important to you as a consumer.