Bahamas Paradise Cruise sails every day of the week and each cruise is two nights three days and ports in Grand Bahama Island for the day before returning to the Port of Palm Beach. You do have the option to cruise and stay which means you cruise to Grand Bahama Island and stay on the Island before returning on a different cruise. We did not choose this option and instead opted for the cruise only.
Tip 1: Excursion is a Must
Our first tip is to take advantage of the excursions offered by the ship. We also recommend that you wait to book your excursion when aboard the ship. This particular excursion that we went on is usually $72 per person. Once on the ship there was a deal 2 people for $75.
When docking in Freeport the port is an industrial port. I read that the closest thing to do was 12 miles from the port. For this reason, it was important to me that we book an excursion with the ship so we could enjoy the island. I feel that booking with the ship is the easiest and safest way to travel in unknown places. My husband and I decided to join the all inclusive Beach Getaway which included unlimited drinks, a lunch buffet, and access to the beach. I will be honest and tell you that I as a little nervous about the excursion after the government issued a crime alert threat on the island. However I can also tell you that not once did I feel unsafe during our time away from the cruise ship.
We boarded a double-decker bus and sat on the top level to enjoy the sights of the island. The driver made the 25 minute drive to the beach a blast. He was quite funny while sharing historical information about the island. For example when passing a gas station with no signs of how much the gas was he explained that the gas was free…..WHAT?! FREE?! He said we may be in Freeport but nothing in Freeport was free. The reason they do not display the gas prices is 95% of the island's gas is owned by one company so there are no competitors. The current gas prices were $4.31 a gallon! Yikes and I thought our $2.69 was bad!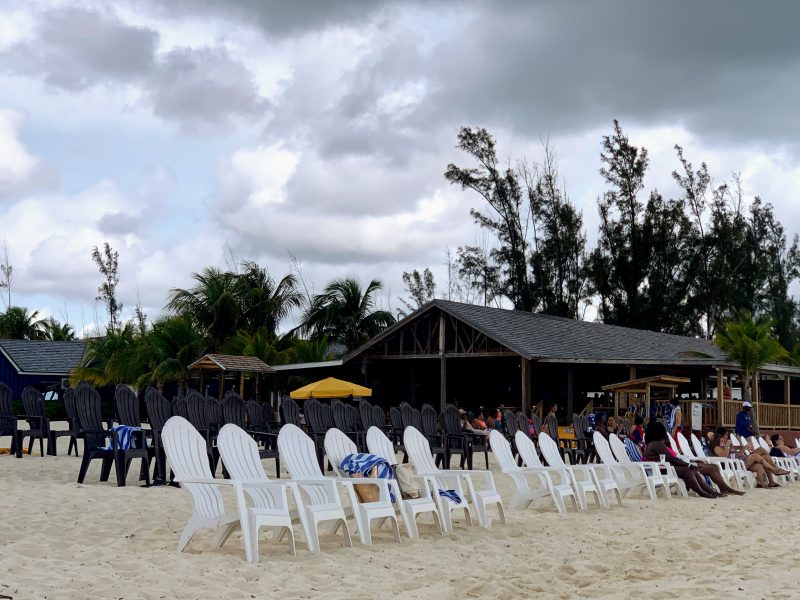 To no fault of the cruise line the weather did not cooperate with us and we only spent about 30 minutes on the beach before the rain set in. However, if not for the unfortunate weather the excursion would have been a nice relaxing day at the beach. Chairs were provided, a small pavilion if you prefer the shade or wish to sit at the bar, and a few shops to purchase some authentic Bohemian souvenirs.
A little rain didn't hurt anyone and while we may not have gotten to hang out at the beach very long we didn't allow it to dampen our spirits!
Tip 2: Passports and Express Pass
We highly recommend that you board with a passport vs a birth certificate and/or invest in the Express Pass. The Express Pass allows you to board and exit the ship before everyone else this is the fastest and easiest way to get on and off the ship. If you don't purchase the Express Pass your next best option is to travel with a passport. Those that have a passport are given priority over those traveling with birth certificates because the processing time is shorter. My husband and I stood in line for about 2 hours both getting on and off the ship. That is such a waste of precious time. So in the future, we will be doing both, traveling with a passport and purchasing the express pass.
Tip 3: WiFi is a Good Investment
This may depend on how much you enjoy posting and sharing while you are cruising. I really enjoy posting photos of what is going on so my family and friends can share in our experience. Also, I'm not sure about all phones, with the iPhone you can turn on WiFi calling and not worry about an international calling plan. I was able to call home and my children were able to call me without having to worry about any extra charges.
Tip 4: Invest in Your Memories
When cruising and visiting new places remember that it is all about the experience. Don't get caught up in the fact that it rained, or something didn't turn out the way you thought. Instead enjoy every moment. Take lots of photos to capture all the amazing sites. I always purchase at least one photo from any cruise I have taken. Usually it is a family photo but this time it was just my husband. I love sifting through all the photos the photographers on the boat take. I was very happy with this photo taken as my husband and I were boarding our cruise.
We enjoyed our time aboard the Grand Celebration and Bahamas Paradise Cruise. It is an inexpensive two day getaway where you don't have to worry about what to eat, what to do, or if everyone is having fun. It is hard not to have fun which cruising.