I mentioned earlier this week that my husband and I were invited to attend a special media event to kick off the beginning of the Norwegian Getaway's life as a port of Miami ship. After making it's way from it's birth in Germany it finally ported in Miami, FL. I have never been to a ship christening before but I can say that if I'm ever invited again I will definitely go. Both the ship and the ceremony was amazing.
The ceremony kicked off with a band (sorry I didn't get their name) and some dancers and, for lack of any words, girls on rings LOL!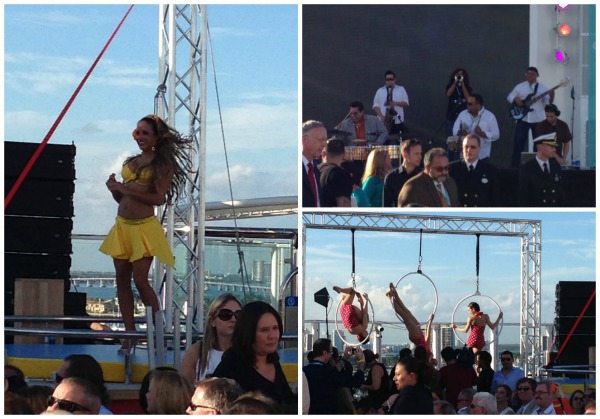 After everyone was seated the band left the stage and we were treated to a performance by Burn the Floor one of the dancing acts on the ship.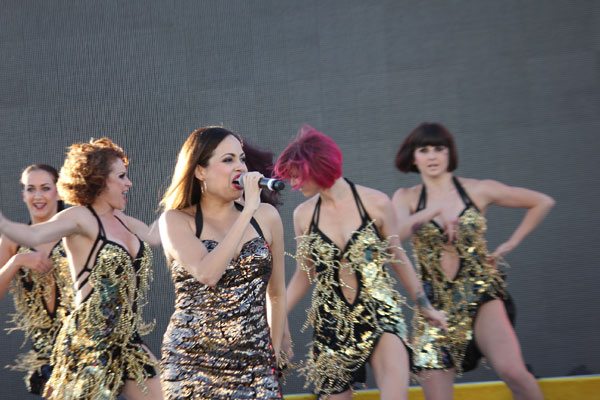 Brooke Burke-Chavet was the master of ceremonies. She is a long time friend of Norwegian and the godmother of another ship. Did you know cruise ships have godmother's?
The National Anthem was song by a local girl who was nothing but amazing. I strongly urge you to give it a listen the control this little girl has over her voice is just amazing.
The Miami Dolphin Cheerleaders were crowned the godmother's of The Norwegian Getaway and were in attendance in all their glory pom-pom's and all.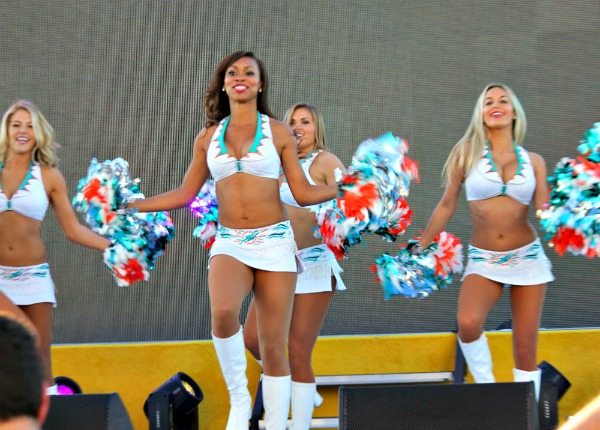 However the best part of the ceremony (in my humble opinion) was the truly awesome performance by Miami native Pitbull. His performance made this girl a 100% fan.
This first video is not the best quality because it was taken with my iPhone but it is the best. This man has moves!

This video has some better quality and I captured a little bit more of the performance. So for all you Pitbull fans this is for you!
There were some technical difficulties during the ceremony but it didn't matter. I was thankful to be sitting out in the hot sun instead of bundled up in below freezing temperatures like much of the United States. There were a few other celebrities in attendance like Le Batard, Buddy Valastro of "Cake Boss", whose Carlo's Bake Shop is on the ship, and Geoffrey "Iron Chef" Zakarian.
The actual "christening" of the ship took place right outside our balcony. I was unaware that it was going on but my husband did get to see the whole thing. The champagne bottle was tied and let go from a boom crashing against the side.