As I mentioned in my last post Carnival Imagination Cruise Part 1 after our first lunch we decided to take a tour of the ship. Having never been on a ship before I really had no idea what to expect. I was amazed that I didn't feel at all like I was on a ship but felt more like I was just in a large resort or hotel. It is amazing how many things they can put on a boat. In fact my mother was telling me this weekend that on a cruise she took some time ago the ship had an ice rink. While we were ported in the Bahamas we got a glimpse of the Carnival Breeze. The kids want that to be our next cruise, it had an obstacle course and a basketball court.
Carnival Cruise Imagination
This photo is near the top deck looking down in the center of the boat. You can see each level, this boat had 12 levels with the 12th level being an outside level. The cabins start on level four with the medical center on level three and I assume the bottom levels are for employees and other necessities of a ship.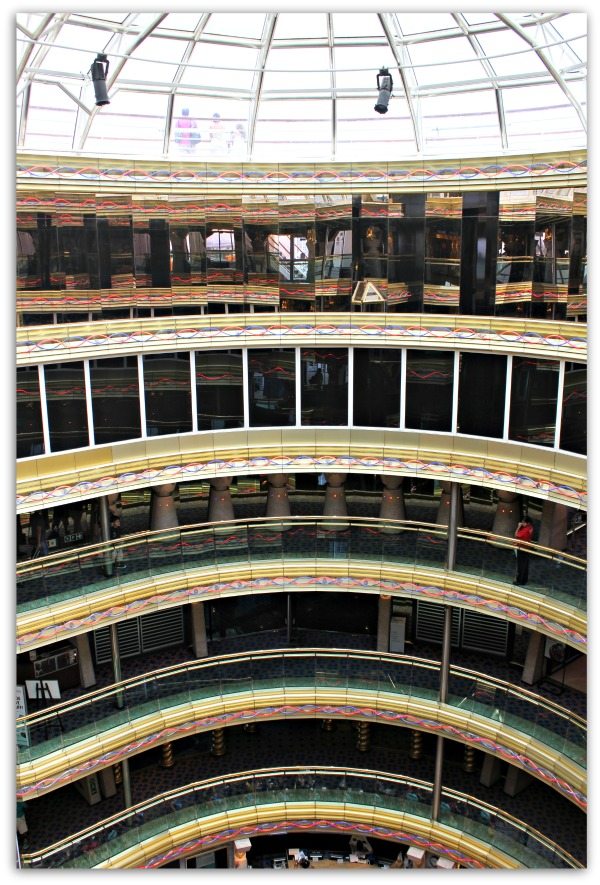 We were given a small folded map, about the size of a back pocket that listed each level. This came in quite handy many times, after the first day and a half though I knew where most everything was. We knew the pool and buffet was on deck 11 and that the photo gallery (which we visited often) was on deck 9. The shops were on deck 8 which we spent quite some time in. I had to snap this photo of my husband because those that know my husband know that this photo represents basically "a kid in a candy store"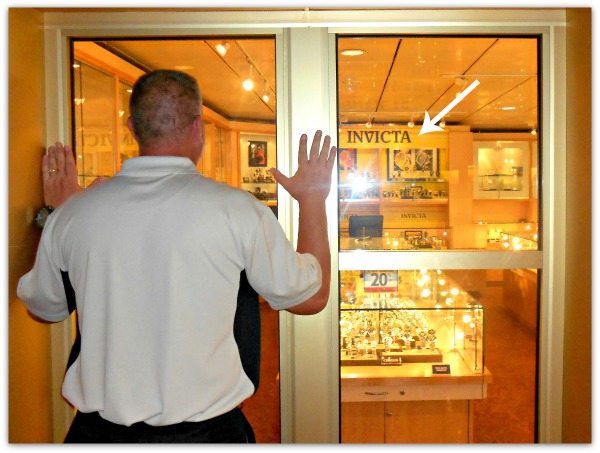 My husband is an Invicta watch collector and when he saw the sign through the doors of the unopened shop I think he thought he was in heaven. We came down several times to the shop to check on sales and try on watches. Well hubby and Nick tried on watches I'm not much of a watch girl myself.  Though we didn't end up buying a watch my husband did buy me this beautiful bracelet while we were on the cruise. One nice thing about purchasing things on a cruise is there is no sales tax. I assume this is one reason the store did not open until we had left port.
I'm kinda an odd girl, my husband always wants to buy me jewelry yet I do not usually wear much jewelry. They say diamonds are a girls best friend but I would rather have a supped up laptop or the neatest electronic gadget. In this case though I really loved the blue in this bracelet and the style. So this was a win win situation. I got a beautiful bracelet and hubby got to buy me some jewelry.
On our tour of the ship we also checked out the fitness room. I think their fitness room is bigger and better then even some gym's! When we go on our next cruise, that will be a little longer, hopefully we will be back on our fitness routine and we can use their fitness center each morning to keep up with our routine.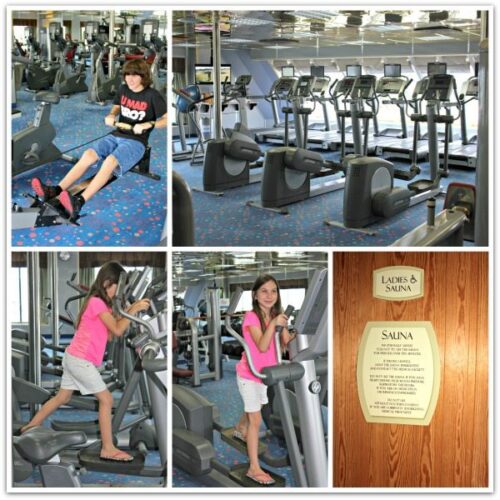 On our tour of the ship we came across a few different lounges. When Nick and Honey saw the shiny gold curtains and big stage my little stars had to get up there to have their photo taken. Maybe this is a photo of things to come? Prediction of the future? It would not surprise me if Nick ended up in an entertainment field he is so charming and quite a funny kid.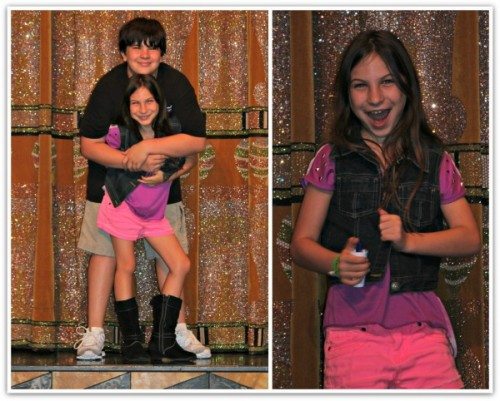 Stay tuned for more fun Carnival Cruise fun like family photos, food, and even a little bit of luck!
---
Disclaimer: We received a complimentary stay aboard the Carnival Imagination. All opinions are my own. You may read more of my disclosure here.
---