I have been working out steadily on and off (if that is such a thing) for the past three years. I started going to the gym and working with machines, I eventually graduated to adding in free weights. As my stamina increased, I started adding in a little cardio with the elliptical, arc trainer, sitting stationary bike, and even the rowing machine. Due to the pandemic, I had to shift my focus to working out at home. After adapting to my new at-home routine with Les Mills on Demand I began wanting to add something new. Nothing keeps you motivated like trying something new. Then I was asked to review the Renpho AI Smart Bike.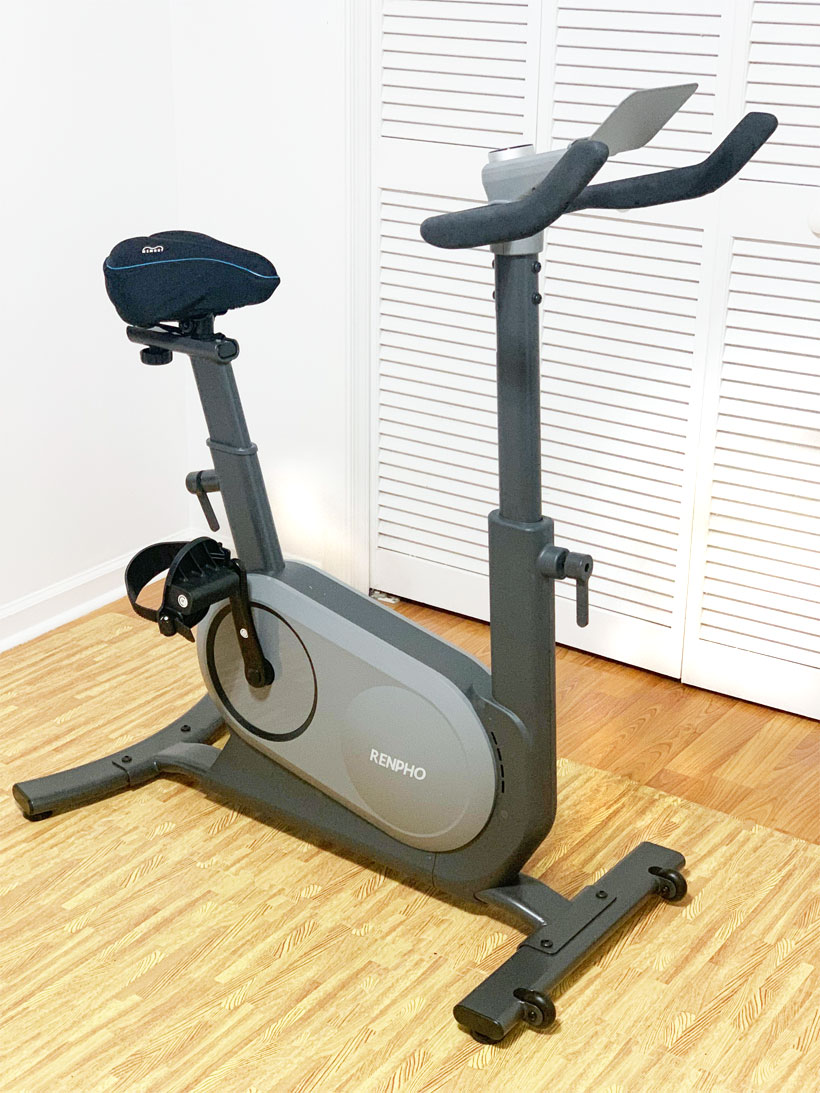 Renpho AI Smart Bike Pricing
Many of my co-workers have hopped on the Peloton bandwagon. After doing some research I decided due to the monthly membership it was not something I wanted to invest in. The price point for the Renpho AI Smart Bike is much more in the range I would want to pay for a smart bike. It retails for $599 but you can often find sales. For example, when I was doing some research there was an amazing sale and the Smart Bike was only $399. The real money saver is that the app is FREE, with no monthly membership fee.
Renpho Shipping and Setup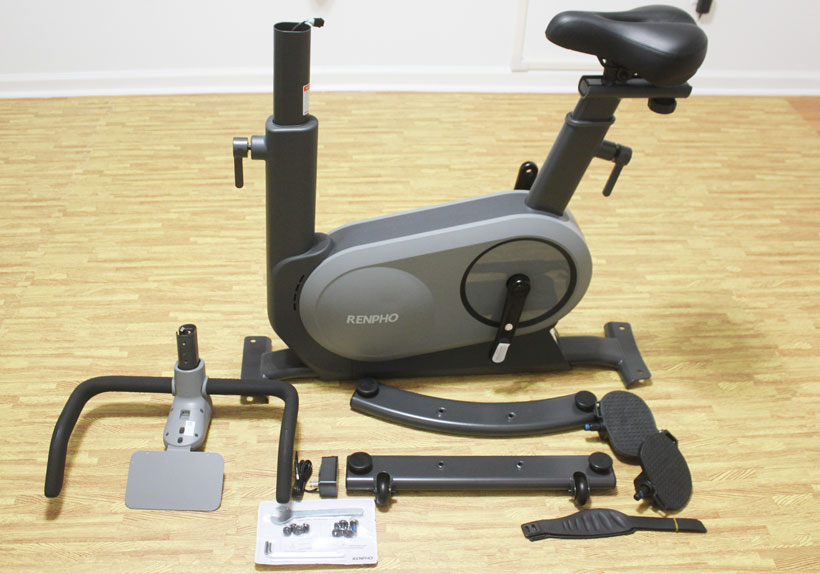 I was told it could take up to two weeks to get my Renpho AI Smart Bike. So you can imagine my surprise when one day, just a week later, I was leaving to go to work and found a large box on my front porch. A+ for shipping! The bike is very easy to put together, no additional tools are needed (unless you need to do some minor adjustments). Four bolts to put together the front and back stand, four screws to connect the handlebars, and a few turns to connect the pedals, and setup is done.
From there you may need to do a few minor adjustments. I found that the handlebars seemed a little crooked, this seems to be a recurring theme with the Renpho AI Smart Bike. I was able to find some support for this here. They still aren't 100% straight, but that is just my minor OCD kicking in, they are completely fine when using the bike. My seat was also a little off-center. This is where I had to pull out my own wrench to loosen the bolts and adjust the seat, which only took a couple of minutes.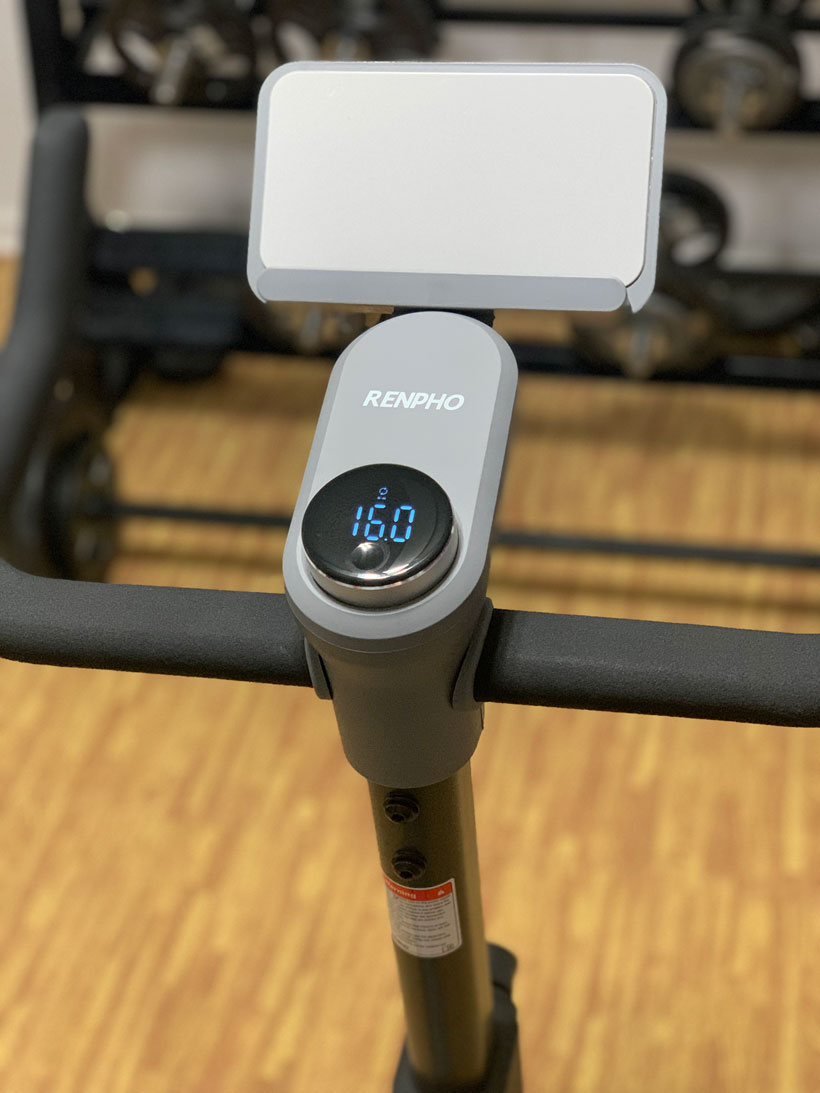 Connecting the Renpho App and Smart Bike
Once the App is downloaded and you have created a profile you simply select "connect" and the bike and app will pair (as long as the bike is plugged in of course). The bike does not come with a screen, the app is your screen. From here there are a couple of options depending on your preference. While this is available on Android and iOS devices for the purpose of my review, I will be referencing iOS devices (because that is what I tested it with)
iPad: you can download the app on your iPad and use this as your screen
iPhone: you can download the app on your iPhone and use this as your screen
TV: you can download the app on your iPad/iPhone and use screen mirroring to your TV. (See the end of this article for how to do this on an iPad or iPhone)
Apple Watch: when you install the app on an iPhone you can also install it on your Apple Watch. This will give you the ability to see your heart rate.
Let me share with you what I feel the best option is depending on the devices you are using.
If you are not using an Apple Watch, then using an iPad and casting it onto your TV is the best option. You can see the workout when looking down at your iPad or when looking up at the TV. If you don't have the ability to cast the screen to your TV iPad is still your best option due to the size of the screen.  
If you are an Apple Watch user, you will need to use your iPhone. Then use screen mirroring to cast the screen to your TV. You will be able to see your heart rate from your Apple Watch on both the TV and iPhone. If you use your iPad you will not see your heart rate because the Apple Watch is unable to connect to your iPad.
Cycling Power Test
Tailored to your biometric data and AI-powered to give personalized training programs that can automatically alter resistance based on your level, power output, goals, and cadence to get the best results possible.
In order to achieve the above, you need to do the Cycling Power Test so the app and bike can get a sense of what level you are at. The test says it is 15-20 minutes long. So when I had to stop after 4 minutes I thought for sure I was going to get the lowest score. I scored as a level 2 Junior with an FTP of 84W.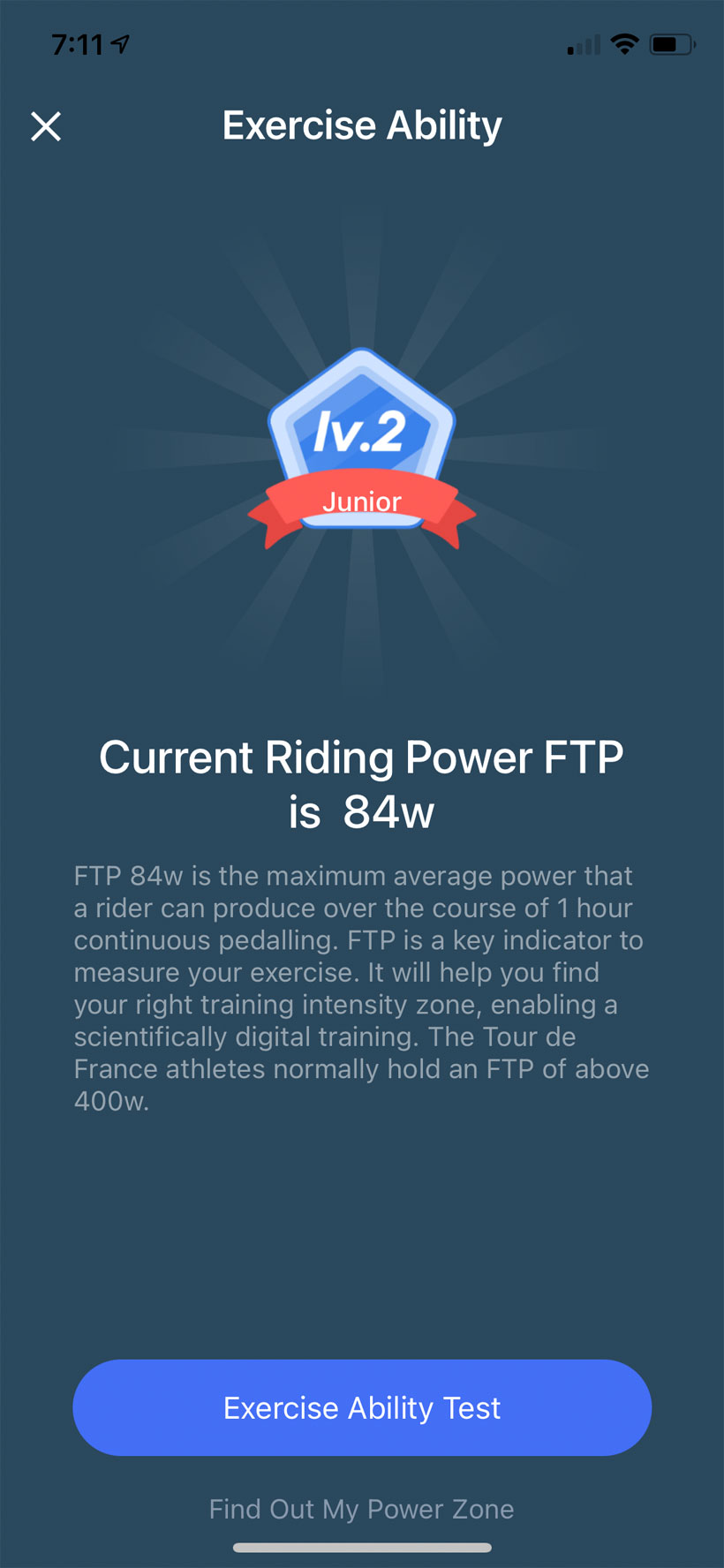 What does this mean?
The FTP number is the maximum average power that you can produce over the course of 1 hour of continuous pedaling. This is the key indicator to measure your exercise. This number will help you find the right training intensity zone for me. I was also given my Power Zone based on my FTP of 84w.
Renpho ai smart bike Workout Options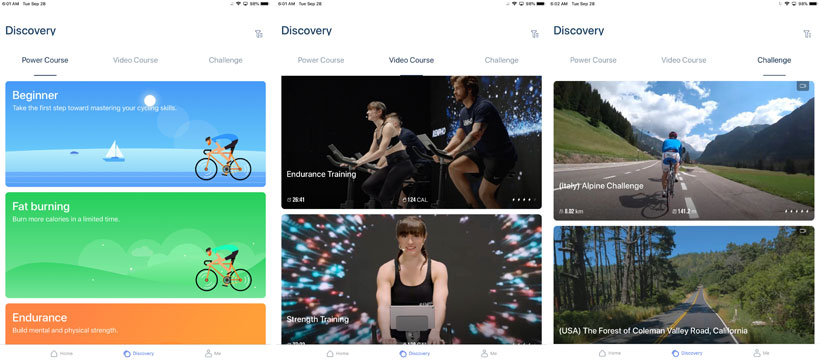 At the time of this posting, there are 70+ unique classes in these courses, Power Course, Video Course, FreeCycle, and Challenge.
Power Course
When selecting a Power Course you can select from Beginner, Fat Burning, Endurance, and Strength. With-in each of these categories, you can select specific cycling classes such as HIIT, Endurance, Pyramind, etc. These courses do not include a trainer the screen is a cartoon-type image with a person riding a bike, as he/she moves through the course the program will tell you when to increase your power to stay on track.
Video Course
These courses are videos that include trainers with instructions throughout your ride. You can filter the videos by consumption (calorie burn), duration, and difficulty depending on what your goal is for the day's ride. As with the Power Course, there are different types of rides to choose from HIIT, Strength Training, Endurance, etc.
Challenge
These courses are scenic rides through challenge courses such as (Italy) Alpine, (USA) The Forest of Coleman Valley Road. With the challenge courses, you can ride and challenge your friends to race to the finish.
Free Cycle
This is exactly what the name implies, riding the bike freely, no videos, no courses, just you riding the Renpho AI Smart Bike at your own pace with your metrics displayed on the screen.
After each ride, you can access your exercise report.
Key Features of the Renpho AI Smart Bike
Price point : you just can't beat the price point of this smart bike
Auto-resistance: the smart bike is, well smart, and able to adjust the resistance for you so you can concentrate on your ride
No monthly fees: no additional fees after the purchase of the bike
Personalized programs: based on your level of fitness you can receive a custom-made program each week
Track your data: with the free AI Gym app you can track your progess
Compatability: works well with others, as in other thrid party apps
Our Final Thoughts on the Renpho AI Smart Bike
Having only taken one spin class in my life you can say I came into this Renpho AI Smart Bike review as a novice, just getting my feet wet. I have been using the smart bike for about two weeks now. I do not use it daily as mentioned above the bike is in addition to my current workout program. I have found that I LOVE the Renpho AI Smart Bike. The two main selling points on this bike are the price point and the no monthly fee after purchasing.
The Renpho AI Smart Bike is sturdy, smooth, and quiet. It is easy to move due to the wheels in the front which is great if you are storing it in a corner. I really enjoy having this smart bike as a cardio option. I often like to jump on it after work for a ride to burn some extra calories.
The AI Gym app does integrate with your Apple Watch so that you can see your heart rate on the screen which is a MUST for me when doing a ride. However, one feature it currently lacks is the ability to log your ride in the Apple Watch Fitness App. I have tried doing it manually starting a workout on my Apple watch and then starting the AI Gym App but the workout is stopped. This is one feature that would be great for Renpho to add in any future updates.
I personally am not a fan of the Video Courses. I'm sure it is a personal preference but I am not a fan of the particular trainer. I'm looking for an upbeat, tell me how it is, talk to me kind of trainer. For this reason, I have opted to use a third-party app connecting to the bike to get the type of videos I prefer. My personal preference has been to connect the Renpho AI Smart Bike to the Peloton App. The one drawback in using most third-party apps (Zwift excluded) is that you lose the auto-resistance feature. I have decided that for me this trade-off is worth having the type of training videos I prefer. Look for an additional post about the Renpho AI Smart Bike and Peloton App combination and how to navigate some of the features to get it to work smoothly.
We personally recommend the Renpho AI Smart Bike as a great exercise option for all the reasons above. Whether you plan on using it on a daily basis or adding it to a current exercise routine it is an amazing way to burn calories, have fun, and keep you motivated!
You can purchase the Renpho AI Smart Bike at Renpho.com.