Disney World..what dreams are made of. I've always loved Disney World from the first time my parents took me, to my senior trip, to taking my kids. Disney is just a magical place where kids are amazed and thrilled. Last weekend we took the family (including extending family) to Disney World on Saturday. Our trip consisted of myself, husband, our three children, my mother, and my sister and nephew. The day started off a little chiller then we had anticipated. Have I mentioned I'm from Florida and thrive in the heat. I absolutely hate the cold so I was a little uncomfortable (in my shorts) until the weather finally warmed up.
Our day got off to a later then expected start. After a quick thought to be quick stop for breakfast (we encountered a bus load of people at the local McDonald's) we headed off to the Magic Kingdom. I knew that I was going to have to wait in line to retrieve my complimentary passes and prepaid tickets. For this reason I specifically asked an employee where guest relations was. I was told I could wait in the sales ticket line. I was a little skeptical but did as I was instructed. Sure enough after a 45 minute wait through the line I was told guest relations was across the lake on the park side. After taking the ferry we waited in another 30 minute line and finally stepped into the park at about 11am.
We walked and rolled (I forgot to mention my sister was in a wheel chair just having surgery on her knee) into Future Land. It is so surreal to see how things have changed over the years. My mother said the first and ONLY time she took us to Disney was in 1982. I have gone several times since then and slowly rides become outdated and replaced with new and improved rides. For example the "Buzz LightYear" ride I remember use to be (I think) If you had wings or if you could fly. Our main purpose for hitting Future Land first was to make sure we rode "Space Mountain". Unfortunately when we went to get in the line for the ride we found that it had been shut down unexpectedly and they didn't have a re-opening time. So instead we ventured over to "Grand Prix". Honey was nervous about driving and couldn't decide if she wanted to or wanted me to do the driving. In the end she took the wheel and had a great time.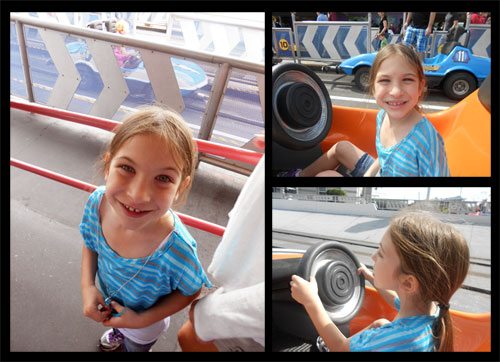 This is not the first trip for the kids. We took the boys to Disney many years ago before Honey was born.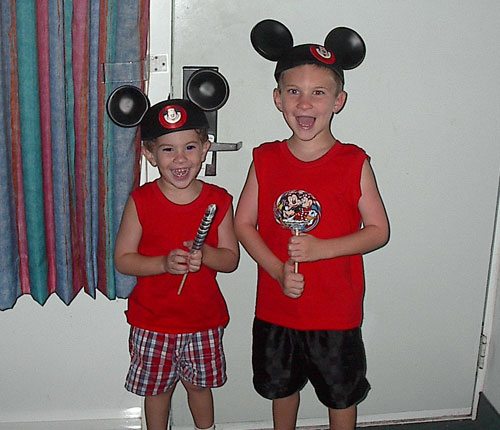 We took Honey when she was about 2 or 3 and she went one more time a couple years ago with my sister. This was the first time for me though to really enjoy her excitement over the rides and fun! We didn't ride on nearly enough rides there seemed to be a lot of re-construction going on at Disney. In fact they appeared to be creating an all new Fantasy Land. Like the first time we took the boys Thunder Mountain was once again closed. We did get to experience "Splash Mountain" which Honey said was her favorite ride.
I didn't get very many photos at all of our day. This seems to happen when I spend the time enjoying the company and day. I tend to forget about the camera. I did manage to snap a photo of all the kids while we were waiting in line at "Pirates of the Caribbean"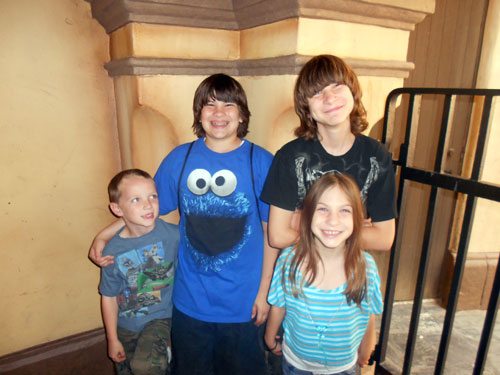 My nephew was trying to be brave and said he was going to go on "Haunted Mansion" with us but as we approached the door and the creepy music got louder he decided he would feel better waiting for the rest of us to get off. Honey had no fears about the ride however she did mention when she got of she was NOT going on the ride again. I think the darkness and creepy music and voices at the beginning had her on edge.
The lines at Disney were about average not too long or too short. I'm always amazed that some of the longest lines are the rides in the younger children area like Winnie the Pooh, Peter Pan, etc. Those were still pretty long so we by passed most of them. The day seemed to go by pretty quickly and with a lot of walking and pushing the wheel chair the adults seemed to tired pretty quickly (or at least I did). We worked our way back up front in hopes of riding Space Mountain to find the ride was up and running and had a 95 minute wait. Needless to say we ended up skipping the ride. This was probably my biggest disappointment of the day (next to Thunder Mountain being closed). I really wanted to see what Honey thought of the ride.
Disney is definitely a must try experience, however both of the boys said they much prefer parks with lots of roller coasters. Overall the day was still a success and great to spend time with the family and see Honey experience some of the rides.
My tips for Disney goers near and far are:
Double check what rides are closed before heading to the park
Use your fast pass which is included in your ticket price to fast pass the big rides that you want to go on first.
If going with multi families coordinate leaving time and where you are going to eat BEFORE you get on the rode.
If at all possible purchase and HAVE your tickets a head of time to skip the entry lines.
Trip to get to the park first thing to miss the mass of people that stroll in between 9-11
Budget your time accordingly to spend a little time in each of the lands hitting the rides you want to first before the lines get long.
Most of all enjoy yourself and the magic of Disney. Relax and know you may spend some time in line but use that time to talk and enjoy your company.
---
Disclaimer: I received two complimentary passes to Disney World. Opinions are my own and NOT influenced by monetary compensation. You may read more of my disclosure here.
---