When you have a child this is not what you picture your child sleeping in each night by your bed side. Many mothers scour the internet, baby stores, and catalogs for that prefect soft, and peaceful place for their newborn to lay their head. This is a 65 year old bassinet that I'm proud to say two of my children have taken their place in what I now consider a family heirloom handed down through my mother's family.
What is so unique about this bassinet is not it's age, and definitely not it's look. In fact when it was in my possession I considered sprucing it up some, maybe adding a bassinet skirt, a fresh coat of paint (lead free of course). Something to put my own signature on it. However with two children and then three lets just say it was on my list of things to do.
However I did put my own signature on it see……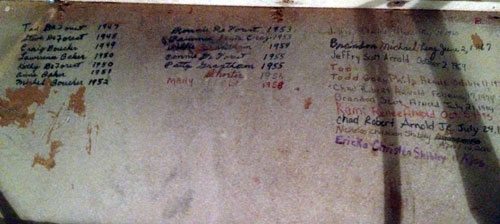 This is what makes this bassinet special and worthy of a child's warmth and peaceful breathe as it lays its head down to slumber. On the under side is this list of each family member that has slept in this family heirloom. (It is currently missing my nephew, will need to remind my sister to add his name, as it is currently in her possession). Two of my children made it on the list. My first son was born just 10 days after my cousins son. Funny enough my cousins birth is also the reason my own name is not on this bassinet.
65 years of my family have put their babies down to sleep in this practical and simple bassinet. I hope to one day pass this heirloom down to my own children so that my grandchildren can add their name to the growing list.