If you visited yesterday then you may have read my post Sea World Vacation : Part 1, in which I pointed out some of the awesome places to visit while in Orlando and how the Hilton Orlando is at the center of them all. However there is so much to say about the Hilton Orlando I couldn't do it all in one post. I have to say that I was beyond impressed with my stay at the hotel, and those that know me or are loyal readers of Shibley Smiles know that if I like or dislike something I have no problems telling you. I will post a glowing review as much as I will complain about service I've received. So know that what I write is always the truth and my own personal feelings and opinions.
I mentioned yesterday how inviting and welcoming the room was when we enter. Before the kids got to comfortable I managed to snap some photos of our luxurious room.  We  had two rooms with an adjoining door.  One room consisted of a king size bed and the other two beds for the children.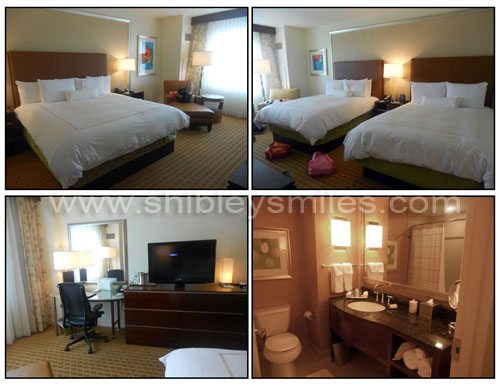 We arrived Friday afternoon for the specific reason of enjoying the hotel and resting up for our trip to Sea World on Saturday. Once we were unpacked and settled in I realized that I had not packed Honey's water wings. Yes sadly as I've mentioned before Honey can not only "not" swim but she seems to have a small fear of the water. Anyway without the wings I knew it was going to be a long weekend so we packed up and hit Walgreens to pick up pool essentials, soda, and snacks. We found the rooms equipped with small mini refrigerators and thought it would be good to stock up on some drinks.
Little did I know there was really no need for the water wings and noodle we purchased. When we arrived down in the pool area there were noodles floating in the pool. Not only that but coming prepared I also brought down towels to find that beach towels are provided to each guest. Even better if you wait to grab your towel on the way out when you are done they are warm having just arrived right out of the dryer. I just found this service thoughtful, and loved it. It turned out that my attempts to be prepared were not needed in this case.
When the boys saw the pool area they were in heaven. The pool was huge and there was a group of boys playing water basketball at one end and toddlers playing in a shallow child's area at the other. Of course the water slide was another plus in their book. Any pool that includes a twisting and turning water slide is a good pool. The boys took off to play and we saw them sporadically throughout the day.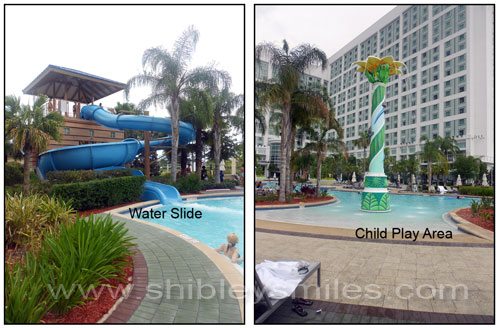 Honey's favorite part was the lazy river. Like a water park there is a long lazy river at the Hilton Orlando. Let me warn you ahead of time the word "lazy" is a term used lightly. Though you can float down the river in an inner tube you have to watch out for the water shooting cannons and waterfalls that line the lazy river.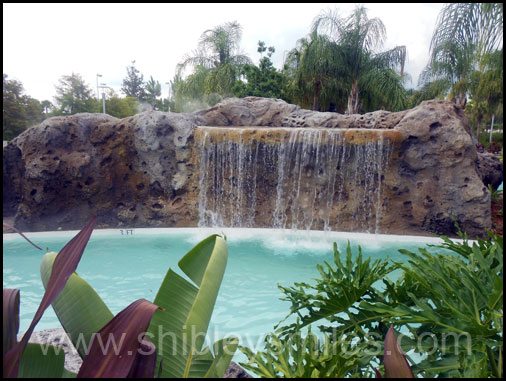 Call it fortunate or unfortunate depending on your outlook, Saturday evening during a trip down the lazy river we ended up behind a large group of college kids. I think there was something going on at the hotel this weekend in the terms of group events. Well they turned the lazy river into a "wave pool" by grouping together and jumping and bouncing creating large waves. Honey was actually "thrilled" with the wave pool so we followed them around the river a few times.
I've only touched on a small portion of the outside amenities Hilton Orlando has to offer in the way of outdoor entertainment. In addition to the large pool they also have a "quiet" pool which is adults only. I think this is great for those people that don't have children and really just want to enjoy the sun in a peaceful setting. They have two whirlpool or jacuzzi's in the pool area one near each pool. In the middle of the property is a restaurant/bar and it is surrounded by pool tables and foosball tables. The kids and I had our own foosball tournament. Buddy was not to happy with his mother beating him, as far as he is concerned he is the best at everything.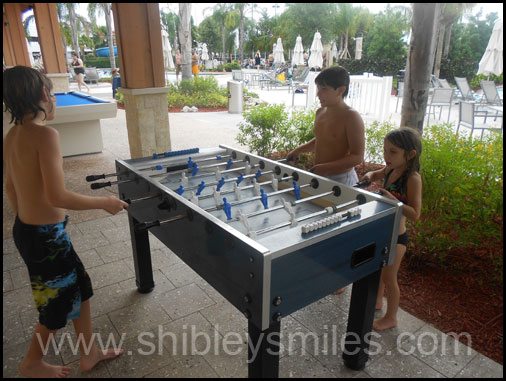 There is also an outside basketball court that the boys got some use out of. They even include a smaller basketball hoop for under children. You will also find tennis courts, volley ball courts, and a 9-hole executive putting course.
If you are on vacation and don't want to stray from your fitness and health regimen the hotel also has a large 24 hour fitness center. Right next to that is the spa. Yep this hotel has their own spa facilities that include: Couples rooms, Full and partial day packages, Massage therapies, Facial therapies, Hair and nail salon, Steam room, and more.
Friday we received a complimentary gift from Juan who helped us with our room. It was so thoughtful and I felt like an honored guest. We received a bottle of wine and some sparkling water as well as some juice and some s'mores packets for the kids.
I forgot to mention the pool area has two large fire pits that are usually lit up in the evening. We were given grahmn crackers, marshmallows, chocolate, and long wooden skewers to roast marshmallows. Unfortunately mother nature was not aware of the thoughtful gift and did not play nice, with the rain on both Friday and Saturday the fire pits were not lit. However the kids still enjoyed the makings, Nick ate the marshmallows, Buddy ate the graham crackers, and Honey ate the chocolate.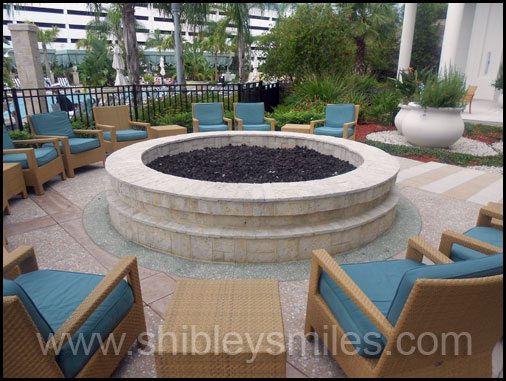 After our day at Sea World and our hours of swimming Saturday evening. The kids love night swimming.  We went back up to the hotel room and took some warm showers and got ready for bed. Nick had no problem showing off one of his favorite Hilton perks!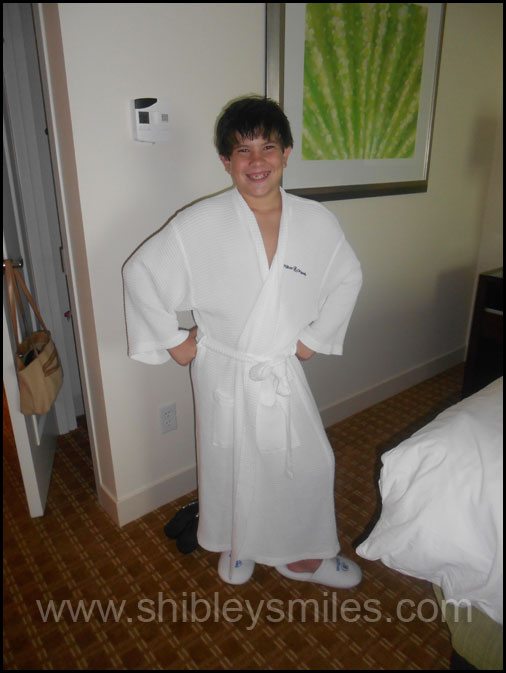 Shibley Smiles Opinions:
Price: There are many packages to chose from starting at $109/a night. At this price we find this an excellent deal. For what this hotel has to offer it is a vacation within a vacation and we would DEFINITELY stay here again.
Quality: The accommodations, customer service, and amenities are in our book excellent. I don't know that we could have asked for anything nicer.
Recommendation: Two thumbs, five starts, highest rating, we would recommend this hotel to friends and family.

---
Disclaimer: I received a two night complimentary stay at Hilton Orlando.. Opinions are my own and NOT influenced by monetary compensation. You may read more of my disclosure here.
---