I was very excited to have been selected as one of the bloggers to give a new line of facial cleansing products a try. You may have heard of this line recently…Meaningful Beauty. This product line is a collaboration between Cindy Crawford (the epitome of youth) and anti-aging specialist Dr. Jean-Louis Sebagh. I must say Cindy Crawford is a perfect face for this product line. I would have no problem looking like she does at her age.
My products arrived and it was full of some great goodies: Skin Softening Cleanser, Antioxidant Day Crème, Lifting Eye Crème, Firming Chest & Neck Crème, Glowing Serum, and Creme de Serum.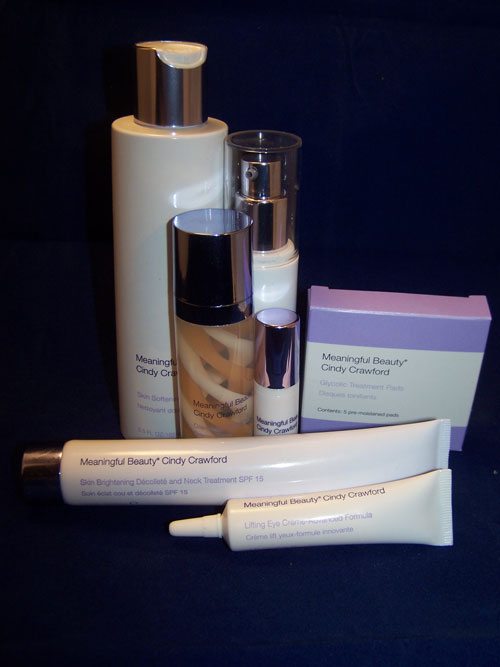 I am always looking for a good products to add to my beauty routine. I have always been a fan of over the counter Cetaphil, but have mean wanting something more. I want a full beauty regimen to help keep my skin as young as possible. Not that I'm old by any means. The one area that drives me crazy are my laugh lines. I know everyone says laugh lines are beautiful but when I'm not smiling and about 20 lbs lighter they are very noticeable. I don't know that any beauty products are going to totally remove them they are pretty deep but anything I can do to help and give my skin a healthy boost is definitely a plus.
My first impression of these products is very positive. I absolutely LOVE the feel of the cleanser, it is smooth and just feels like it is gliding over your skin. All of the products are close to fragrance free. I say close to it because everything has a smell. The smell is so light and clean smelling, I noticed immediately there was not smell of a harsh cleanser. I love the Glow Serum it has a small citrus smell. I took a before photo but I don't think my camera really is showing off my skin much but I wanted to include it just to say "Hey here is the before!"
I also really loved the added touch of supplying me with a special instruction card. The card is not paper but of a material that will not destruct if a little water gets in the way. It is perfect to keep with your product to refer too anytime you aren't sure what to do next. I keep this in my bathroom and refer to it often. There are instructions for both AM and PM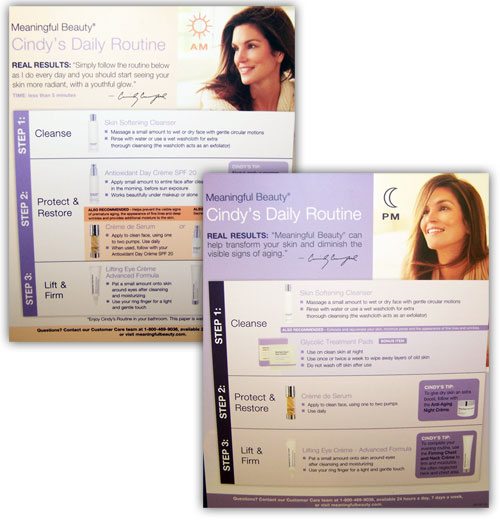 In addition to my starter kit I was surprised with an additional kit to give to someone meaningful in my life. As soon as I saw that there was no question who I wanted to give the second kit too. Not only would this person LOVE to try this product, she is the most meaningful woman in my life. I gave the second starter kit to my mother. I knew she would enjoy trying it out alongside me.
Her first impression of the Meaningful Beauty line? Excellent! She loves it as well. For all the same reasons I've mentioned above. After only 4 uses she could tell the difference. I'm not usually one for spending any "extra" money on myself but so far this is a product line I can see more of in my future. In 4 weeks I will be following up with and update from both me and my mother on any changes and our thoughts.
---
Disclaimer: I wrote this review while participating in a test drive campaign by Mom Central Consulting on behalf Meaningful Beauty and received a 5-step treatment kit to facilitate my review, a second 5-step treatment kit to giveaway, and a promotional item to thank me for taking the time to participate. Opinions are my own and NOT influenced by monetary compensation. You may read more of my disclosure here.
---