This post is LONG overdue. I posted almost a month ago about our trip to Orlando in which we stayed at a beautiful Global Resorts Home and our Day at Disney but I never got around to posting about the mentioned day at Universal Studios and Islands of Adventure. Just today I was speaking with a blogger friend of mine and her upcoming trip to Orlando (for the red carpet event of Chimpanzee by Disney) and she mentioned coming in early to visit her daughter and Universal. It reminded me of our trip as we talked about our favorite ride Harry Potter.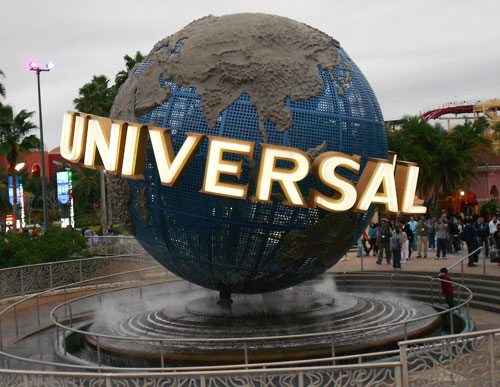 Sunday morning we got up early and bid my sister, nephew, and mother farewell and headed on to the parks. My sister and mother were headed home while we enjoyed a day at Universal Studios and Islands of Adventure with just the 5 of us. The kids were really looking forward to this day, these parks are the #1 parks on their list of best family vacation spots ever. Since this was my first time visiting since Harry Potter was introduced to Islands of Adventure I gave the family no choice but to march all the way to the back of the park as soon as we entered. I refused to miss the Harry Potter ride due to long lines. I didn't realize that Harry Potter was a world within itself until we entered the area. It was amazing and I enjoyed every second of it. I have always been a huge Harry Potter fan (preferring the books over the movie) and had heard so many things about this ride.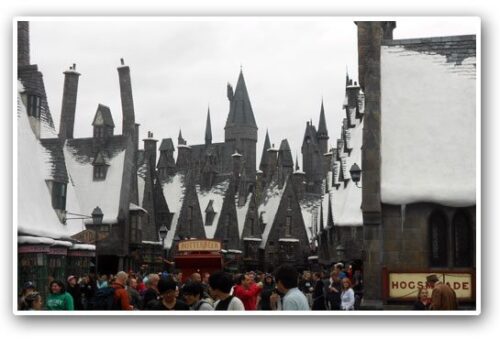 I was not disappointed by the ride in the least. We waited in line for no more then 15 minutes. We didn't actually wait in line it just took us that long to wind through the house to get to the ride. This is one ride when I wouldn't have minded waiting just a little bit. I think we missed a lot of the detail of the house and some of the fun magical displays they have going on for those that are waiting in line. There was a whole show of Harry Potter, Ron, and Hermione in which they explain what is going on and even cast a spell of snow over the unsuspecting riders.
I didn't get a chance to visit Ollivander's shop to check out the personalized one of a kind wands (yes you go into the shop to have a wand made specifically for you). The line was wrapped around the village and we didn't want to wait. While in the village we rode the smaller roller coaster with Honey and she LOVED it. I wish she would have been big enough to ride Harry Potter but thinking back it may have been a little scary for her. The ride was amazing the talent of the creators is just breath taking. I didn't know what to expect I had no idea what type of ride it was. I won't say a thing you will have to experience it for yourself but it is by far the BEST ride at Islands of Adventure!
We left the village and decided to visit the Dr. Seuss area since Honey LOVES all of the Dr. Seuss books! The longest line we waited in the whole day was the little train that wraps around Dr. Seuss land. While we waited I was able to snap a shot of my babies! This is one of the only times you will see them in jackets. We live in South Florida we do our best to utilize jackets as little as possible.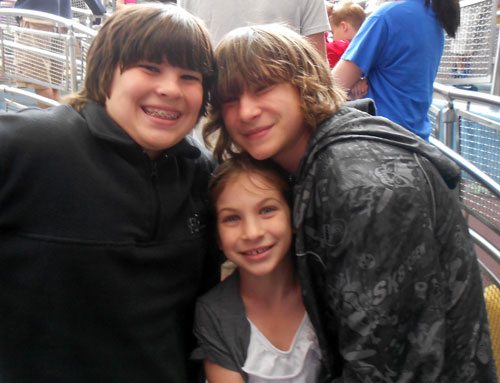 When we finally made it to the front of the line and hopped in. I had a bad case of deja vu, and this is why. Check out this photo from last month of Honey on the train as well as a photo in 2007 of the same train and the same Honey (well a much younger Honey).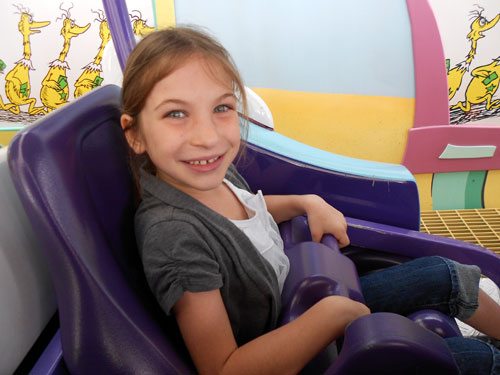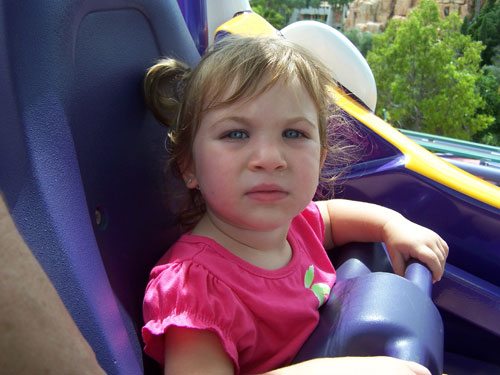 After the train ride and before we left Dr. Seuss we hopped on One Fish Blue Fish (the staff was thoughtful of the weather and left the water off which was a blessing). Before we took off I snapped this cute photo of Honey and her "favorite" Daddy as she lovingly calls him.
With a few "Honey" rides had it was time to move on to the "boys" rides like the Hulk. I sat that one out while I rounded up a drink and when the boys were done we ate some lunch before heading over to Universal Studios. We were lucky to each have a two park pass so we could visit both Islands of Adventure and Universal Studios. We ordered a large pizza in the Superhero's Cafe and spent a little time in the adjoining arcade. Honey loves to play skiball.
I have to say that I was disappointed that the Spider-Man ride was out of commission. I wasn't upset that it was I understand the need for facelifts and a little bit of tender loving care to keep the rides in tip top shape. I was just disappointed for us it was down while we visited. My good friend LeeAnn at The Life of Rylie…and Bryce too! got a chance last weekend to experience the new and improved Spider-Man ride when she visited for a special VIP Mardi Gras trip.
After our lunch we headed over to Universal Studios for the rest of the day. When I mean rest of the day I mean we closed down the joint! For Buddy and I it was the first time riding the Hollywood Rip Ride Rocket. Of all the roller coasters between the two parks this is one of my favorite top two. I loved that you could chose your own music during the ride. I played me a little Charlie Daniels Band with "The Devil Went Down to Georgia". The music really made the ride for me. My favorite ride is The Mummy. Unfortunately for me by the time we made it to the ride my daughter was tired of being left out and my husband was just plain tired so I skipped the ride to walk and talk with them while the boys rode. (This is motherly/wifely love).
We had an unexpected fun time on The Disaster! (This was previously The Earthquake). We were the last group to experience this ride before the park closed. What was so fun and unexpected was the part Nick played in our entertainment. This is a ride (ride is not the best term), lets say experience, through the making of a motion picture. The first order of business was to select a child actor for a part in the movie. Guess who volunteered for the part, or I should say guess which father volunteered their son for the part? That would be my husband volunteering Nick.
After the actors were selected we moved into the taping room. The director told everyone what to do and say. All of this was being taped while the actors were forced to work with fake props and blue screens. When the taping was done the entire group entered the subway for some additional screening, we all got to be part of the movie. At the very end they edited all the taping together and rolled film. Nick was at the beginning, he was seen jumping off of something and was caught by "The Rock" (Dwayne Johnson). The whole experience was fun and perfect for Nick who loves the attention. I've always told him if he doesn't become an athlete he should become an actor.
Just about closing time we headed out of the park. Before we left we grabbed some photo opportunities.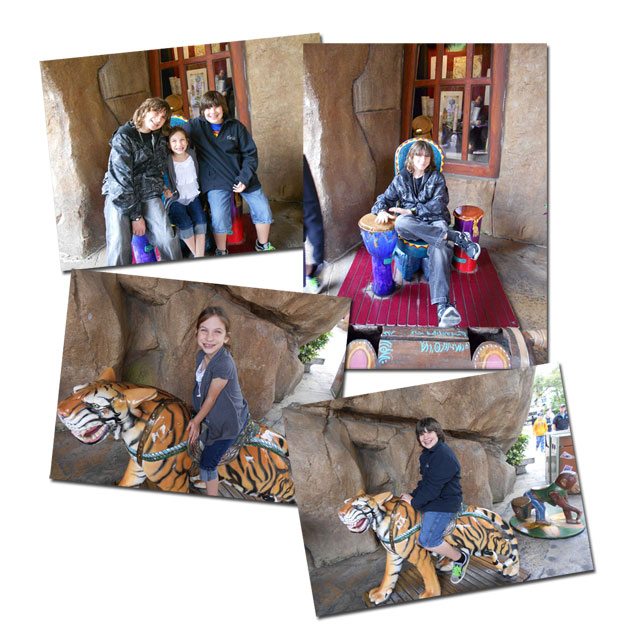 Overall the day at Universal Studios and Islands of Adventure was amazing. I would have loved to stay for another day. I hope to go back soon to re-visit Harry Potter and ride the new Spider-Man. We also missed a few rides like Men in Black due to time constraints that it would be great to get a chance to ride. The day was a perfect family adventure!
---
Disclaimer: We received a family 5 pack two-park one day tickets. Opinions are my own and NOT influenced by monetary compensation. You may read more of my disclosure here.
---