One thing I don't usually splurge on when vacationing with the family is living accommodations. I've always felt that when we go on vacation the fun part is the amusement parks and attractions that we attend. I've always viewed our hotel as just a place to lay our head after the fun. This weekend I had a chance to enjoy the Hilton Orlando during out vacation to Sea World and my eyes were opened to a world of fun we have been missing by selected a hotel for the purpose of sleeping only.
I really can not say enough wonderful things about this hotel and I was impressed on s0 many levels. The family and I had planned a trip to Sea World on Saturday. To make the trip a little easier and less stressful we decided the best thing would be to drive up Friday stay the night, go to the park on Saturday, then spend another night at a hotel and get up early Sunday and return. Since my hubby didn't start work until July and had the day free I decided to use one of my vacation days to get an early start figuring the kids may enjoy some pool time and lounging around the hotel instead of at our "boring" home.
I was so glad we decided to do this. We arrived at the hotel around 1:30 and check-in was a breeze. Our room was on the 19th floor. This means the kids got to push the elevator button time and time again. Do your kids get excited about the elevator button?Please tell me it is not just mine.
We had adjoining rooms which was really nice because the kids always hate having to watch the same TV shows their dad does. He can only take so much Fairly Oddparents and Spongebob Squarepants. The first thing I noticed that was different when I walked into the room at the Hilton Orlando was the blinds were open letting in the sunshine and the TV was turned on to music. This made the room very inviting and welcoming, definitely a contrast to most hotels I've walked in where it is dark, quite, and cold.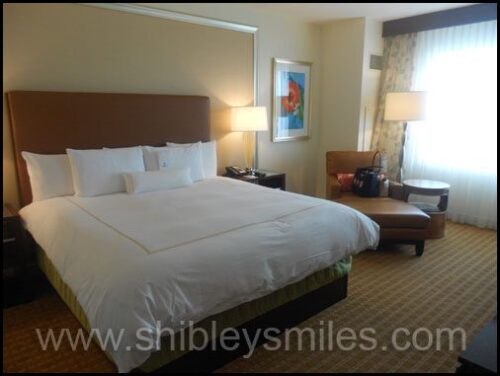 Being so high above the city we were able to look out the window to see just a few of the many attractions that are within just minutes from the Hilton Orlando.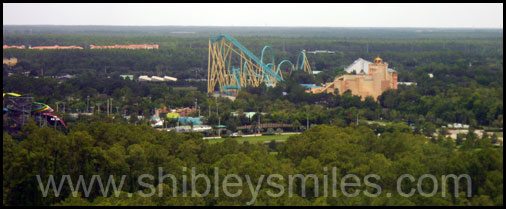 That large blue rollercoaster is the Kraken at Sea World which when I did a quick map quest was only 4 minutes from the hotel. Only 1.36 miles from the Hilton Orlando if you wanted to you could walk. In fact there are so many fun places to visit and eat you could leave your car parked at the hotel and never get back in it again until you are ready to go home.
Aquatica is located right next to Sea World and can be seen in the picture above. The boys and I would really like to come back one day and visit. However before we would feel comfortable going we really need to teach Honey how to swim. That way the entire family could enjoy the visit.
Wonder Works is even closer then Sea World and just a straight shot down International Drive. The kids and I visited Wonder Works on a previous visit to Orlando however on that visit hubby was golfing with a friend and did not come with us. We have discussed another trip in which we can all go together. You can definitely spend an entire day entertained with laser tag, rope bridges, and 4D movies.
Ripley's Believe it Or Not is one place that none of the Shibley Smiles have been. However again walking distance from the Hilton Orlando it would be easy to get to and another fun place to add to our growing list of vacation options.
Universal Studios/Islands of Adventure is another large theme park just 5.27 miles or about 10 minutes from the Hilton Orlando. This is probably the most visited theme park by our family of all the major theme parks in Orlando. This seems to be a big school trip location. Buddy has been 3 times through school and Nick once. We have also gone once as a family. This was one of our best vacations because we went in September when the kids were in school (yes I pulled the boys out for a few days). I highly recommend going off season the lines, I mean lack of lines, are awesome.
Of course you can't forget the world's most magical place on earth Disney World and it's additional parks such as Epcot, Animal Kingdom, and MGM Studios. I myself have been to Disney World several times and this was one of the first family vacations the Shibley Smiles ever took. We spent three days and four nights visiting Disney World and Epcot. We have not yet visited Animal Kingdom and it is another one to add to the list.
In addition to theme parks there are restaurants, putt-putt golf course, and shopping centers in numbers to high to count that line International Drive, all within walking distance. Actually one thing we learned is sometimes walking is better. International Drive is a hot spot for anyone in the area and at times can get a little congested. However the great thing is no matter what your taste buds are in the mood for you will find something to suit your needs. Some recommendations we received regarding what to do and where to visit were Sand Lake Restaurant and Pointe Orlando.
As you can see the Hilton Orlando is in a prime spot for all your vacation needs, luxury accommodations, food, and fun. Hilton Orlando is ideally suited for families, couples, or company events. However the location is such a small component to what makes Hilton Orlando the place to stay. Tune in tomorrow to hear about all the wonderful amenities and touches this hotel has. This hotel has one major goal and it is definitely to satisfy their customers!
---
Disclaimer: I received a two night complimentary stay at the Hilton Orlando. Opinions are my own and NOT influenced by monetary compensation. You may read more of my disclosure here.
---