Strawberry Cheesecake Dip Recipe
Recipe Type
:
Dessert, Dip
Ingredients
1/2 cup fresh Florida Strawberries, rinsed, dried and chopped fine
1/4 cup Florida pecans, toasted and chopped fine
1/4 cup Florida honey
1/3 cup freshly squeezed Florida orange juice
1 cup low-fat cream cheese, softened
1 cup low-fat sour cream
Assorted cookies, graham crackers and fresh Florida fruit for dipping and spreading
Instructions
Set aside 1 tablespoon each of the strawberries and pecans for garnish
In a small bowl, lightly mix the strawberries, honey and orange juice
In a separate bowl, blend the cream cheese and sour cream until smooth
Add the strawberry mixture and fold together
Fold in the pecans
Cover and chill
Garnish the top of the dip with the reserved strawberries and pecans
Serve with cookies and fruit for dipping
I know the rest of the country is battling freezing temperatures and snow. My sympathy goes out to everyone dealing with this wacky winter. Here in South Florida the wacky winter means we have a longer period of beautiful weather and I'm trying to take advantage of it as much as I can. From trying to get outside as much as possible and enjoying the fresh produce and fruit available here in Florida. Did you know that February is strawberry season in Florida?
I remember many times as a kid visiting the Florida Strawberry Festival. I got the above recipe from Fresh From Florida. It sounded pretty good, I mean it did mention cheesecake. The recipe was so easy to make and it was pretty darn good. My husband enjoyed it for dessert the other night and said the same thing. The only thing I would probably change would be to added MORE pecans. Since my favorite part of a cheesecake is the graham cracker crust we used graham crackers to dip.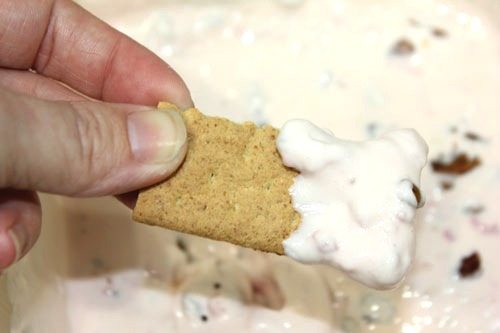 I have one word of advice. Portion out what you want to eat because it can get very addicting. This is just one of the amazing recipes Fresh from Florida. I encourage you to follow Fresh from Florida on Facebook and Twitter.
What recipe do you enjoy that includes strawberries?