I enjoy creating my own unique recipes, and I am always trying to find ways to add vitamins and fiber into recipes. The best way to get your kids to eat healthily is to hide in their food! My mother made me this cherished recipe book one year for Christmas. It is full of recipes handed down from my mother, my father (both great cooks), and my grandparents. My daughter LOVES to get the book out. Just recently we gave it a facelift with some cute baking-themed accessories. Over the years I've added my own recipes like this delicious Pumpkin French Toast.
Pumpkin French Toast Recipe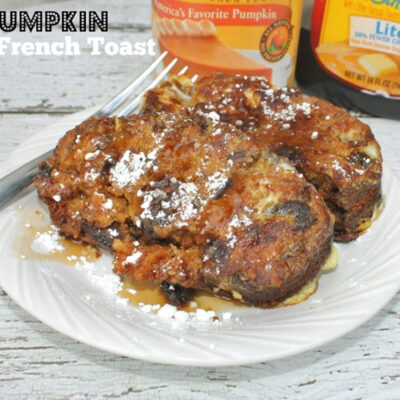 Pumpkin Frech Toast
'Tis the season for pumpkin! Pumpkin spice, pumpkin pie, and this amazing Pumpkin French Toast. Pumpkin is the essence of fall!
Ingredients
Pumpkin Bread
1 1/2

cup

Sugar

1 2/3

cup

Flour

1/4

tsp

Baking Powder

1/2

tsp

Baking Soda

1/2

tsp

Cloves (ground)

1/2

tsp

Cinnamon

1

tsp

Salt

1/2

tsp

Nutmeg

2

Eggs

1/2

cup

Canola Oil

1/2

cup

Water

1

cup

Canned Pumpkin

1/2

cup

Pecans (chopped)

1

cup

Raisins
French Toast
4

Eggs

1/2

cup

Milk

Butter

Pumpkin Bread (above)
Instructions
Pumpkin Bread
Sift together sugar, baking soda, baking powder, salt, spices, and flour in a large bowl.

Add eggs, oil, pumpkin, and water to the dry mixture.

Beat with an electric mixer until well combined.

Stir in nuts, and raisins. Pour into two 9″ x 5″ loaf pans.

Stir in nuts, and raisins. Pour into two 9″ x 5″ loaf pans.
French Toast
Cut cooled pumpkin bread into 3/4 to 1-inch slices.

Combine eggs and milk, whip well.

Melt butter in a frying pan, dip pumpkin bread slices in egg wash on both sides, transfer to the frying pan, brown on both sides.

Serve with warm maple syrup and powered sugar (optional).
All great pumpkin recipes begin with Libby's Pumpkin, including this Pumpkin French Toast. We fall comes around my mind automatically goes to pumpkin. We have some great pumpkin recipes here at Shibley Smiles such as:
Pumpkin is a great source of fiber, has lots of Vitamin A, and is full of Beta Carotene. It can be used as a substitute for butter, eggs, or oil in many of your favorite recipes saving fat and calories. Sounds like a win-win!
Fall may make you think of pumpkin but pumpkin can be used all year long. Don't wait until the fall season to enjoy this Pumpkin French Toast. Also, when you don't use all of the pumpkin you can store the remainder in the freezer to use at a later time. The Pumpkin French Toast was a big hit this year, especially with the kids. I think we may have just created a new family tradition but Shhh we don't want the kids to know it is good for them too.
What is your favorite breakfast recipe?