Nothing says fall like a warm homemade apple pie. These apple pie cookies are small enough to be bite size but pack the punch of a full size apple pie. It is hard not to want to put a little spoonful of ice cream on top. Perfect for a family party or to take to your next work event. Everyone will love the delicious gooey flavor of apple pie.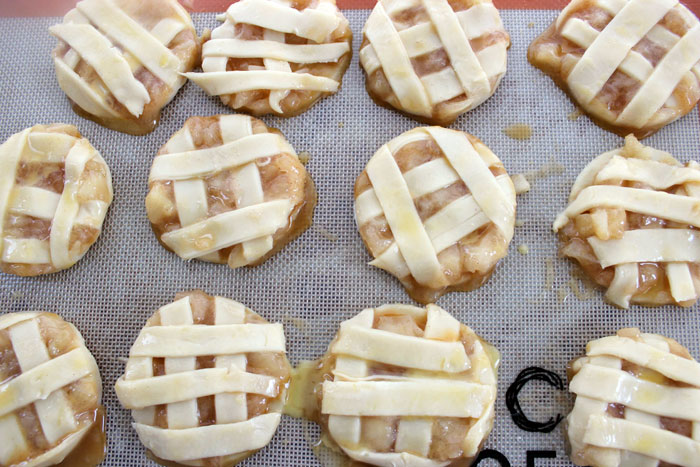 Apple Pie Cookies Recipe
Apple Pie Cookies Recipe
Author:
Prep time:
Cook time:
Total time:
Home made apple pie in bite size goodness with these Apple Pie Cookies
Ingredients
1 package Refrigerated Pie Crust (2 crusts)
5 oz Caramel Topping
10 oz Apple Pie Filling
1 Egg
1 tsp Cinnamon
1/4 tsp Nutmeg
1/4 cup Sugar
Instructions
Preheat the oven to 350.
Spray cookie sheet with non stick spray and set aside.
Allow crusts to warm slightly to make them easier to work with.
Dust work area with flour and slightly roll out crusts.
Spread a thin layer of caramel on one of the crusts.
Use a knife to chop pie filling into smaller pieces and spread over top of caramel.
Cut other crust into 1/2″ strips.
use strips to create a lattice top over pie covered crust.
Cut out circles and transfer to prepared baking sheet.
Beat egg in bowl until well blended.
Mix together sugar, cinnamon and nutmeg.
Brush lattice tops with egg wash and sprinkle with sugar mixture.
Bake for 20-25 minutes or until golden brown.
Looking for a good culinary school?