Recently featured in Better Homes and Gardens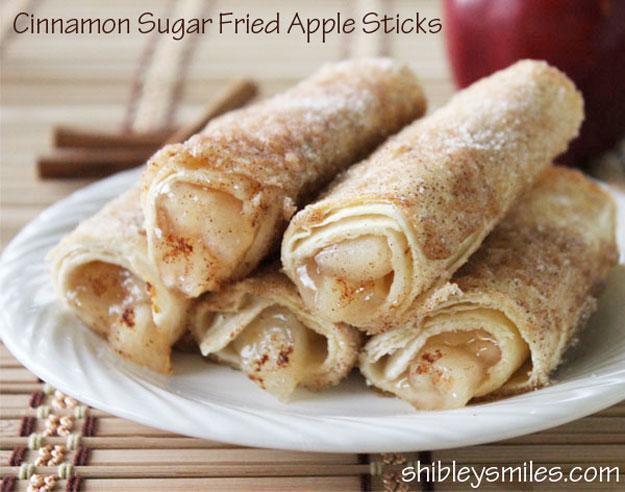 | | |
| --- | --- |
| Cinnamon Sugar Fried Apple Sticks Recipe | |
Author:
Use tortillas in a whole new way creating this tasty dessert great with coffee.
Ingredients
4 Large Flour Tortillas
1/2 Can of Fried Apples (or apple pie filling)
1 cup Sugar
Cinnamon (to taste)
4 tbsp or 1/2 stick Butter (approx)
Instructions
Turn broiler on to preheat
Prepare cinnamon & sugar mixture: Pour cup of sugar onto a plate (or in a bag) and sprinkle cinnamon to your liking. Mix sugar and cinnamon together
Chop or cut up fried apples into tiny squares. I used a chopper to get apples small. If using pie filling try to use more apples and less of the sauce
Cut tortilla into four squares, each tortilla will make four Cinnamon Sugar Fried Apple Sticks
Microwave 2 to 4 squares (the microwave softens the tortilla making it easier to roll and helps the butter melt)
Butter one square and flip it over
Place a small line of apples on the tortilla square.
Sprinkle a pinch of cinnamon & sugar mixture over the apples and your square (more if you like a heavier cinnamon flavor)
Roll up apple in tortilla.
Roll tortilla in cinnamon & sugar mixture (the butter should cause the mixture to stick)
Place sticks and chips on a greased cooking sheet.
Broil until just starting to crisp. 3-5 minutes
Notes
Cooking time is approximate and varies based on your oven. Keep an eye on sticks to make sure they are not burning.
Servings is 16 sticks
This recipe was featured  in Better Homes and Gardens. If you have tried the recipe I would love for you to leave a comment and tell me what you think. My "cooking" is often a family joke so it is nice to have proof that I can actually cook/bake when I want. If you have any questions about the recipe, I know the recipe wasn't quite complete in the Better Homes and Gardens magazine, please feel free to email me at colleen[at]shibleysmiles.com