A family is composed of one of the most genuine connections that individuals have with each other. But, even with this love, most families will encounter stress, disagreements, or conflict. This is why family counseling or therapy is essential.
Family counseling is a unique form of counseling that helps address various issues in a family. It helps improve communication, resolve conflicts, develop healthy relationships, and unites the family. Different types of family counseling include functional, structural, multisystemic, transgenerational, and brief strategic counseling. In this post, we'll discuss the reasons that indicate your family should go for counseling. Read on to learn more.
Social Isolation Or Feeling Alone
Having alone time is normal and healthy for everyone, including your spouse or teenage kids. Every family will encounter the phases of needing more family time or some alone time.
However, you can notice a family member withdrawing from the family abnormally. For instance, a person may prefer staying in their room all day, not interacting with family and friends anymore, having frequent conflict with parents or siblings, or expressing that they don't feel understood. The withdrawal could be a sign of depression or bullying and should be addressed immediately by a family therapist. In family therapy, you get help in better understanding other people's point of view and work to support each other. Well Beings Counseling is one of the counseling platforms that offer anxiety, depression, trauma, and online counseling. If you need a family therapist, you may want to check what they offer on their site.
Blended Family
A blended family is the merging of two separate families to become one. This happens when an individual with children marries a partner with children too. A blended family can also occur when an individual without kids marries a parent, and later on, they get their kids, creating half-siblings.
This type of family can experience difficulty coexisting with each other, especially when parents from previous relationships are still in the picture. The stepparent role can be daunting because of conflicts and negotiations when creating boundaries. Family counseling can be the solution to creating a harmonious family. It helps each family raise concerns and build connections with mental health care support.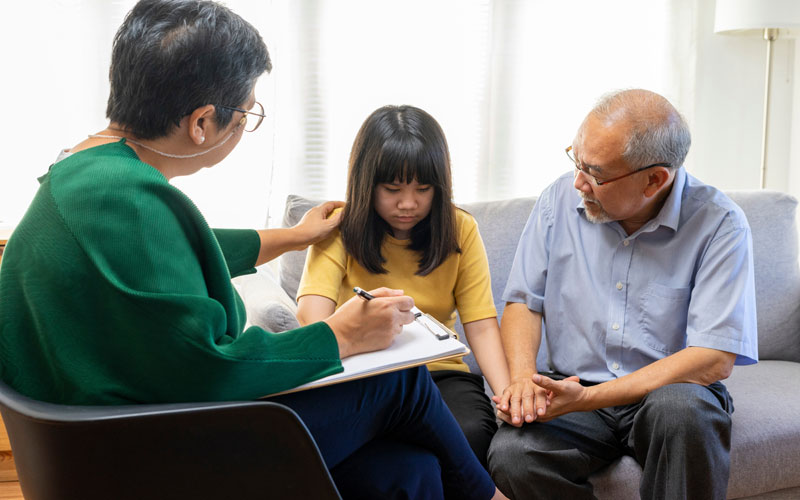 Adjusting To Teenage Years
As a parent, you were also a teenager and know how teenagers behave. However, with all the emotions, angst, questioning, and many other changes, it can be challenging for parents to adjust and support their teenagers.
Fortunately, the adjustment is possible with the help of a family counselor or therapist. Family counseling helps identify the issues causing conflict and emotional distress with your children and family. It also gives a safe environment for children and parents to air their concerns, which helps create better family connections. Family counseling allows parents mentally support their teens through the teenage period and helps build family units, like respecting anatomy and communication.
Changes To Daily Life
Adjusting to new things or daily changes can be challenging. Good examples of these changes that may impact our family include grief or loss within the family, divorce, or moving to a new city. These changes tend to cause stress that makes adapting difficult. Family counseling can help you heal or adjust to these changes by helping treat symptoms like stress and depression caused by the changes and help you explore coping strategies.
Addiction Or Substance Abuse
Addiction and substance abuse are common issues in many families. Peaceful and happy homes can be divided by the strain caused by addiction and substance abuse. Substance abuse causes trust to erode among family members, communication issues, conflicts become normal, and divorce.
Whether it's a family member who needs rehab, intervention, or outpatient counseling, the whole family can benefit from family counseling. A counselor helps you learn to support each other and address addiction or substance abuse appropriately. Family counseling provides a safe environment for family members to express their concerns about how they're affected and develop practical solutions to help their loved ones.
Withholding Or Lacking Intimacy
Some partners withhold intimacy from their spouses as punishment for their actions, like texting their past partner, failing to do the dishes when they said they will, or failing to buy presents on important occasions. However, this is wrong, and you should never feel like punishing your partner; instead, you should work together for a mutually beneficial solution.
Withholding affection or intimacy can manipulate your partner, causing resentment and anger that brings a huge lack of balance in your relationship. Family counseling can help you learn better ways of communicating your needs or concerns with your partner.
Conclusion
If you have issues in your family, whether it's conflicts, stress, anger, or co-parenting, seeing a family counselor or therapist can make a significant difference and offer the positive change you're looking for. While choosing the right family therapist can be a hassle, you can ask for recommendations from your doctor, pastor, or online referrals.