As a resident of South Florida, water, whether it be the beach, pool, or local water park is a major source of entertainment in the sweltering summer months. However, electronics and water DO NOT MIX! But we don't go anywhere without our phones these days do we? This is where Cali Case waterproof case comes in to save the day.
Cali Case Waterproof Case
I received these three colorful cases to facilitate this review. I have a waterproof case I used previously when my husband and I took a cruise to the Bahamas, however, I noticed one big difference with the Cali Case….it floats! You might not think that is a needed feature but trust me if you were to drop your case while fishing, jet skiing, or any activity where retrieving your case if it sinks is impossible you would have wished it floated. The material of the case reminds me of, for lack of a better word, a pool float.
When I un-packaged my Cali case and read the directions it does state you should test out the case before putting anything that you would otherwise not want to get wet in it. So I decided to test it with paper 🙂
Testing the Cali Case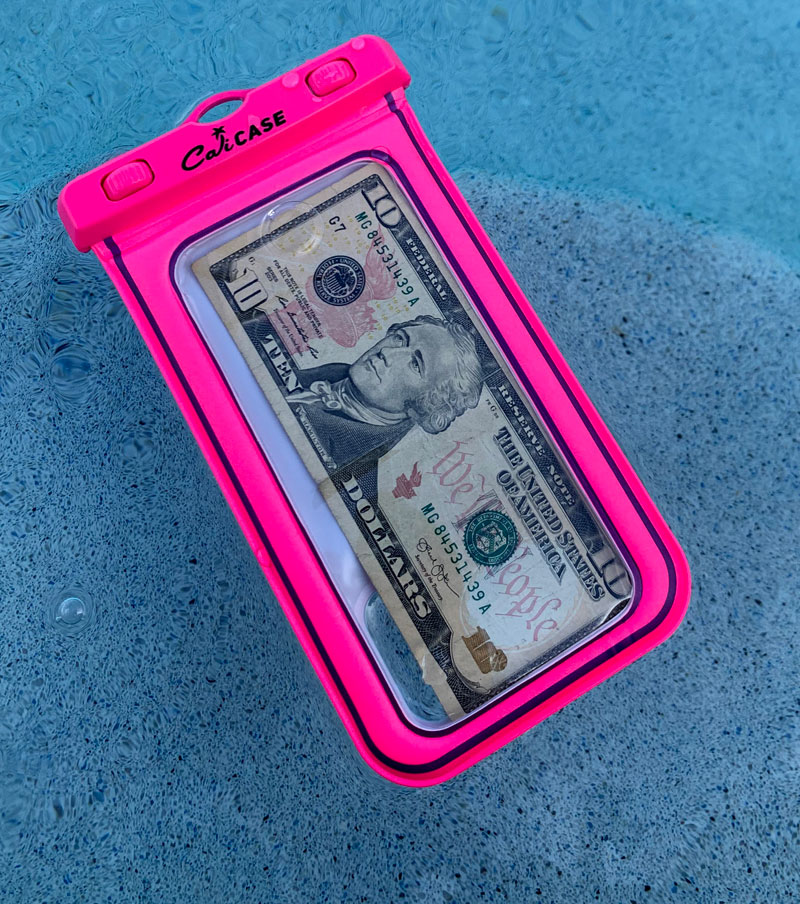 I put a ten dollar bill in the case and threw it in the pool, it floated as promised. Of course, that wasn't the real test. The real test is for Alexander Hamilton to take a little swim.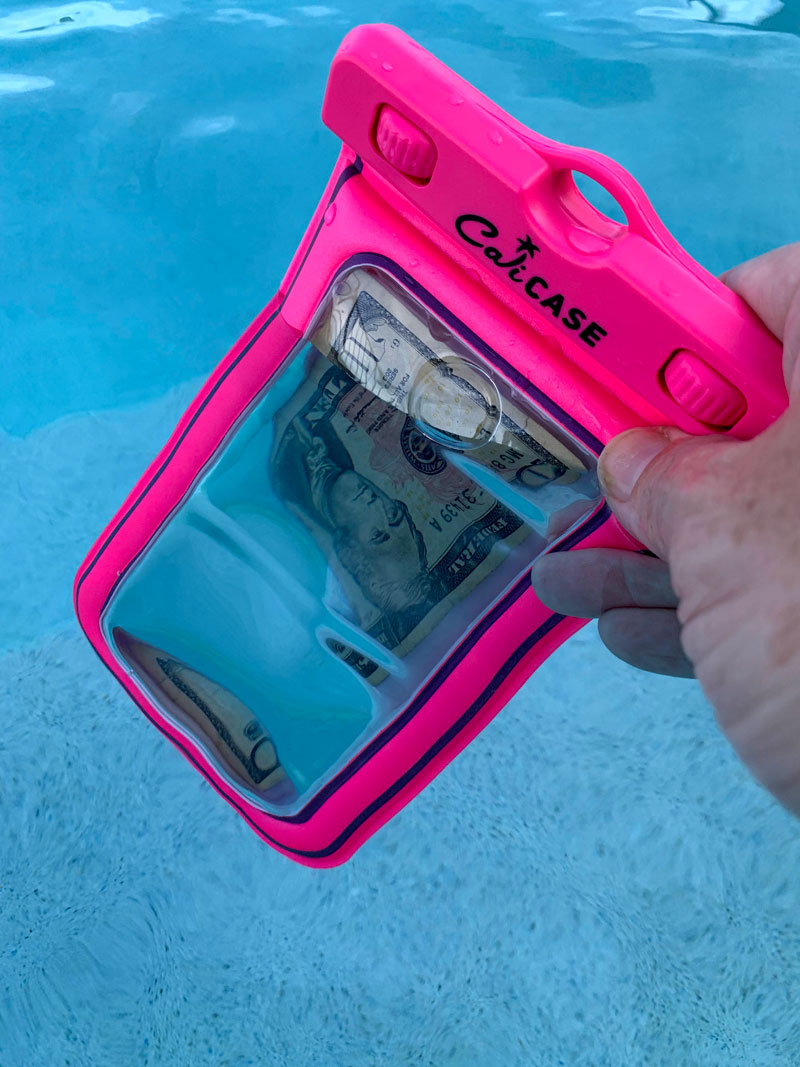 After about 30 seconds I dried off the outside of the case and opened it up and found the dollar bill completely dry. Thumbs up on the waterproof test! The next test was my phone. I have an iPhone XS, which is an average size phone. I will say that if you have a thick case on your phone the fit will be tight. I really had to push the phone into case which did have me a little fearful that I would tear it. (I use an Otterbox Defender case on my phone so it is pretty thick). For my purposes since I wouldn't want to remove the phone case to use the Cali Case I would be the larger size. However, I was able to get the case in the phone to test it out.
Sorry, not a very scenic view just our pool cleaner. The next test was I wanted to take a photo. However, I was actually having a hard time getting it to take a photo. Every time I hit the button it would start a video even though it was on photo. I thought that was odd. I was finally able to get it to take a photo by flipping the phone upside down and having the photo button out of the water. I am not sure why that was, but everything else was working fine in the case when it came to the touchscreen (above water).
The Cali Case comes in many different colors: black, blue, white, pink, orange, purple (my favorite), silver, yellow, American flag, , green camo, lime green, and glow in the dark options. Of the three shown above the hot pink is the glow in the dark option. See the bold lines around the case? Those are what glow in the dark.
Cali Case Glow in the Dark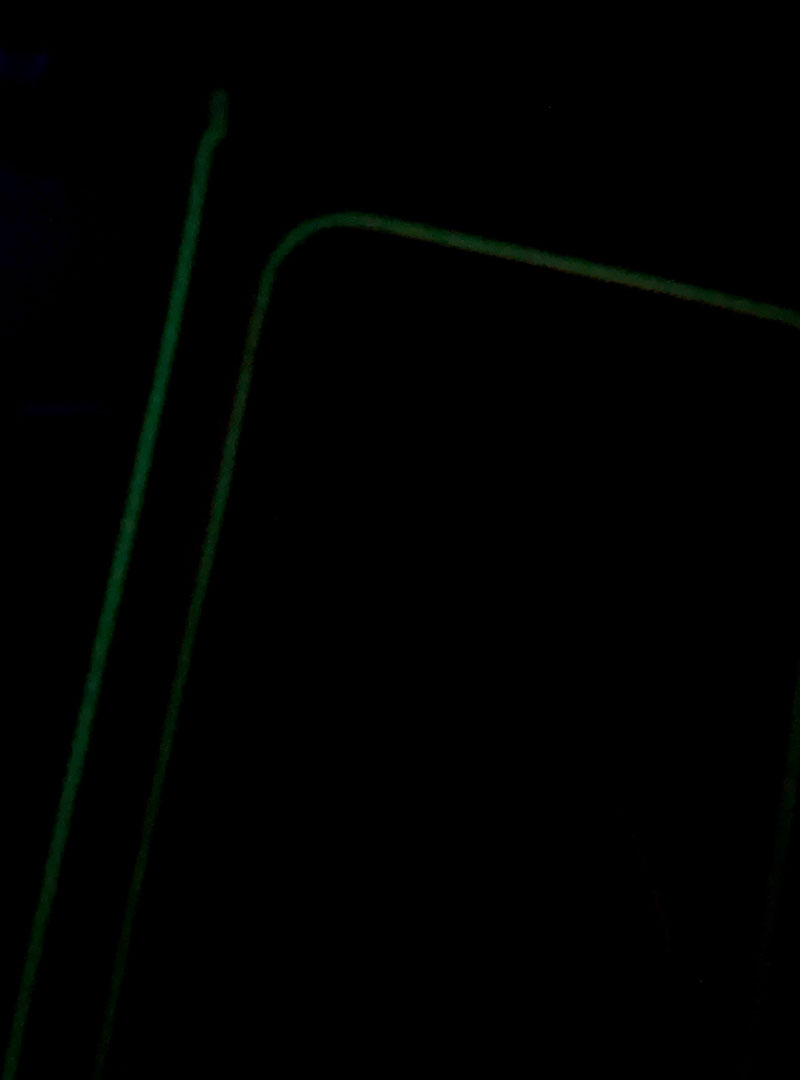 I am very impressed with the Cali Case and will be using it for beach visits and future cruises. You can put much more then just your phone in the waterproof case. It is great for anything you want to not keep dry, money, credit cards, keys, etc. It also comes with a lanyard and a secure clip so you can wear it around your neck if you prefer.
I'm excited to offer you this 20% Discount Code SHIBLEY and a chance to win your own Cali Case.
a Rafflecopter giveaway