How many times do you hear or say, "Where's my phone?" Among my friends and family I am notorious for uttering these words at least once a day. My husband always knows where his phone is, as well as everything else he owns. Me I tend to lose things as I never put them in the same place. Even worse when it comes to my phone sometimes I know it is in my purse, because I hear my purse ringing. However I can search, and search, and search and it always stops ringing before I can find it. Unlike my keys that are clipped to the ring around my purse my phone is always in one of three pockets or somewhere in the black hole called my purse that I swear eats things when I put things in it. Never fear says Phone Lasso, they have solved my problems, no more will I lose my phone and it will always be in reach!
Phone Lasso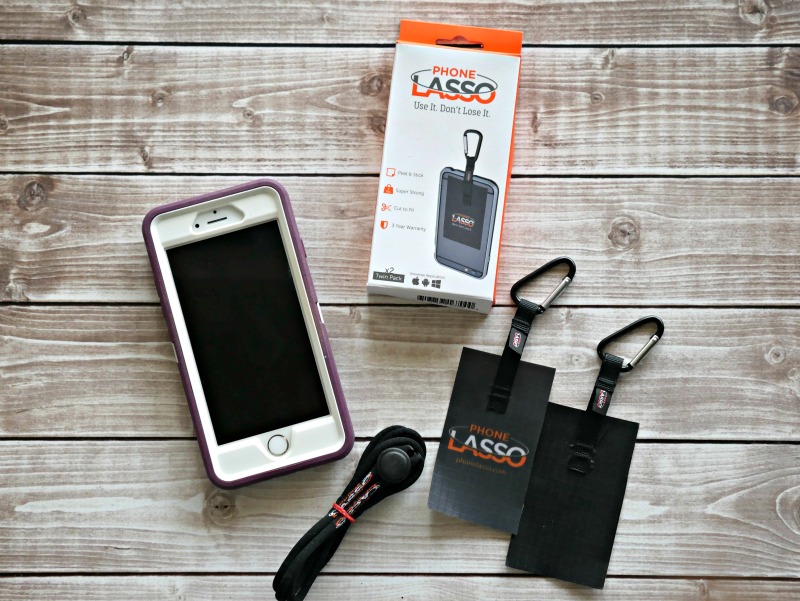 Phone Lasso is a unique and easy product to use. You simply secure the sticky patch to your phone or case and your phone can be clipped anywhere. No longer will you search for your phone or even worse have it slip from your purse, backpack, or out of your pocket while you are trying to retrieve it. The Phone Lasso allows you to clip your phone where you must need it. For example lets say you are out on the town and you don't want to bring your purse or anything larger then a credit card. So what are you going to do with your phone? You could try to put it in your pocket. I don't know about you but as the phones keep getting bigger I find it harder and harder to slip my phone into my pocket, especially when I have a nice protective, "no kidding" case on it so it won't break. Not to worry with Phone Lasso I can just clip it to my pants and it isn't in the way. I don't have to worry about it falling out of my pocket. The Phone Lasso can hold up to 15 lbs it is super strong!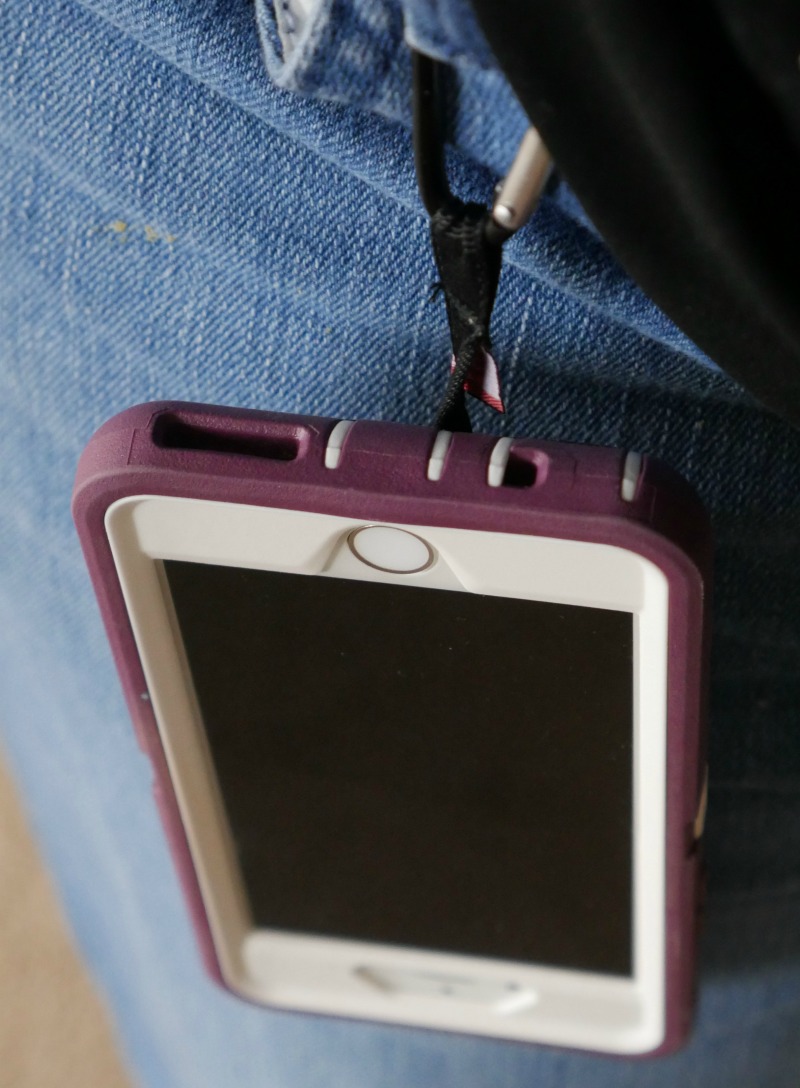 Similarly when I'm on vacation with the family and we are walking the amusement parks, shopping, or walking about town I don't like to carry my purse. I will often carry a backpack. Of course I throw my phone in my backpack but then like my purse I'm always trying to find it when it rings. Again with Phone Lasso I can just clip it to my bag.
Phone Lasso Live Without Limits
Keeps your phone by your side anywhere you are
Works with any brand phone – with or without a case
Doesn't obstruct speakers, cameras or charger ports
Trims easily to fit on other devices, like iPods and remotes
Includes an adjustable wristlet and neck lanyard
No one can say #PicsOrItDidntHappen to you again!
So maybe your phone does fit in your pocket but you find yourself fumbling with it when you need to use it. Instead of clipping the phone to your pants use the lanyard that comes with the Phone Lasso and clip it to your pants so should your phone fall out of your pocket you will be spared the grief of a shattered screen. A couple months ago my kids and I were out Pokemon hunting, yeah when it was all the craze. I got out of the car took a step on the sidewalk and I have no idea what happened my phone literally jumped out of my hand and landed smack down on the sidewalk. It didn't matter that I had my suit of armor phone case when I picked it up I saw nothing but an intricate spider web of broken glass. Had I had the Phone Lasso at the time and was using the wristlet or neck lanyard I could have saved my phone and myself $100 to get it fixed.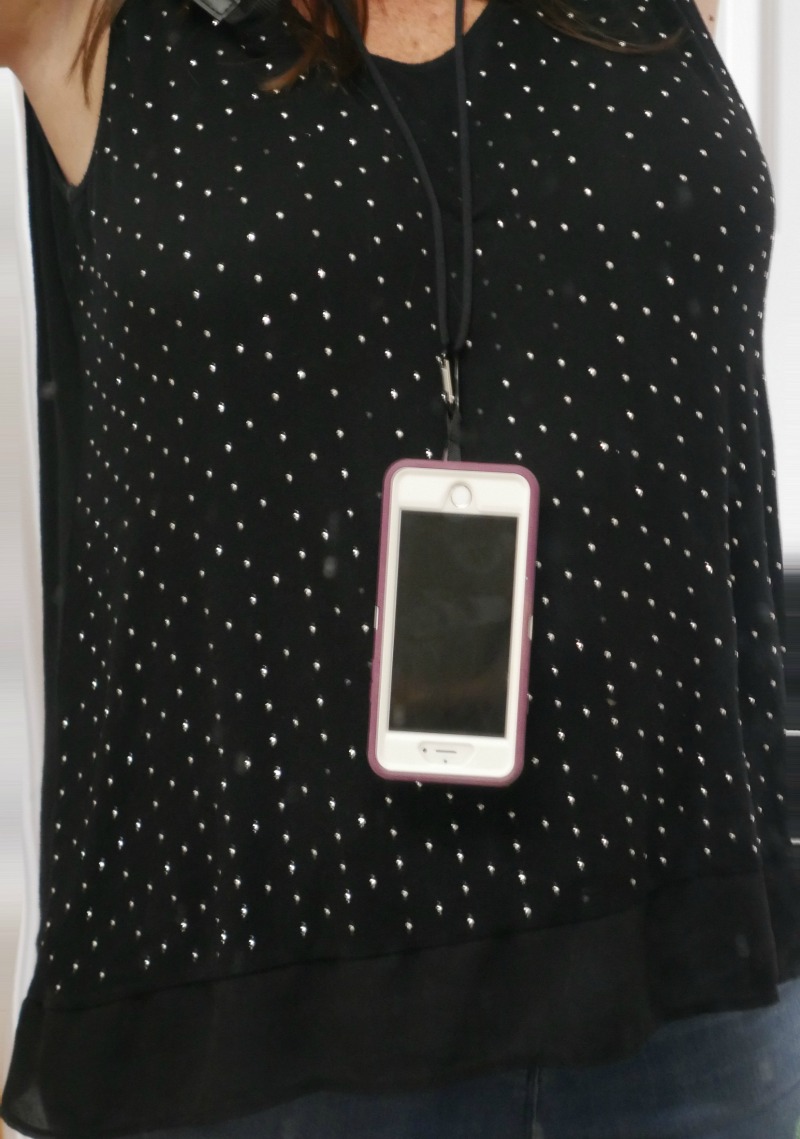 A Phone Lasso can be applied permanently or used just once and then removed with ease, allowing you to take your phone anywhere and capture all your adventures without the fear of breaking, damaging, or losing your phone. For consumers who want to use Phone Lasso frequently but not all the time, replacement patches are available for purchase. Take the plunge and never grieve over a broken phone again!
Phone Lasso Purchase Includes:
Branded patch with aluminum carabiner
1 refill patch with aluminum carabiner
Adjustable neck-length lanyard
Adjustable wristlet lanyard.